Introduction :
So, since you are here, you are definitely looking for the best peanut butter for dogs. In this article, we will be directing you to our picks Since human peanut butter is not always good for dogs.
As a matter of facts, exposing your dog to any brand of peanut butter that we human being eat may lead to putting your dog's life at risks.
You know that moment when you are craving peanut butter. Then, you go to the fridge pull out that delicious peanut butter jar. While there is someone else giving you longing looks. At this moment you better have a healthy peanut butter kind.
There are some types of peanut butter made specifically for dogs. This type of peanut butter targets dogs' needs and suit dogs' digestive system diet.
It is important to ensure that your peanut butter is not delicious but also safe. Keep reading to be able to shop a nutritious peanut butter. We will also provide you with recipes on how to make it at home you yourself.
There are many commercial kinds of peanut butter that contain unnecessary ingredients. In some cases, some kinds of peanut butter tend to contain toxic ingredients for dogs like xylitol.
When it comes to your dog's health, you better go for a type of peanut butter with low to completely free dangerous additives.
The one thing that you should be looking for is peanut butter without Xylitol because of its dangers. However, there are other additives that better like containing too much sugar, salt and oils. Purchasing products with low rates of the aforementioned ingredients are also recommendable.
Mostly, peanut butter is the most popular treat for dogs. People have been giving it to dogs since only God knows when. I mean come on it is so delicious. Who doesn't love it? kids do, everybody does. So just because some brands have been using toxic ingredients that doesn't mean they all do.
We have collected for you some of the best peanut butter for dogs in the market. Thus, you don't have to keep wondering about what type of peanut butter you should buy. Also, you don't have to keep worrying about whether it is safe or not.
Best Peanut Butter for Dogs :
1- Poochie Butter :
Poochie peanut butter is considered as one of the best safe peanut butter brands out there for dogs.
Most often, peanut butter brands roast the peanut in oils. However, Poochie Butter tends to dry roast the peanut. This is why it is the best option you can find. It conserves peanut natural B-vitamins and fiber.
Peanut butter benefits for your dog's health.  Poochie Butter has leveled up their game. Their peanut butter has been enriched with cinnamon. The cinnamon helps improves brain function.
Poochie Butter involves many other beneficial ingredients such as coconut oil which makes wonders for your dog's skin and coat. For fresher breath, it contains also parsley.
In addition, it involves turmeric. The latter helps strengthen the dog's bone and joint health, as well as arthritis relief.
Above all, is important to know that Poochie Butter provides a delicious and creamy peanut butter with natural ingredients. Also, it is free from unnecessarily added salt and sugar.
The best thing about this brand is that 10% of profits are donated to animal shelters and agencies. This way you will feel that made a change with every cent you spend.  
Qualities :
It is well dry roasted.
It doesn't contain any added sugar, salt or palm oil.
Its natural ingredients improve the dog's skin, coat, bones, and brain.
Its natural ingredients help to prevent cancer.
2- Peanut Butter & Co. Smooth Operator :
This one comes second for its practicality. Peanut Butter & Co. Smooth Operator is for both you and your dog. So, instead of buying one peanut butter for you and one for your dogs, you can just go get Peanut Butter & Co. Smooth Operator.
This product is designed for both humans being uses and dogs too. Eventually, the best peanut butter for dogs doesn't have to be made only for our four-legged friend.
This irresistible jar of creamy peanut butter from Peanut Butter & Co. Smooth Operator is made with peanuts that are grown in the United States. This point is a plus because the United States passes strict quality controls. This ensures you the quality.
Peanut Butter & Co. Smooth Operator is vegan, gluten-free and kosher. Which makes it a great snack. It will fill your pup up between meals. Peanut Butter & Co. Smooth Operator has beneficial and natural fats.
Qualities :
It fits all dogs of all ages.
It contains no cholesterol, trans fat or high fructose corn syrup.
It is made in the US with locally sourced peanuts.
It is non-GMO certified.
It is for both dogs and humans.
3- Teddie All Natural Peanut Butter, Smooth :
If you liked the idea of having the same peanut butter with your pup, well, here you go another choice. The Teddie peanut butter is for you and for our four-legged friend.
This product is for you if you like that texture of chunky peanut butter. Especially, if you want to share that crunchy experience with your pup which is super cute, to be honest. It is like you are sharing your taste with your best friend.
The Teddie peanut butter is actually with peanuts grown in USA grown peanuts. For the record, this is the most delicious peanut butter you can ever find. In addition, it is as delicious as it is natural.
As a matter of fact, the crunchy peanut butter is the safest choice for dogs to eat. With the crunchy peanut butter, the nuts are crushed and you can feel them. The size of the nuts is actually small enough to not expose your small breed dog to choking hazard.
Well, the best feature ever about this peanut butter is the versatility. The Teddie comes in two versions. You have the unsalted version and salted one. The unsalted version tends to be a little bit more expensive.
Even though the unsalted version is expensive, it is highly recommended to go for it. Actually, it is from our top picks.
Qualities :
It is all-natural peanut butter.
It is made in the U.S.A.
It is available in two versions.
It is a non-GMO and gluten-free peanut butter.
It is for both dogs and humans.
4- Crazy Richard's All-Natural Creamy Peanut Butter :
This peanut butter is the best if we consider products with natural products with few ingredients. As a matter of fact, you should keep an eye on this type of products when shopping for dogs.
Containing a long list of ingredients isn't really necessary when it comes to peanut butter. Plus, it is really confusing. Crazy Richard's Peanut Butter is proof that products with few ingredients can do better than a long list of ingredients.
Crazy Richard's Peanut Butter contains only one ingredient which is peanuts. It doesn't contain any other added oils, sugar or salt.
I know it sounds kind of impossible to make peanut butter of absolutely nothing other than peanuts. It is quite unusual but Crazy Richard's Peanut Butter did it. This is why it is one of the best peanut butter out there.
It not just a safe peanut butter for dogs, but also it is 100% natural.
Qualities :
It is all-Natural.
It has no added salt, sugar or hydrogenated oils.
It is non-GMO / Gluten-free / Vegan / Certified Kosher.
It contains 8 grams of protein per serving.
5- KONG Easy Treat Peanut Butter Paste :
Away off the jar peanut butter, there are a lot of practical types of peanut butter just as the paste one. The Kong Peanut Butter Easy Treat is a delicious treat. it delights all types of dogs. At the same time, it provides you with an easy no-mess solution for pet owners.
This KONG peanut butter paste is made in the USA. It is highly-digestible and trans-fat free. Plus, it is a temptingly tasty addition to the stuffed KONG. It is designed with a unique nozzle. This eases your control over the amount of peanut butter you want.
Its design makes stuffing an easier job a one-second one. Besides, it spears you the mess of stuffing. You can just freeze the stuffed KONG for a couple of hours before sharing it with your dog. This would make it last longer. However, no need to put it in the refrigerator.
Qualities :
It is easy to be used.
It is vitamin enriched for a healthy coat.
It is mess-free.
It is free from trans-fats.
It does not require refrigeration.
6- The Ruff Ruff Raw Buddy Budder :
This one product comes from the Bark Bistro Company. The Buddy Ruff Ruff Budder is completely natural peanut butter for dogs. The main ingredients of this peanut butter are peanut and honey with no preservative.
You better keep this product on the table when shopping for peanut butter. It has all the qualities that you should be looking for. It does not contain any hydrogenated oil or any palm oil.
They excluded all the unnecessary ingredients. The Buddy Budder is totally free of materials such as fructose corn syrup, stabilizers, xylitol. Not only that, the company excluded any added sugar or salt to maintain the natural elements of peanut butter.
Another plus about this peanut butter is that it doesn't need to be refrigerated. However, if you want a thicker consistency, just refrigerate it. to slow the oil separation just stir the jar contents, tighten the cap and then place it in the refrigerator.
Qualities :
It is all-natural.
It is made in the USA.
It is vegan friendly (Gluten Free).
It is non-GMO peanut butter.
7- Green Coast Pet All Natural Pawnut Butter for Dog :
This peanut butter comes from Green Coast Pet. This company is known for its products' good quality. The Green Coast Pet make their Peanut Butter in an SQF (Safe Quality Food) Level III facility here in the United States.
There are many facilities that do not have the needed certification. As a matter of fact, many kinds of peanut butter don't put their products through rigorous testing and quality control protocols. However, this company does that. This point gives their product the titles of THE SAFEST.
The Green Coast peanut butter is all-natural. they added flaxseed. The latter makes the peanut butter easier on your dog's stomach. Plus, the flaxseed gives your dog more Omega 3's.
It is important to mention that the Green Coast Pet Pawnut Butter is free from all the dangerous ingredients. It is free of Xylitol, Sugar, Salt, Preservatives, and Hydrogenated Oils.
Qualities :
It is mega safe.
It is made in the USA.
It is all-natural.
It has only two ingredients (peanut and flaxseed).
Peanut Butter for Dogs Buying Guide :
Okay, guys, dogs ask for so little yet they give us a massive amount of love. To the point that what they ask for is a teeny tiny thing in front of how much they deserve. It is so important and it is your responsibility to make sure that they receive what they want (to some extent though).
What dogs want? They want food and fun that's it. Dogs love treats. All dogs have a sweet tooth and would go crazy for a treat. Dogs' favorite treat is the famous peanut butter. It can make any dog of any sizes or any age extremely hyped.
However, when you go to your local market or online on Amazon, you find a massive amount of peanut butter. You find different shapes, sizes, and countless brands.  This leaves you in frustration and you end up getting anyone just not to bother.
However, not all brands are safe. Thus, you better follow some guidelines to make sure you picked a safe delicious treat.
First of all, peanut butter has a high rate of fats. Know that fats are unavoidable. As a matter of fact, even the healthiest brands of peanut butter still contain a high rate of fat. This is why you should regulate how much you give your dog peanut butter.
Feeding your dog peanut butter on a regular basis can cause your pup to become overweight.
It is hard to pinpoint what is a safe brand. Yet, it is super easy to see if a product is dog friendly or not. All you have to do is reading the label on the jar. There are a couple of things you should have in mind when looking at the label.
A good peanut butter better :
NOT CONTAIN XYLITOL.
Have less to no oils.
Have natural ingredients.
Not contain preservatives.
Be made in the U.S.A.
Be unsalted.
Not contain any added sugar or salts.
Note :
In case your dog is at risk of pancreatitis, you must avoid peanut butter altogether.
Although, having an allergic reaction is very rare make sure to give your dog a quick taste of any peanut butter to make sure that it is safe. For further information read our article about can puppies eat peanut butter.
Xylitol :
Xylitol is a sugar substitute. It is found in many foods, such as chewing gum and Peanut Butter. It is supposed to add a pleasant sweet taste. For us human beings, xylitol is harmless. However, this is not the case for dogs. A small amount of xylitol can be lethal for dogs.
Recently, studies have confirmed that even a small amount of xylitol may lead to hypoglycemia, liver disease and coagulopathy.
Unfortunately, tons of dogs are poisoned yearly just by eating food that contains xylitol. The most common food that does include Xylitol is peanut butter. To say loud and clear, giving your dog xylitol is similar to a death sentence.
Hydrogenated Vegetable Oils :
This refers to a wide range of different oils. The used oils vary from brand to brand. You would want to avoid oils since peanut butter itself is already filled high-fat even without these extra oils.
Sugar :
Will sometimes the label doesn't say sugar. It is referred to as sucrose, caramel, corn syrup molasses, and other forms. Some brands add numerous types of sugar. Although, sugar would not be immediately harmful to your dog, with time sugar can increase the risk of obesity and diabetes.
4. Mono-and Diglycerides :
Although studies in 2006 showed no side effect of mono and diglycerides in the blood work of beagles, there are still some worries. Veterinarian, Dr Sara Ochoa claims that it's not an ideal ingredient to give to your dog. Accordingly, it may lead to obesity and heart problems.
Finally, you may find a product that is xylitol-free. However, it contains one or more of the above ingredients. This is not a good product. You better swap to another brand. There is plenty of fish in the sea and plenty of peanut brands in the market.
Be careful the term "natural" or "organic" peanut butter doesn't mean that it does not include any of the above ingredients.
Did you know :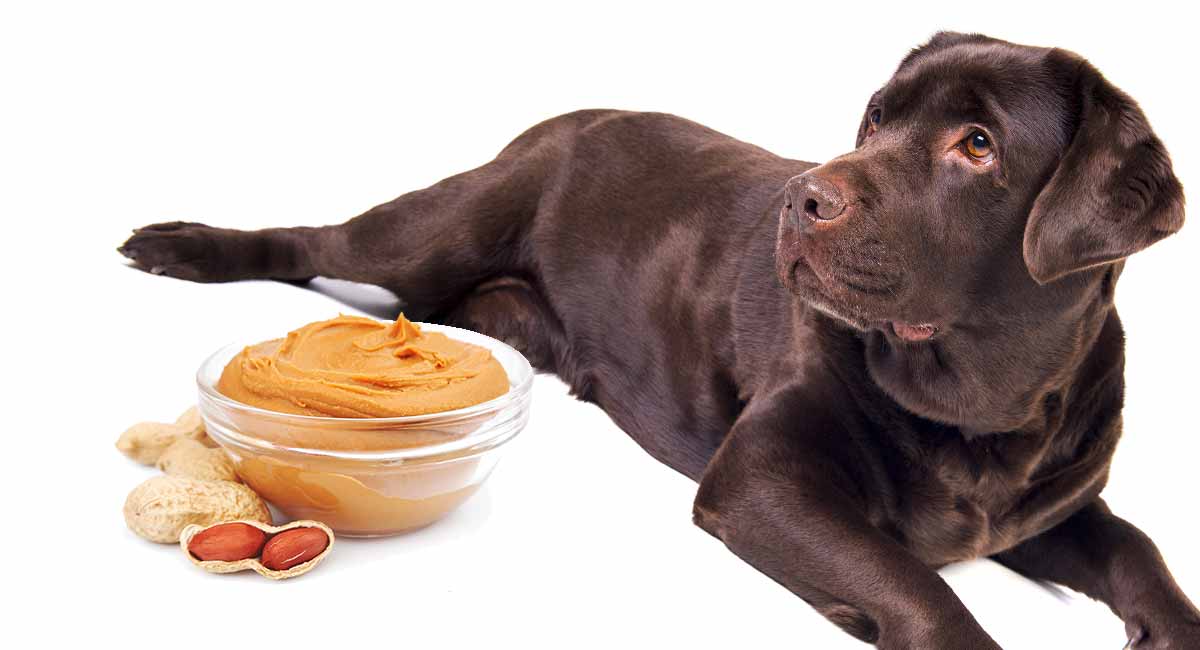 Homemade peanut butter :
Well, to be quite honest with you, the ideal PB for dogs is the one you make. Homemade peanut butter is low on or completely free of any additives.
Thus, if you feel a little crafty and want to make your own peanut butter here you go a healthy peanut butter recipe for dogs below.
Ingredients :
1 1/2 cup unsalted, roasted peanuts
1 tsp. honey or molasses (this one is optional)
1 tbsp. chia seeds
1 tsp. or more peanut or safflower oil (this one is optional too)
Equipment :
Baking sheet
Food processor or blender
Spatula
Container with lid
Instructions :
Roast the peanuts (optional).
Put the peanuts into a food processor or high-speed blender. If you roasted your nuts, make sure to do this right after you roast the nuts. while they are still warm.
Run the food processor or blender continuously for one minute then stop. Repeat that again for one minute until the butter is of the desired consistency.
Add the chia seeds, the sunflower oil, and the honey.
Process the food processor or blender for 1 to 2 more minutes.
Move the peanut butter to a storage container. Now, cover it and refrigerate it. It can be used immediately but for better consistency refrigerate it.
Note :
If you want a crunchy texture, do this. Right after you process the peanut and it looks dry and gritty, save a little amount of it. After you finish add that little amount of dry, gritty, and chopped peanut to your peanut butter. It will give it that crunchy taste.
How to Use Peanut Butter :
It is not just about which peanut butter is safer or what is the best peanut butter for dogs. It is important to know how to use that peanut butter to solve some of your pup's problems. Also, it is important to benefit maximum of this treat.
First of all, you do the usual thing that we all do. you can dip a spoon in peanut butter and have your pup lick it off.
In addition, you may also dip vegetables like celery and carrots in peanut butter. This will turn it into a healthy snack yet tasty. Actually, many dogs prefer it this way and find it appealing.
Feeding peanut butter to your dog has several options.  You have room to be creative. Especially that dogs are different. You know your dog better than any expert. So you would find better ways based on your dogs' preference.
Finally, the most common way to feed your dog peanut butter is through sticking it to a toy or a toy that is similar.  This would stimulate your dog mentally. It will make the dog use his brain trying to get it out.
In case you want to make it hard for your dog to get it, you can freeze the toy. This will make it last longer. It will also slow the rate of your dog finishing his treat.
Here are a couple of the best dog toys that will help you do that :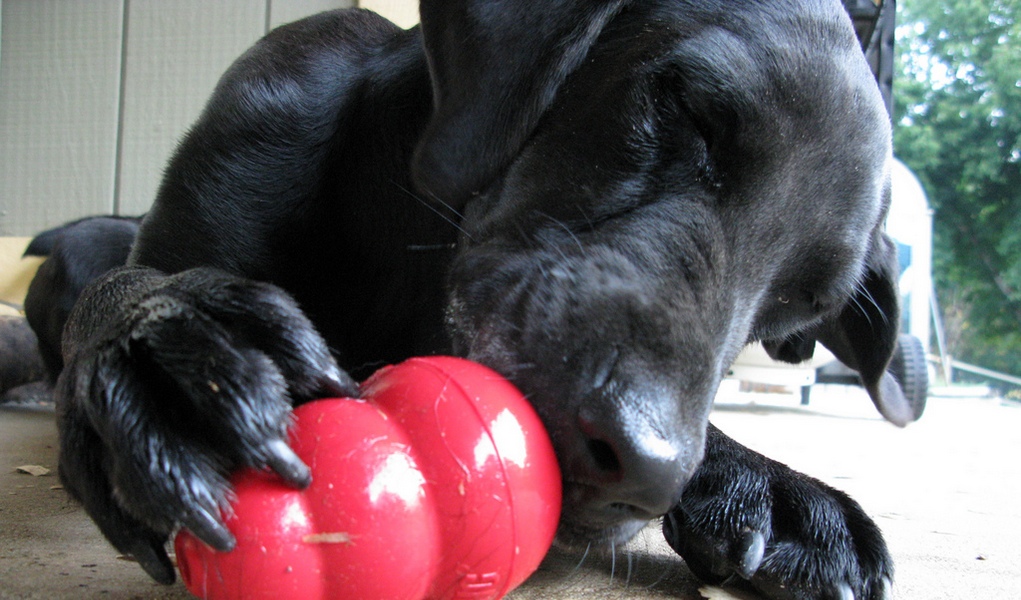 Frequently Asked Questions :
1- What type of peanut butter is good for dogs?
Well simply, the natural peanut butter is the best peanut butter for dogs. However, this does mean that being natural is completely safe. Make sure to check the ingredient list on the back of the product. look for the one that is as short as possible so you understand it easily.
Well, usually, peanuts are listed first. As a matter of fact, if you find a product that has nothing else added but peanuts, that would be great. Make sure to avoid products with salt, sugar, and sweeteners. Especially, Xylitol that is lethal and life-threatening for dogs.
2- Is Skippy Peanut Butter bad for dogs?
Well, the problem with the original product from Skippy is that it contains salt, sugar and palm oil. These ingredients are nor really ideal for your little buddy. Honestly, it may not be harmful immediately. especially if it is used in small amounts.
However, in the long run, it may cause medical complications such as diabetes and obesity.  Plus, it is not a recommended peanut butter choice for dogs. You can choose one of the above products.
3- Can dogs eat crunchy peanut butter?
Yes! They can. Well, dogs can eat both creamy and crunchy peanut butter. The fact that it is crunchy or creamy doesn't make any difference. What matters is the ingredients and the consumption rate.
4- Is JIF Peanut Butter good for dogs?
Well the question about JIF is not whether it is good for dogs or not. The answer of that question yes. However, the question is whether it is the best choice or not. Well of that buddy no. JIF uses sugar. Previously we mentioned that sugar is one of the evils that you shouldn't approach.
5- Is Peter Pan Peanut Butter safe for dogs?
Not really! Peter Pan Peanut Butter uses corn syrup and sugar in their peanut butter. Those two ingredients are not necessarily the best thing for your little buddy. In addition, their peanut butter contains soy that some dogs tend to be sensitive to.
Conclusion :
When looking for the best peanut butter for dogs there are a couple of things you need to keep in mind. However, there is one thing you should completely avoid which is xylitol. This sugar substitute is way dangerous than you can imagine.
Dogs have a great passion for peanut butter. Surprising your puppy with some peanut butter will warm both of your hearts. However, there are many things to consider before offering that peanut butter to your furry friend.
There are some dangerous ingredients that you should be aware of beside of xylitol. products with added salt, sugar and palm oil should be a no-no when you are shopping for your pup.
 You have to be aware of the Ingredients, reactions to individual peanut butter/treats, and the overall price for the treat. You are not going to spend a fortune just to buy a peanut butter though. 
You can decide what is a safe a product or not just by reading the listed ingredients on the back of the jar. Unfortunately, dogs can't read, so it is your responsibility not to expose dangerous products in front of them.
Dogs deserve the best. So, you better make sure that they get it. Always remember that the more natural the product is the better. Also, go for a product with fewer ingredients. Those products are always the best.
You can use peanut butter when your dog doesn't want to take her/his medication. If you put the pill in the peanut butter your pup wouldn't notice it. Even the dog does it will be hard for our little buddy to separate the pill from the butter.