Product Description
As a dog owner you must know that most dogs are crazy chewers and hyper active cute creatures; and they need to fulfill that instinctive necessity to chew.
Fortunately, there are so many ways to prevent your furry pup from chewing shoes, furniture, and stuffed animals etc. Well then here you go this is a Kong dog toy review that hopefully will help you with this.
The KONG Classic is a chew toy that would not only help your pooch to fulfill his instinctual need to chew, it would also help you practice mental stimulation with your own doggie during training sessions.
The KONG Classic's unique natural red rubber formula is designed with an ideal erratic bounce that will keep your pup busy for a while.
If your dog suffers from separation anxiety, this chew toy would work wonders; it would help keeping the dog in his crate and learn how to enjoy his time alone.
Who is This Product For?
This toy is ideal for puppies that are teething, energetic dogs, and untrained dogs. Does your dog doesn't fetch? Well not all dog breeds are born retrievers like the golden retriever, who is called a retriever for a reason.
Genetically speaking, some dogs needs to be trained to fetch and this KONG toy is fit for this job. A bored dog is the worst, so this toy is set up to keep boredom away from your little friend.
Overview Of Features
First you need to understand that there is no indestructible and perfect dog toy, those cute minions with those massive jaws will eventually manage to destroy the Kong toy, but we can say that this dog chew toy is a tough boy with several features that we are going to see in this kong dog toy review.
– This chew toy trains your canine to spend some time in his carte alone especially when you are not at home solving the problem of boredom; it's gives a big hand in crate training.
– Our little toy here can work as a distractive mean so you won't need go through hell every time your pup gets triggered by something like a cat or something; it shifts his attention from the trigger to the KONG toy.
– Helps enormously with overweight dogs by slow feeding adding to that it makes our little buddy work harder to get a small amount of food. if you stuff food in it the By sticking food in the Kong our little is forced to nibble and lick the tendon, pawing the Kong down trying to get it out with his front teeth while.
– If our little furry friend frequently seeks your attention by barking at you or jumping on your lap, your main aim should be to shift his attention to something else like KONGS as It keeps your canine busy which is a plus no doubt; this will help in coping attention-seeking behavior.
– KONGS can be very useful in conditioning your dog by using the KONG as a reward in case of a reward training (positive reinforcement) or increasing a behavior by depriving the dog from the Kong till he or she will do what is supposed in the case of a discipline-based training (negative reinforcement); it helps in long term behavioral modification.
– Your pup is definitely going to become an expert in getting treats out of the KONG toys yet you can always make it more challenging. For example. Take an inexpensive cut of beef and cook it until it's well done or an end of a roast. Cut it into pieces that are almost too large and squeeze it into the opening of the Kong toy, and stuff it inside. Cover the big hole with cream cheese or peanut butter and put the Kong in the freezer for a while.
– The KONG Classic is a fetch toy with an unpredictable bounce helping you interact and play with your pet which will build a trust between you and the dog.
– Of course, pet owners need to make sure of the safety of the pet supplies they bring to their dogs, well you don't really need to worry about this because this toy is a vet recommended as veterinaries and trainers recommend KONGS.
– KONGS are the best dental dog toys especially if you have a fur baby.
– In some cases it helps with medical treatment for example getting the teat out of the kong takes time unlike regular treats that can be eaten instantly which would allow you to build trust and give you time to drip his ears to treat an infection.
– Finally this is an eco-friendly pet supply so yeah we have to care about this planet too.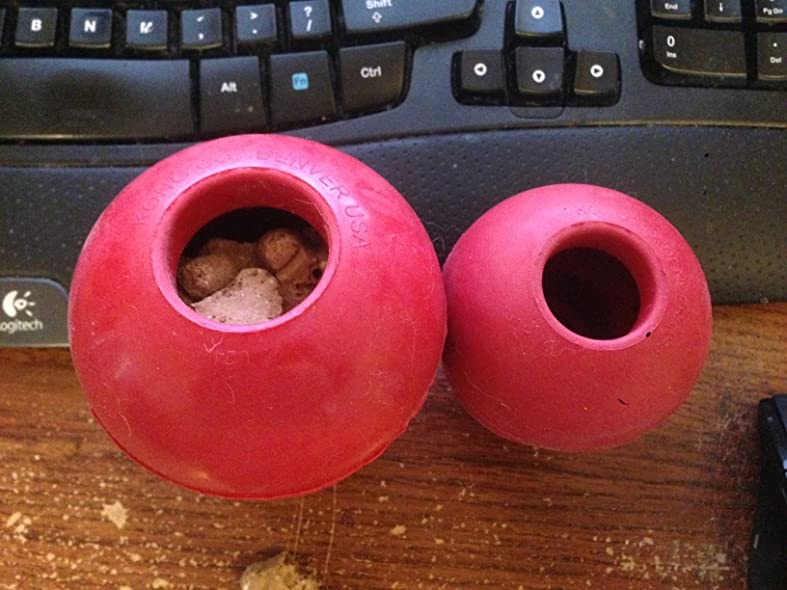 How To Use It?
Measure out the quantity of food for your dog moisten an amount of it to be stuffed in the KONG, then spoon it in and straight to the freezer.
When serving add something easy and tasty on the big hole, peanut butter, creamy yoghurt, or creamy cheese. You always need to monitor your pet while chewing.
You can also attach an anchor to the KONG by feeding a string or a rope through the small hole and knot it then pull it tight which will give endless possibilities.
The rope will be frozen in place once you stuff it. In case of crate training set a routine for the dog I mean take the KONG to the crate and stick it inside.
For the stuffed food there are endless possibilities and recipes to fit in the KONG but dog food would do the job too just don't forget to moisten it.
You can customize the amount of food to fit the needs of individual dogs
Offers a mental stimulation and gives an outlet for chewing to dogs and helps AutoShaping
Helps puppies that are teething
Good for crate training and fetch training
Helps in Weight management for dogs
Might not be suitable for dogs with certain health issue it is recommended to check a vet first
For some dogs it might end up a licking toy not a chewing one
It can be difficult to be cleaned from the inside
May not survive with dogs with strong jaws
Conclusion
As we have seen in this kong dog toy review the classic KONG toy is the most adequate toy in the market of pet supplies if you are looking for the best dog toys.
But keep in mind that the KONG itself won't do the job you have to interact with your dog and breathe a soul to that plastic dog.
The KONG Classic toy is not only a chew toy but it has multiple role it stimulates your fur baby mentally and physically; it also adds the three F in your pup's life Fun, Fetch, and Food.
It provides your canine with the appropriate chewing behavior to fulfill his or her instinctual need to chew. Let alone how it can help with boredom, isolation distress, and separation anxiety.