Product Description
As dog owners, we understand that a bored pup is not a happy pup. Our furry friends require more than water and food. They need multiple exercises and activities to help them combat boredom, anxiety, and other destructive behaviors.
The Pet Zone IQ Treat Ball can correct all these problems by keeping your dog amused and interested in it for many hours. Just the smell of the treats inside will make him light up!
We all probably know how keeping a food/reward-motivated pup occupied for a long while is such a hard accomplishment. Well, with the Pet Zone IQ Treat Ball it is not only possible to provide many hours of dog-friendly fun but also to mentally stimulate your pet and give him some extra workout!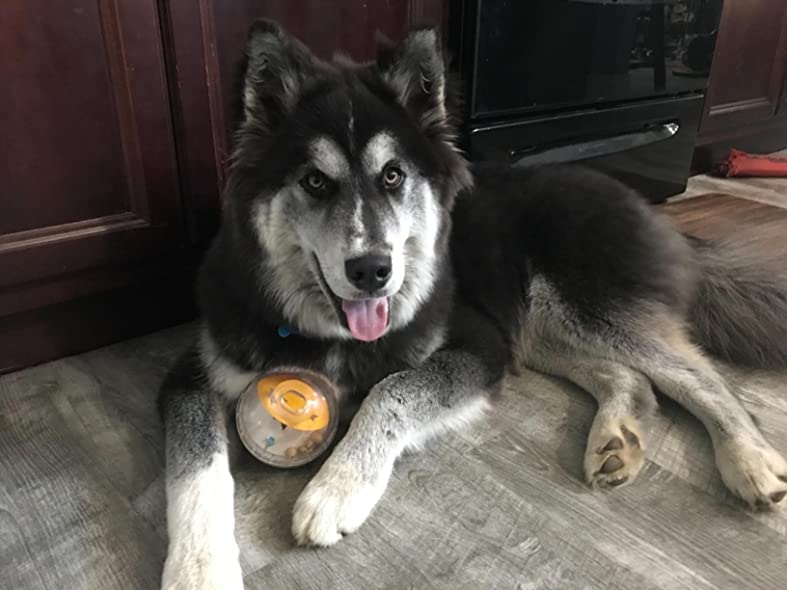 Overview Of Features
When it comes to doggies toys, materials are always a significant feature to look into. Fortunately, our treat ball is made of non-toxic plastic so that you can have peace of mind while your pooch plays around. Plus, it's created with durable plastic to last through his many days of play.
We, as pet lovers, are always looking for a healthier pup lifestyle. Pet Zone IQ Treat Ball can help slow the pace of eating for beneficial digestion and less weight gain.
The toy is designed to stop access to treats after a short while. This obliges your dog to work out for more time to get another snack. Veterinarians have even recommended these slow feeders for their significant impact.
The difficulty level is another great feature to have multiple options for (three to be precise) since each dog has its own different needs. If your dog seems to be struggling using the treat ball, we recommend starting with the most comfortable level first and working your way up to the more rigorous standards. That way, you can enjoy watching your pup become smarter as he advances through the levels over time!
If you are looking for a long-lasting interest by dispensing just a few pieces at a time, you cannot go wrong with this 4" ball. It is an affordable option that solves puppies' worrisome behaviors, besides it disassembles easily for thorough cleaning with soap and water for fewer messes and more fun for puppies!
How To Use It?
Fill the ball with treats and watch your furry friend try to fish it out of the toy. He'll love to play with it trying to figure out how to get the tasty morsels inside.
As he rolls, nudges and paw at the treat ball, kibble will fall out of the hole, and with adjustable levels of difficulty, you can keep increasing the challenge. It will be like a reward for his hard work, which has loads of benefits!
Promotes long-lasting interest
Aids in weight management
Multiple difficulty levels
Not suitable for aggressive chewers
Small treats required size
Conclusion
If you are looking to find the most affordable interactive toy on the market, the Pet Zone IQ Treat Ball is by far an ideal option. It is a playful twist on the slow feeding bowls so that it can be a fun selection for dogs that gobble down their meals in seconds and keep following you nonstop.

The complex dispensing mechanism will force your pooch to eat their food one bite at the time, instead of snarfing it all up. Eating at a slow pace promotes better digestion and prevents bloating in dogs, so if you have a greedy little gremlin, consider serving the majority of their meals in this toy.