Product Description
FGS, for your dog, toys are not a bonus, they are a necessity. Well, for this sumo dog toy review, you are going to explore with me why your dog needs such a product. Together we will go through how to use the sumo dog products to have fun and exercise too.
Sumo dog products come in different types and shapes; each of them intends a specific purpose. But all of them are designed with the best and the most resistant rubber.
One of the most useful sumo toys is the sumo rubber play. The most exciting thing about this dog toy is its unusual shape which makes it bounces in unpredictable directions whenever your dog drops it.
Your interaction with your dog should be full of fun and joy. Sumo products aim to help you build a secure connection while you are interacting with your dogs or your puppies.
So why not make that interaction beneficial and full of love by using it effectively as both a mental and a physical workout? Sumo rubber play is essential in this case. Adding to being made with high-quality rubber, it stimulates the dog's alertness.
Who is This Product For?
Sumo rubber play is very beneficial for large size dogs; I mean 30+kg (66+ lbs.). Additionally, this toy can be in great use for overweight dogs because of its unpredictable bonce; it encourages your dog to exercise physically, think of it as a workout okay.
Also, if your canine is bored, this toy teaches him how to spend joyful time without you. It keeps our furry friend busy and entertained.
We all know how ugly of a beast is anxiety. Unfortunately, even those cute creatures can't escape and suffer from it. Well, with the sumo rubber toy, you don't have to worry about your dog developing anxiety separation or isolation distress anymore when you are away from home.
I am not presenting this toy as a magical toy that will resolve such severe issues. But it will help.
Also, if your pet is a crazy chewer, they all can sometimes be, this toy is a perfect match for him or her we don't discriminate.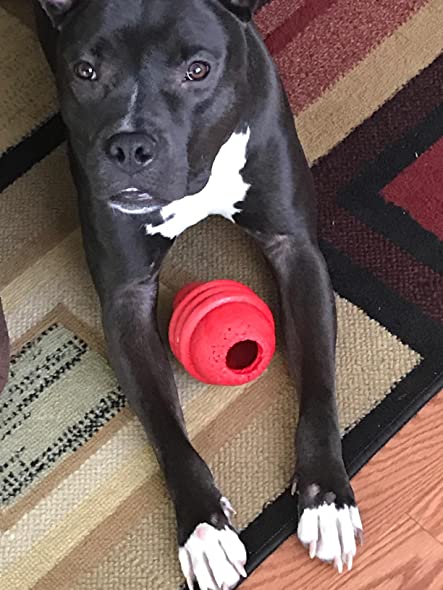 Overview Of Features
There are several factors that you, as a dog owner, should bear in mind when choosing a toys for your furry friend. In this sumo dog toy review, I will be reviewing the features of sumo rubber play toy to help you see; whether it is suitable for your fur-friend.
Sumo rubber play is durable :
Well, the durability of the toy is an essential factor; you don't want to end up spending a fortune on a toy that doesn't last. Besides, like any toy, it takes time to get your dog to get used to a particular toy.
And doing that takes time and effort, so this feature is not only a pocket-friendly one and also time and effort saver.
It has a predictable bounce :
Thanks to its unusual shape, the sumo rubber play to is a perfect active toy. Dogs need a vivid toy that catches their attention to it and stimulates their alertness—making not only their body move but their brains too.
It's a perfect chew toy :
Your dog instinctually needs to chew, and this little body can do the job. Tennis bull is ideal for fetching, but they don't have a chance against munching.  When the pup chews on the toy, the act releases endorphins that calm your dog down and produce a feeling of contentment.
Thanks to its durability and its tough rubber, sumo rubber play are perfect for your dog to chew on them and carry them around.
It comes in so many shapes and sizes :
This feature right here gives more potential to filter the toy your fur-baby is going to have. You can add the element of challenge to the toy by combining different sizes. Additionally, the product comes in two colors, red and yellow.
You can stuff the toy with food and treats :
This feature will require your dog to make an effect both mentally and physically to get the treat inside the toy. You can stuff it with peanut butter, creamy yogurt or creamy cheese to make the toy an exciting puzzle.
It offers mental stimulation which is beneficial in training sessions :
You don't become a dog owner just by owning one, okay! You work your way through it GEEZ!! These furry puffy cute creatures need a lot of training.
Toys can be in use when teaching your little buddy necessary skills or certain behaviors. Sumo dog product makes training life a lot more fun.
It is an interactive toy :
We already established that it could be in use in training sessions. Now, you need to interact with your hound built that trust that bond with such an active toy like sumo rubber play both you and your dog are going to have fun.
Teaches your dog to be comfortable alone and works wonders as a distraction :
This factor can solve so many problems that every dog owner suffers from like boredom. Widely known, boredom always leads to mischiefs. Sumo rubber play functions as a puzzle which means that your dog can spend hours distracted with the toy.
This product is a comfortable companion :
Your dog needs a companion; he/she will be carrying the toy around, so make sure to pick a small size sumo toy yet large enough so the dog won't swallow it.
How To Use It?
Well, the usage of this product is easy; it's not rocket science don't worry. You need first to moisten dog food spoon in the toy, freeze it, give it to the dog then straight to the dishwasher.
For what to put inside of the toy you can put dog food, peanut butter, cheese and yogurt. Beside frozen dog food, the possibilities are endless; you can check several recipes on the internet on what to stuff feeder toys if you want to pamper your dog.
It helps with weight management
It prevents boredom, isolation distress, and separation anxiety
It is both a fetch and a chew toy
You can put it the dishwasher
It is comfortable and safe
It may not survive with some dogs
It may not be suitable for some dogs ( since safety is an essential factor, check your vet first before opting for any toy)
You can't put it in the microwave
Conclusion
To sum up what we have tackled in this sumo dog toy review the sumo rubber play is a fun toy. If you are aiming at making the interaction between you and your pet beneficial, this toy is perfect for you. But remember that what makes the toy effective is you the owner. You give the toy, no matter what it is, its purpose.
 With the sumo rubber play, you can make food time a lot more fun and life, so it won't be a task that you have to do but a job you enjoy doing it. With its unpredictable bounces, your dog will feel excitement and joy.
Other Sumo Toys That Dogs Can Benefit From :
– SUMO Rubber Dental Play (S) Dog Toy :
This product has multiple benefits. The design of this toy is patented and makes it an ideal dental toy; the Sumo team manufactured the Rubber Dental Play with high-quality rubber. The sturdiness and the exceptional shape of this item distinguish it with an unexpected bounce all over the place. 
Thanks to its teethed exterior, it keeps your dong's teeth clean and adds a uniqueness to the toy that catches the pup's attention. Its surface massages your dog's gum and helps to eliminates and prevent plaque and tartar build-up.
This item is ideal for fetching and chewing. It is suitable for small size dog, 3-15kg (6-33 lbs.) besides, it is a feeder toy; you can stuff it with food and treats, peanut butter, to keep your pup busy and distracted.
– SUMO Rubber fit Ball with Rope Dog Toy :
This item targets your large size dog, 30+kg (66+ lbs.) it combines both a chew rope and a chew ball. Similar to all sumo team toys, this product right here is made with high-quality rubber.
The toughness of the texture of the toy makes it durable and challenging. The combination of the ball and the rope is a fun element in the item, let alone the diversity of choice. The rubber material gives an expected bounce that would stimulate your puppy's alertness.
– SUMO Rubber fit Bone Dog Toy :
Another item that aims large size dog, 30+kg (66+ lbs.) is the Sumo Rubber Fit Bone. It also contains a chew rope adding to the chew bone which is epitome for chewing, fetching, tossing and tugging.
Similarly to the other sumo team toys, this product is durable; the high quality of the toy's rubber makes nearly indestructible.
– SUMO Rubber Mini fit Dog Toy :
If you liked the idea of combining a rope and rubber toy to it, but your pet is still a puppy, or you have a small dog, don't worry, you can purchase the Sumo Rubber Mini Fit. This item is for puppies and small dogs, 3-6kg (7-13 lbs.)
It has a cute shape and comes tow colors, red and yellow. The texture of the sumo rubber mini fit is softer and comfortable to avoid teeth damage. Yes, it is indulgent and cute but no worries it is durable and robust it can survive your little crazy chewer.
You can use it for either fetching, chewing, tossing or tugging. It helps you spend joyful time with your adorable canine.