Introduction :
Dogs are similar to babies. You need to be there with them and teach them all the needed skills. There are several important skills for both of you such as how to train your dog to walk beside you without a leash.
Leash training can be very challenging for dog owners. Especially that all that your dog does is literally sniffing everything he finds all along the walk.
Plus, it is a no brainer that dogs are not very pleased to be kept on leash. I mean obviously, they do not at the beginning. For them, this would be limiting their freedom. Besides, it prevents them from their favorite activity, playing around.
However, leash training is the first skill to teach your dog. Leash training protects your pup and saves her/his life. Without this skill, it will be hard to teach him/her other skills. In this case, your dog won't be getting the exercises she/he needs.
Good news is that training your dog to walk beside you is as important as easy of a task. Many people struggle with how to train dogs to walk without a leash. This goes back to the fact that they try one method and expect their dog to walk by them hand by hand.
In order to accomplish this task, you need patience and diversity. You need to keep trying. Do not give up. It is not that hard of a task. Also, try several methods. This would reinforce this behavior through repetition.
After 10-12 weeks your dog will realize his belongness to you. You will live that moment when you call his/her and the dog will turn in a tender. Then, she/her will be thrillingly running back to you. Believe me, this moment is worth all the time you devoted to.
We can say that there is no stick-with-you type of dogs. There are trained dogs and ones that aren't not.
So, if you own a dog whose off-leash skills are not existent. the tips I will be giving to you in this article may help you gain the reliability you want, so both you and your dog can enjoy more freedom.
Off-leash training benefits :
Dogs tend to be curious explorers. They enjoy running freely. Dogs need freedom. You can't keep a leash on them for a long time. This provides them with a healthy lifestyle. Off-leash time stimulates these lovely creatures mentally and physically.
However, most, if not all, dog owners get worried about their dog not coming back or getting injured. And this is why off-leash training is very important.
There are several obvious benefits of off-leash training. Off-leash training protects your pets from cars, other people, other dogs, and wildlife. Besides, there are a lot of potential hazards similar to rodenticides in public parks. And many other benefits.
Through this skill, your pet will be able to exercise and play safely. (e.g., your dog can play chase or fetch with other dogs and even participating in agility training, etc.)
Off-leash training helps your dog to develop more confidence. For example, getting to explore the world more. Also, they learn how to solely solve the problem. Most importantly it helps them interact naturally with other dogs.
Your pet will have more freedom. Besides, off-leash skill gives her/him an outlet to burn that excess energy of her/him.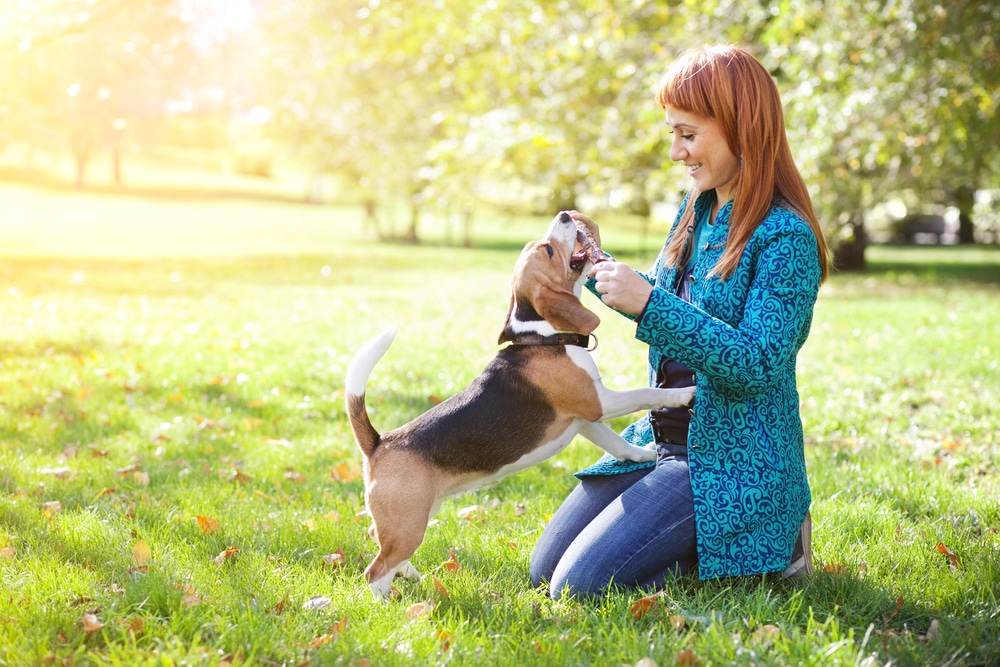 Tips you need to know before the training :
Before starting to train your dog to walk without a leash, it is highly recommended to start off by some baby steps. Try following these steps:
Maintain good behaviors (kind of like establish dominance but in lowkey way).
Get you a long leash.
chose an off-leash dog park for training.
Inform yourself well about what to do if your dog makes a break for it.
Needed supplies :
| | | | |
| --- | --- | --- | --- |
| Collar | Leash | A quiet place | Treats (if needed) |
| Choose a comfortable collar. one that fits your dog suitably. | It is recommended to use a standard-length leash when training sessions. It provides maximum control. | Make sure to pick a quiet place for training walks. This would eliminate distractions during the learning process. This way the dog will learn faster. | Although, it not necessary and many disagree on its use, try to keep treats near you. Especially, if you will be using positive reinforcements training. |
You need to set time for off-leash training. You should practice this skill as often as you can. the more you reinforce the concept the quicker she/he will adopt it.
Also, you need to patient with your pup. Patience is key. For instance, strictly avoid yelling at your canine if she/he don't do it right.
How to train your dog to walk beside you without a leash?
The are several methods on how to train your dog to walk beside you without a leash. In this article, we present you some ones that you can choose from. Each of these methods has its own strengths and offer a certain quality.
Method 1: The by my Side Method
This method stimulates your dog to stay by your side:
Step 1 Choose your side :
First off, start by choosing aside. You want your dog to walk beside. The side you choose, you better stick to it. Traditionally, people go for the left side. However, it is not necessary to choose from. Your right works well too.
Step 2 Choose your leash :
At the early stages of off-leash training, make sure you are using a standard-length leash. At this point of training, it will offer you better control. Don't let your dog pull you along. Yet try giving her/him some space to maneuver.
Step 3 Choose your treat :
Use positive reinforcement at this point. Try utilizing one of his preferred treats. call your dog to your side using the healthy supply of treats as a mean of a lure. When he goes into position, praise her/him and give her/him a treat.
Step 4 choose your command :
Adding to choosing your side, make sure to choose a type of command. It is possible to use the common commands "side" or simply "walkies". with time, your dog will be coming to your side each time you pull out the leash.
Step 5 start now :
Well at this point, it's time to head to a calm dog park. And go for your first training walk. Grab the leash, then give your command. your dog should step right up. now, hook her/him up. Then, head out for a walk.
If you see your dog behaving well on the walk, praise her/him and give a treat or two. This would inform your pup that she/he is doing the right thing. try extending the walks. This way you stimulate her/him mentally.
Keep doing this. Until you manage to go wherever you want with her/him without the need for a leash or any kind of treats.
Method 2: The Meet your Collar Method
You can use this method only if your pup is used to wearing a collar. However, if your puppy is not, make sure to spend a few days getting her/him to get used to wearing one. It is a basic skill before taking off to off-leash training.
When the introduction period if over, go ahead and introduce her/him to his leash. Pin the leash to his collar and let him slog it around the house. This would last a little while. It is recommended to offer him a few treats along.
Step 1 :
Again, now it's time, you choose your commands, "walkies" or " time for a walk". each time you pin the leash, try giving your canine the command. Then, give her/him a treat to reinforce the association between the action and the command.
Step 2 :
Then, go for indoor walks with the leash as a start. this helps to get her/him introduced to walk with the leash on first.
As soon as the dog is at ease with this, you may use a treat to get him to your side. Try tapping your leg to show where you want him to be. Then, give her/him a treat and praise if he arrives at your side.
Step 3 :
Shift to take this outdoor. Try practicing this indoors for a few days. Until you see that your dog is ready to go to the outside world. First off, start out low with short walks. This way you yourself can practice to be prepared for any situation.
In order for the dog to get used to this situation, it will take her/him a lot of time. However, don't worry she/he would fall back into the routine quickly. Just keep calling his name and tapping your leg.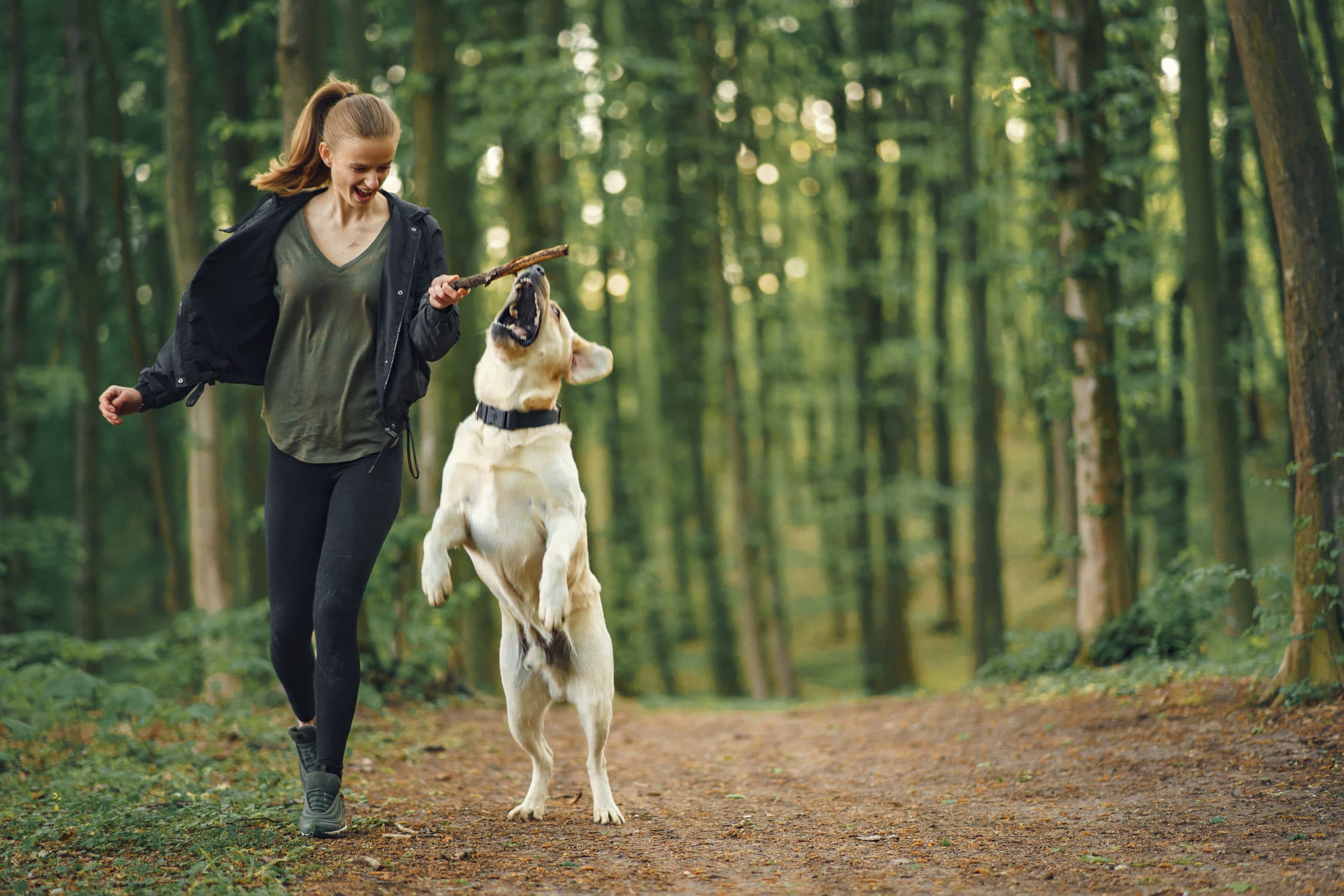 Method 3: The Take Off Method
Step 1 :
Start by pining your canine to his leash. Now, call his name. Then, without looking back, start walking away rapidly. Your dog should be following you. She/he will try to catch up with you on the side you are holding the leash in. if this is the case then, offer him a treat.
Step 2 :
In case your pup doesn't come to your side. Slow down. Shout out his name. then, use a treat to sweep him to your side.
Step 3 :
At this stage, she/he is in position. Start walking again. use your commands to get her/him to your side.
Step 4 :
Keep doing so until s/he seems to be at ease walking by your side in straight lines. Start shifting directions and zig-zagging. This will make him prove his new skills. Besides, this also aids to reinforce the idea in her/him. s/he will realize her/his need to be constantly by your side.
Recall Games :
– The Ball between the legs" game :
In this game, you call your dog to you. Throw a ball, as s/he comes running. Throw it between your legs and call "get it." In the case where your dog is too big to walk between your legs, just turn around and throw the ball.
Note that saying "get it" is very important when your dog passes by. This way s/he begins to relate the recall with running past you.
– The "You're the most wonderful dog" recall game :
In this game, you just play whatever you want. When you are going to play with your dog. Call your dog to you with a certain command or with tapping on your leg. When your canine arrives. Then, get down on the ground and play for at least three solid minutes.
– Back and forth recall game :
This game requires two people. So, you need a friend for playing it. First, call your dog between the two of you. Then, whenever your dog arrives, each of you gives her/him a healthy treat (silly play, jumping up and down, great food treat, play ball, good toys, etc.).
– Hide and seek :
Make your dog remain in one place. Then, go to another room and hide. Command your dog to "COME find me" (highlight the word "Come!"). Then, when your dog finds you, offer a healthy reward.
Keep repeating 3 to 10 times. Then, quit while your dog is really involved. As soon as your pup gets used to this game, you can use it when you want her/him around.  you just initiate the game suddenly.
– Dinner time recalls :
Let your dog watch you while preparing his dinner. Then, keep him/her in one room while you take the dinner to another room. Finally, call him/her to have dinner. In this case, dinner is the positive reinforcement.
Rules :
There are several tips you need to know while training :
Don't end the session by calling your dog to you. Let the dog come to you on his own.
Always attach the recall with one of your dog's favorite treats or dolls as a reward.
Set timing for building this connection with your dog.
Avoid repeatedly calling your dog.
Don't forget to always hype your dog. Act as if s/he is the best dog on earth (which is true though).
Conclusion :
Dogs adore romping, playing, running free. Besides, it is so beautiful to watch them do so. However, off-leash reliability is not given and you have to know how to train your dog to walk beside you without a leash.
Off-leash training helps you see your dog running happily and most importantly freely.  and your dog can achieve this easily if both of you would just be consisting on the training. Practice makes perfect.
As you have seen in this article, it is not that hard of a task to do. Besides, it is so fun in which all you have to do is playing. Try repeating all of the mentioned off-leash methods with the dog. Until you would not need a leash anymore.
At one point, you will reach that stage where you would not need a leash at all. Your dog will be so obedient off-leash. However, keep in mind that a leash is needed. Keep a leash with you at all times when walks and when you are training.