Overview :
Dog training collars can be very costly. Well, to help you here is a group of the best dog training collar under 100 $. This review over here will ease your way to the perfect training collar for your dog without harming your pocket.
Buying a shock collar (aka electronic collar, e-collar or remote training collar) is a cheaper substitute for getting a fence or a professional dog trainer. It is one of the most effective methods of behavior modification.
It is scientifically proven that dog training collars provide you with great help when training your dog. Especially if you choose the collar right. That will serve both you and your canine.
Using electric shock collars when training dogs is a subject of extensive controversy. However, many pieces of research proved that dog training collars help to abolish many destructive behaviors like self-rewarding behaviors.
Unlike mechanical devices, such as choke chains, dog training collars reduce the risk of stress and injury. Because you can use them over greater distances.
Many dog trainers and dog owners trust dog training collars. They believe that it is necessary to fix the dog's wild behavior and keep them safe from their own actions.
So, let's discover and rate them collars!
Best Dog Training Collar Under $100 :
1- Dog Care

Dog Training Collar :
This dog training collar comes from Dog Care. This brand is one of the most trusted brands in the dog accessories' market. actually, this rechargeable electric dog collar is considered as one of the best of their products.
The DOG CARE Dog Training Collar is one of the utmost quality products. The brand designs its products to fulfill both the customers and the dogs' the needs.  This training dog collar is ideal for mid-size to large breeds.
The dog training collar includes a lot of features. This e-collar can be expandable for up to 9 dogs. It would be wise to go for it if you have a pack of dogs.
Dog Care dog training collar can chain a maximum of 9 dogs training with one remote transmitter. All you have to do is customizing each channel to the size of the pet on the transmitter.
This e-collar has several options. It comes with three different raining modes: shock, vibration, and beep.
Basically, you may begin your training session your dog with the vibration mode. However, you may go for the shock mode. It is features like this that make the DOG CARE standout.
This e-collar is not only effective. But it is also one of the most ethical e-collars on the market. In fact, a lot of dogs react effectively to sounds and vibration modes.
Talking about shocks, with this e-collar you don't need to feel sorry after accidentally shocking your pooch. It has a security keypad lock which prevents any mis operation on the remote.
The feature that you will definitely like best is the adjustable static level. it goes from 0 to 99. Aka whether your pup is a 15-pound pup or a 100-pound one, you can just alter the signal intensity. This way you dodge hurting your dog.
Another great feature is that both the receiver and the remote control come with rechargeable batteries. In fact, the battery on the remote lasts way longer. it can be recharged via any USB device or wall outlet.
The battery has a long runtime. Plus, in standby mode, the receiver's battery lasts for up to 15 days.
This device is waterproof. So, you don't need to worry about the receiver getting wet. Yet you got to keep the remote control away from the rain. Finally, the DogCare e-collar has wireless control for up to 330 yards remote range.
It has a security keypad lock
It has rechargeable batteries
It has a waterproof receiver
It comes with a one-year warranty
It does not suit small breed dogs
It turns off when not used for a few hours
It can be hard to set the collar's length
Wireless control for 330-yard remote range
2- Garmin BarkLimiter Deluxe

Collier Anti Aboiement :
If your dog has a thing for persistent barking, sleeping must be a hard task for you. Or perhaps you want to train your dog to stay in the yard. In this case, you may have considered a shock collar. the Garmin BarkLimiter Deluxe dog shock collar is what you desperately need.
Garmin BarkLimiter Deluxe dog training collar as its name implies is designed specifically to control your dog's excessive barking. This electronic bark correction device has many useful characteristics.
The Garmin BarkLimiter Deluxe can be set both manually and automatically. This makes it an ideal device for controlling irritating barking.
This device utilizes accelerometer-based bark identification. The feature helps to differentiate barking from other vocalizations.
The BarkLimiter dog training collar can detect bark signals solely through vibrations you're your dog's throat. Consequently, this aids in eliminating false corrections. If your dog scratches and scrapes the surface or further sounds like if the neighbor's dog barks.
This device from BarkLimiter is designed to recognize qualitative differences in barking. What do these fancy words mean? that the device is set to recognize "good" from "bad" barking.
This training collar corrects only obsessive or annoying barking. while it overlooks "good" barking.  Good barking is that when your canine communicates injury or threat. Now, this barking is necessary. It this case the automatic mode does not activate the device.
Another important technology that the BarkLimiter obtain is Autorise technology. The collar sets out the Autorise automatically, right out of the box.
The BarkLimiter is accommodated with a total of seven correction modes. Autorise begins at the lowest correction level. Then, it gradually regulates the collar to a level to stop undesirable barking without rising further. This feature offers you instant relief from irritating barking.
As an alternative for electric shocks, you can go for the vibration option. You better set the BarkLimiter collar to this vibration to control your dog's barking.
Another amazing quality about this device is the built-in Bark Odometer. I mean it counts the number of barks while you are away. This one right here This helps you evaluate the effectiveness of your manual training.
Also, when you are home, this dog training collar can be set manually which is a nice option too. With the built-in Bark Odometer, you can decide what to use either vibration or static mode which depends on the behavior of your pup.
It has a rechargeable battery
It comes with an automatic bark correction
It contains 7 manual level modes
The Bark Differentiation Technology
3- ieGeek

Dog Training Collar :
The electronic dog training collar from ieGeek is also considered as one of the best budget-friendly collars. This collar is extremely easy to operate and safe.
The ieGeek dog shock collar prevents accidental shocks. The collar's concave button design reduces the chance of accidentally being triggered. Due to putting the remote in your pocket.
The ieGeek shock collar's best treat is its design. In fact, each button has a unique structure. Also, the touch design permits you to operate easily. With ieGeek, t is so easy to send the right training commands.
Another important feature of this e-collar is having a waterproof receiver. You don't need to take off the collar when bathing, swimming or playing in the rain. In fact, the transmitter is highly resilient to water with an IP67 waterproof level.
The ieGeek Shock collar is designed with high-quality material. This makes it among the best skin-friendly collars. The e-collar has soft contact with the dog's neck. Plus, the collar's length can be accustomed.
Talking about necks, this collar's size of neck varies from 14 inches to 23 inches. This is why it is suitable even for dogs with a weight of 22-100Lbs.  
Concerning operation, the ieGeek shock collar offers three modes: beep, vibration, and shock. It has an adjustable shock mode with 0-16 level. The collar ensures you finding the ideal safe stimulation for your dog.
Besides, it is compatible with a dual-channel design. This technology allows you to train your two dogs just with one remote.
This electrical collar is set to correct aggression, walking, barking, sitting, leash training, and other disobedient behaviors. Whether you are a junior pet owner or an expert trainer using this device will be easily effective.
Many expert trainers use the ieGeek e-collar. This e-collar's control ranges up to 1960ft. this collar adopts an advanced RF434 Mhz technology. This technology assists the transmitter range to be up to 600m.
Thanks to its 550mAH and 3.7V lithium polymer battery, you can use the electric collar continuously. Actually, you can use it for about 15 days. Besides, this device can get fully charged rapidly just within 2-3 hours.
It has a security keypad lock
It has rechargeable batteries
It has a waterproof receiver
Wireless control for up to 1960ft remote range
4- PATPET BOOCOSA

Shock Training Collar :
PATPET BOOCOSA Dog Shock Collar is definitely one of the best training devices in the market. It has the whole package, to be honest. It is amazing for training your dogs at home. It is equipped with a wide range of features.
PATPET BOOCOSA Shock Collar suites all kinds of dogs. It is ideal for both professional trainers and regular dog owners. PATPET recommends not using the shock mode on dogs younger than six months.
Conveniently, this electronic shock collar has different training modes. Mostly the vibration mode is the more frequently used in training. Most often it is enough to stop the dog from barking or running away during walks.
With the PATPET BOOCOSA shock collar allows you to pick from any of the 16 different shock levels.  This way, you can see which one fits your dog the most.
Another good feature of this electronic collar is the battery. This device's controller has a rechargeable battery. It will only take you between 2 to 3 hours to get the battery fully charged.
Once the battery is charged, it can last up to 6-12 days depending on the amount of usage. Besides, the controller is waterproof. This way you don't have to worry about using it under the rain when taking walks.
The treat of this product is the collar's range. With the PATPET BOOCOSA shock collar, your dog can enjoy a 3000ft long of freedom. Whilst your remote maintains full control over your dog's actions.
This feature means you can establish your control and supervision both at home and in the park.
You may face some troubles with remote (it does not work sometimes)
5- Bousnic

Shock Collar for Dogs :
This electronic collar comes from Bousnic. Again, this brand is one of the best in dog training collars. The company tend to focus on making user-friendly devices.  
The Bousnic Shock Collar is one of the strongest competitors in the market. This product contains a lot of qualities that make it stand out over the rest.
This electric shock collar comes with 3 well-designed harmless modes. The standard one which is the beep.  Then, the vibration mode which is the most used. Finally, the safe shock, this mode is completely harmless. Plus, this most is adjustable, 1-16 levels.
With this collar you can reach your goal. It will help you train your dog for better behavior. You can decide what mode to use based on the dog's temperament.
The Bousnic shock collar has a waterproof receiver. The IPX7 waterproof training collar receiver permits you to train your pooch in any moist/wet conditions. For instance, you can use it when it's raining without worrying about damaging the receiver.  
Besides for extra fun training, this e-collar covers up to Almost 1000ft Range. The remote training range of this e collar is nearly 1000ft. this means you can utilize it while playing in the backyard, the beach, at the park.
Plus, the e-collar's remote has a dual channel. This feature allows it to support training 2 dogs instantaneously. Yet, you should purchase the collar separately.
The Bousnic shock collar comes with a rechargeable built in lithium battery. With your phone adapter, you will be able to charge the shock collar. The lithium battery technology provides a long battery life which lasts for a long time.
Also, it will take it only 2-3 hours for full charge. However, charge it for 4 hours for the initial charge. the receiver would last for 11-15 days. While the remote battery may last for over one month.
It has a strong, long-lasting, and a rechargeable battery
It has a waterproof receiver
It does not function properly sometimes
6- Bousnic

Dog Training Collar 2 Dogs :
Bousnic Training Collar for 2 Dogs, absolutely, can make it to this list. It is one of the most amazing training devices out there. This e-collar is a complete package. It is ideal for home training.
The Bousnic Dog Training Collar has high-end features. These features make it fit for all kinds of dogs. It suits both professional trainers and dog owners.
These Bousnic shock collar for dogs offer the three important modes. It has a customized Static Shock (1-16 level). The vibration mode has several levels from 1 to 8. As well, this e-collar has the standard "Tone" mode.
You can alter these variable stimulations depending on your dog's temperament. Besides, in length, the adjustable nylon collar fits from 8 to 26 inches.
Concerning versatility, the remote for this dog training collar covers up to 1000 feet. This allows you to train dogs anywhere for instance the backyard or the park.
Factually, the remote also has a dual-channel support. It means that it can support training 2 dogs instantaneously.
The remote has easy-access button sizes. Plus, they come in a simple format. Operating the remote is so convenient for pet owners. It will help dogs learn commands more efficiently.
The Bousnic Dog Training Collar is a premium training collar for both expert trainers and new pet owners. It features conductive silicone prongs to make it safe on coats and skin.
The Bousnic Dog Training Collar gives you the chance to use it under any circumstances. It is rechargeable and waterproof.
You don't need to take off the collar's receiver when your dog goes for a swim. Your dog can chase coolest toys around a pool, or play in the rain without worrying about the receiver getting wet.
Plus, each dog shock collar runs with Lithium-Polymer batteries. These batteries can be charged in 2-3 hours but last 15-20 days.
It has a strong, long-lasing, and a rechargeable battery
It has a waterproof receiver
7- Enrivik

Small Size Dog Training Collar :
The Enrivik Small Size Dog Training Collar is considered an ideal pocket-friendly device. It comes with all the in-built required features to get your small, uncontrollable, and aggressive dogs to obey you both at inside and outside.
The Envirik remote collar is designed specifically for small dogs. it has a modifiable collar (8 – 26″). This way it suits all dogs over 5 lbs like chihuahuas and bichons.
This device comes with a full user manual. It includes teaching basic commands. It contains also instructions on how to safely use the remote collar. The manual help you use the collar efficiently and effectively.
The Envirik remote collar is complete dog training system. It comes with both sound and vibration modes.
Besides, it is perfect for outdoor or indoor use. The Envirik remote collar covers a range of 1000 feet.
The Envirik remote is a waterproof remote collar. it stands up to all doggy activities. It has a light weighted and a water-resistant design. This way you may use it whenever and wherever and on nighttime walks as well.
The design is comfortable. Since it targets small dogs. This remote collar is designed with a thinner strap to make it comfy ever for smaller dogs.
With this device, you will have to charge it only once a week. It has a long-lasting lithium-ion battery. With normal use, you will not have to charge it several times.
Plus, you can take it anywhere with you since the remote fits easily in your pocket. Besides, the e-collar comes with a battery-saving standby mode.
It has a strong, long-lasting, and a rechargeable battery
It fits perfectly for small dogs
It has a waterproof receiver
It does not stay ON for a long time
Education: Dog Training Collar Benefits
The idea of e-collars and training through punishment seems a bit harsh. However, many experts have concluded that electronic training collars are relatively safer than any other mechanical training aids.
Dog owners tend to think that all e-collars are the same. However, this isn't the case there are three types which you may choose from. each type is set to serve a specific aim:
Training Collars.
Anti-Bark Collars.
Invisible Fence Collars.
As a matter of fact, electronic collars don't have any adverse effects at all. It is an effective method of training your pooch. But you just need to understand what are these and the benefits that this method offers.
Stops Your Dog from Jumping.
Reduces Your Dog's Barks.
Prevent Destructive Behaviors.
Manage Aggression.
If you choose your collar right you will manage to benefit the max from it. Electronic collars offer you many benefits. Ranging from teaching obedience to correcting behavioral issues, you can use e-collars for several purposes.
This device can be used for both adult dogs and puppies. Plus, it matches your dog's weight. Particularly this device proved convenient for adopted dogs. It helps them with aggressiveness or temperamental issues.
You can use it for training your dog.
The main aim and purpose of a dog training collar is obviously training. Most often professional dog trainers use E-collars to train several dogs at the same time. E collars are a punishment method of training.
Think of it as a reward and punishment conditioning. When your dog does something good, you would show your gratitude or perhaps give him/her a treat. It is exactly the same thing with the e-collars is your wat to communicate with your dog. Your pup would know that his deed is undesirable.
During training sessions, the vibration and the beep mode mostly are sufficient for your dog to understand. E-collars help you get you pup to conform and follow your commands.
Your dog needs to learn how to enjoy his freedom a behaving properly. To do that, you have to set the time and train your dog what is right and what is right. Methods like e-collars give you a hand doing so.
You can use for controlling your dog.
What every dog owner want is establishing control over their pups. There are many destructible behaviors that your dog does. However, you and your dog can't talk about it. But using e-collars gets the message clear to your fur friend that what he did is undesirable.
Dog training collars aid you control your dog's behavior. These devices come with different training modes in-built in the collar to fix your dog's behaviors.
You can control the dog's excessive barking through the anti-barking collars. It automatically detects the vibration in your pooch's throat. In the case of nuisance barking, it sends out an automatic shock signal. That shock will tell them to stop.
Also, in the case of running on the road, you can use the vibration mode to get your dog to stop or control his/her direction.
You can use it just like a regular collar.
This device can be used for other purposes other than training.  For instance, you can use it for the aim of identification. All e-collars contain tags. In case of loss, you should write her/his name and your address on.
This way, whoever finds she/he will be able to return it to you. Thus, it also aids you to identify your pup when it gets mixed up in the park or something. It helps you recognize which one is yours.
It makes your dog recognize you as an authority.
You and your pup belong to each other. Through having a specific dog collar on your dog shows ownership. It makes your fur friend understand that you guys belong to each other.
Especially that you are the only one who has a remote device. This is perfect with new dogs. It makes them recognize their real owners. Especially when it gets mixed up at public places.
Come on!! Admit it! It makes dogs look so trendy and fashionable. Actually, a lot of people now tend to dress up their dogs and showcase them. So, it a win-win.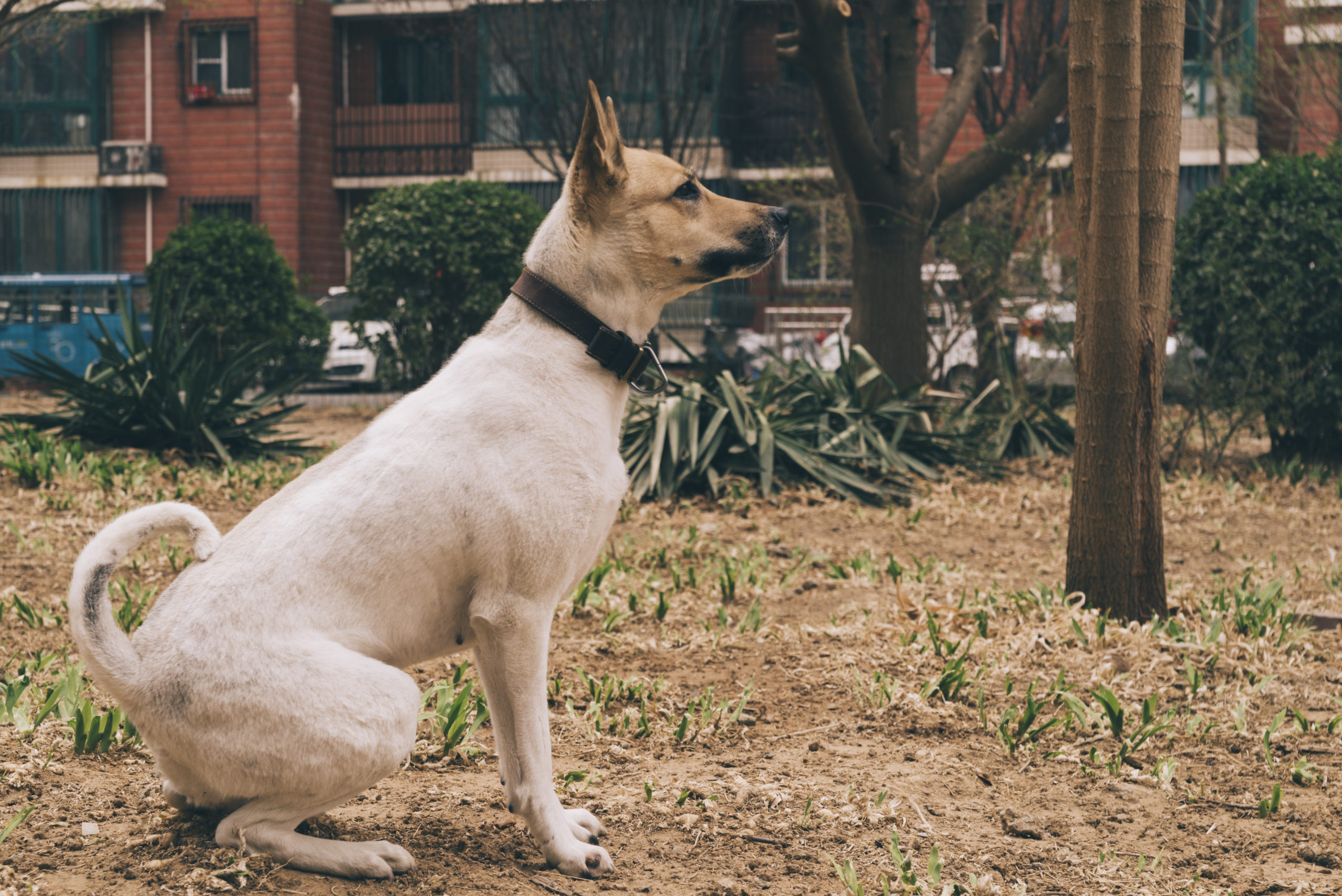 A Guide to the Ideal E-Collar : Factors To Consider When Getting A Dog Collar
In order to benefit fully from e-collar, you need to choose yours carefully. E-collars are expensive. Although in this review on the best dog training collar under 100 $, spending that amount of money should be fruitful.
There are six criteria to consider when going for an e-collar:
Breed
Features
Material
Neck Size
Style
Price
The first step to check when choosing an e-collar is considering your pup's breed. Do your research on your dog's breed. The growing size of each breed is different. Plus, each breed has a different degree of strength.
It is important to know what your dog can handle. Besides, what your pup can't take. This way you can purchase the most suitable shock collar for your fur friend. I know saying shock collar sounds cruel but don't worry it won't hurt her/him.
Each electronic collar comes with a set of features. Check all the possible features before purchasing one. See for yourself what suits you and your pooch best. There are some vital features like versatility and ease.
Your dog collar must have various training modes. It should include adjustable static levels. It should, also, contain an adjustable size to fit all dog sizes. Look for other complimentary features as well like having a waterproof dog collar.
For further protection of your dog, be aware of the material of the collar. The quality and type of the material matter too. In fact, dog collars are usually made of nylon. However, there are other materials in the market depending on what you like.
The quality of the material of the collar is very important. Bear in mind that your dog's fur or skin might get irritated by some material. Thus, try asking your vet before this step.
Many dogs tend to be allergic to metal so considering a model with titanium prongs is a smart move.
Usually, electronic collars come with metal knobs to send shock waves. The effectiveness of your collar lies with the perfect neck size. You don't want it to be loosened and not work at all.
Also, you don't want it to be too tight and let your dog choke. In both situations, your training is doomed to failure before you begin.
You can measure your pup's neck by a measuring tape. Place it around your dog's neck. However, make sure to add additional two-inch space between the collar and the neck. So, your dog can breathe properly.
This one is optional, but you surely want your pup to be stylish. Especially nowadays that people care about style A LOT. Also, choose something with an easy style. This way you don't struggle to put it and to remove it.
Lastly, price is an important criterion to consider. the market is supplied with several dog e-collars. Concerning the price, you will find diversity. Try to make a balance between the price and the quality of the collar.
How to use a dog training collar? :
Training dog collars work like remote control cars. The remote controller is linked with the collar via a signal. E-collars come with in-built static devices. Which meant that it sends out an electric shock to the dog whenever you press the button on the controller.
You get to control the shock waves. This way, you don't end up harming your pup in the process.
Obviously, your dog needs to wear the device. If in any scenario the shock not effective, it definitely because of a lack of contact. I mean that the receiver's prongs are not in full contact with your dog's skin.
These devices are solely used to fix the wild behaviors of the dogs. Besides, it exists only to protect them from getting into trouble or hurt themselves due to their aggressiveness. So, it is not designed to torture dogs. IT PROTECTS.
In fact, it is okay to use a dog shock collar or dog training collar on a 10 weeks puppy. Yet, experts suggest going for it only in severe cases. Before using a dog shock collar, it is important to go for training methods such as negative reinforcement, positive reinforcement or reward-based training first.
Safety Tips :
Don't leave the electronic collar on for a long time.
Re-position the collar every 1or 2 hours.
Clean the contact points touching your dog's neck frequently.
Check the interaction area daily. When there is redness or sores, stop using the collar until the skin has completely healed.
Begin the training with the lowest level and go your way up. The shock should always be the last mode to use.
When using shock mode, put conductive silicone caps on contact points. They are electrically conductive.
Frequently asked questions :
Should I take my dog's collar off at night?
It is recommended to take off the collar during dog sleep at night. This will give your dog's skin a chance to breathe. However, the answer to such a question is not simple since it depends on your dog.
So, ask yourself does your dog needs collar at night? If yes then it is recommended to change it every time and a while.
Is it better to walk your dog with a harness or collar?
Usually, collars don't constrict your dog during walking. Especially, for dogs who don't have respiratory problems. Also, a collar is ideal if your pup is not prone to pulling on leashes. Actually, it may even be more comfortable for some dogs. Especially if you leave it on most of the time.
Comparing to a collar, a harness isn't that comfortable most often. Besides, dogs with long hair suffer with a harness. It ends up most of the time getting caught up in the harness.
Still, a harness is the best choice if your dog like pulling hard during walks. In this case you may risk a neck injury with a collar.
Is it bad for a dog to wear a collar all the time?
No, as long as the collar is comfortable. I mean when it is not too tight. Most dogs do not have a problem with wearing a collar. In fact, the dog would get annoyed when you take off his/her collar. And some other dogs would not notice that it is there in the first place.
Why do dogs not like when you take their collar off?
This would happen in the case of the collar being too tight. Also, if your pup already has an injury on his neck: cut, bite, or muscle strain…etc. Removing the dog's collar may cause the canine some physical uneasiness.
Do vibration bark collars work?
Yes, when you use the vibration collar correctly, the collar can be effective for barking. Besides, It would be perfect when dealing with deaf dogs.
Are shock collars safe to your dog?
No! not at all, the idea of shock collars sounds cruel and harmful. However, practically, it is a method to protect your pet. The shock is similar to the shock you get with static in your bed sheets.
Shock collars are intended to deliver low to medium intensity. I mean your dog will never get hurt by it. this device triggers his/her attention. Plus, you get to pick the intensity's level.
Wrap Up :
All of these electronic collars are the best dog training collar under 100 dollars in the market. The 7 of them are useful options to help you and your dog to communicate better. It will give you fast result.
the reviewed devices help make your dog listen to you and obey your commands. shock collars are training devices. You use them to fin the destructive and troublemaking behaviors of your pooch.
This device is in no way intended to hurt the dog. You have to get the best of the best shock collars for your dogs even at a lower cost. Try to make sure that you are investing in a trusted product. this would help you train your dog while not hurt him in the process.
Thus, read this guide carefully. Make sure that you choose the best device. Before your decision make sure you think carefully about the battery, range, the expendability of a single remote, the feature of waterproof, adjustable intensity and modes of stimulation. Finally, we suggest that the Dog Care Dog Training Collar is the most reasonable choice for your obedience needs.