TRIXIE Dog Activity Flip Board
Nina Ottosson Dog Treat Puzzle Toy
StarMark Bob-A-Lot Dog Toy
1- Trixie Activity Flip Board :
What's great about this toy is that it is suitable for big and small dogs. However; it is more suitable for small dogs. It is for all ages. This toy allows your pet's muscle tissues to work to keep them always active and entertained.
The Trixie Activity Flip Board is a level 2 difficulty kind of toy. They are some other similar ones with 1 and 3 level difficulty. Also, this interactive dog toy has flip lids and slide disks.
All your pups got to do is to lift up the cones straight up, drag the slides, and lift the lids. If done incorrectly, then it will not offer any rewards. You can put either treats or normal food in its different compartments, however, I recommend putting treats at the first try because it would be more exciting and encouraging to solve the puzzle until they get it. After that, have your little bestie to work on how to open them for a reward.
Things We Like :
Easy to clean.
Very enjoyable and challenging.
Used as a toy without food in it.
Can't be filliped over due to its solid material.
Durable.
Things We Don't Like :
Detached pieces that can get lost easily.
Breakable if your dog is a heavy chewer.
Some pieces can be too large for small dogs.
2- Kong Classic Dog Toy :
Dogs, by nature, are chewing creatures. They love to chew on everything available on their sight for their own satisfaction. Kong Classic toy is one of the oldest and most conventional toys for dogs, it works as both: a chewing toy and a puzzle entertaining toy.
This Kong Classic dog toy is made of red rubber, which is completely safe for our precious doggies to play with. it doesn't really matter if you have a large or a small dog, because the Kong Classic toy is available in different sizes. You can stuff it with any kind of treat you want, either peanut butter, snacks, treats, or anything of you and your dog's preference.
Things We Like :
Works as a chewing toy.
Works as a fetching toy.
Helps to develop the pet's mental strength.
Things We Don't Like :
Only available for adult doggies.
Hard to clean.
Has a light rubber smell.
3- Outward Hound Nina Ottosson Dog Tornado :
The Tornado dog toy is designed to help your pup's mental capacity while having fun. Especially if your dog is often bored. This toy could be the one.
This toy has four layers that shaped like bones. Within each layer, you put the food/ treats there. So, in general, it has 12 hidden compartments and 3 dog bone covers. Your little friend needs to rotate each layer in order to get the reward. The Dog Tornado toy is an intermediate one size toy.
It is completely safe for your companion's health. It is made of BPA, PVC & phthalate-free material. The good news is that the Tornado toy is for all dogs of all different breeds and age.
Things We Like :
Easy to clean.
Easy to understand and use.
Works great as an introductory puzzle toy.
Durable.
Things We Don't Like :
Chewable pieces.
Noisy.
Takes time to set up.
4- Outward Hound Dog Brick Toy :
This toy has four compartments under each bone, eight compartments inside the red bricks and another eight under the red bricks.
The red bricks' lids are designed to be taken off and easily put back. Also, each piece has a sniffing hole so your furry friend can detect where the food is and try to solve the little puzzle.
What I like about this toy is that your pet's level of enrichment increases in a short noticeable time. It would allow him/her to be more mentally and physically active resulting in a healthy body system.
This Brick toy is designed in consideration of the pet's health. It is BPA, PVC & phthalate-free. It is also designed for all types of dogs.
However, cautious supervision is needed. Because, unfortunately, your pet can either keep chewing on the pieces or swallow one of them. That could lead to some injuries. Other than that, it is a really fun and challenging interactive toy.
Things We Like :
Works great as an introductory puzzle toy.
Durable.
Easy to set up.
Keeps your dog entertained for a long period of time.
Very mentally nutrition.
Things We Don't Like :
This toy is not allowed to be used without your supervision.
Some pieces can be swallowed.
Requires training.
Requires cleaning after each use due to slobber.
5- Paw5 Wooly Snuffle Feeding Mat for Dogs :
There are various snuffle mats for dogs, however; this one is found to work best according to many dog owners. It is made of cotton and polyester which made its sensation similar to the texture of grass.
Paw5 Wooly Snuffle Mat has a simple design but highly effective on the growth of your dog's sense of smell. Spread the food or treats on the mat and let your dog go wild sniffing its way to find them. You need to know that as your pet sniffing, he/she can put the food to go even deeper leading them to be hard to find. However, the texture of the mat still allows the dog to reach out for them and find them.
This sniffing mat is suitable for all kinds of dogs of all ages.
Things We Like :
Easy to clean.
Non-toxic material.
No noise.
Doesn't require any kind of supervision.
Really good for slowing down your dog's eating.
Things We Don't Like :
The individual pieces of the mat are not well attached to the base mat which makes those pieces rip off after few washes.
6- StarMark Bob-A-Lot Interactive Pet Toy :
This is another good toy to challenge your dog's capacities. It helps your little bestie to have fun using this rubber made toy. It comes in two sizes; one is small and the other one is few inches bigger. So, if you decide to buy one, make sure that the size of the toy is suitable for your dog size.
Fill the toy inside with kibble or treats and all what your dog got to do is to wobble it and try to knock it until the food comes out of the hole. Don't worry, the hole is adjustable depending on the size of the food you want to put in.
Things We Like :
Will keep your dog busy.
Good sturdy material.
Works great to slow down the fast-eating habits.
Can be used as a regular toy with no food.
Things We Don't Like :
The feeder hole is a bit too small. So, it doesn't fit all types of kibble.
Moves a lot and can be noisy on wood surface.
7- Busy Buddy Twist 'n Treat Dog Toy :
This is another amazing puzzle toy to keep your pet occupied and have fun. Busy Buddy Twist'n Treat is perfectly safe for your dog, material-wise. It is made of non-toxic rubber. It is really fun to play with. Unfortunately, it is made only for small dogs. All you need to do is to twist the two parts away and put the treats there. Then you have to twist it tight again (not that tight though).
It can be adjustable to your likening. It fits different sizes of treats, whether they are big, small, or medium. If you decide to purchase this item, I recommend to start with big sized treats until your little buddy is familiar with its concept. Because the smaller the treats are, the more difficult it is to obtain them.
Things We Like :
Very easy to clean.
Can be used as a fetch toy as well.
Doesn't make any noise.
Doesn't move a lot.
The level of difficulty is adjustable.
Things We Don't Like :
Has a strong smell. (not bad).
Doesn't work well with small kibbles.
Picks up dirty easily, so it needs to be cleaned between each use.
Buying Guide For Puzzle Puppy Toys :
Why you should give your dog a puzzle toy?
As much as we love our pets, we want them to stay entertained and active. But we also want their mental and physical state healthy as well. So, if you're thinking "what's the point of puzzle toys!" and you think that normal toys will do it, then here are several reasons why your pet needs a puzzle interactive toys :
Puzzle toys are highly recommended by the vets. The amount of brain stimulation of your dog increasing while playing with it is astonishing. According to many vets, that's not the only positive thing about them. They are very successful in terms of keeping your dog happy and physically active. They can even be used as a replacement for outside daily walks.
Weight control: dogs who are fast eater tend to not feel full because they eat so quickly to the point where their system can't recognize the feeling of "satiety" accordingly. And that can result in obesity. So, having a puzzle toy can slow down the process of eating and your buddy would feel fuller sooner and, most importantly, stays healthy.
Another benefit from slowing down the process of eating using puzzle feeders is reducing the risk of getting GDV (Gastric-dilatation-volvulus). GDV is a critical condition that results from excessive feeding which leads to stomach delate.
Dogs are intelligent creatures. Puzzle toys will help to stimulate their brain capacity and keep them smart and active.
Bored pets tend to have bad behaviors. This type of toys helps to keep them occupied and away from troubles.
I can definitely say that puzzle toys are very entertaining and distracting for dogs. They can be replaced with exercise time when it is limited. They also reduce the level of stress for dogs to keep them calmer.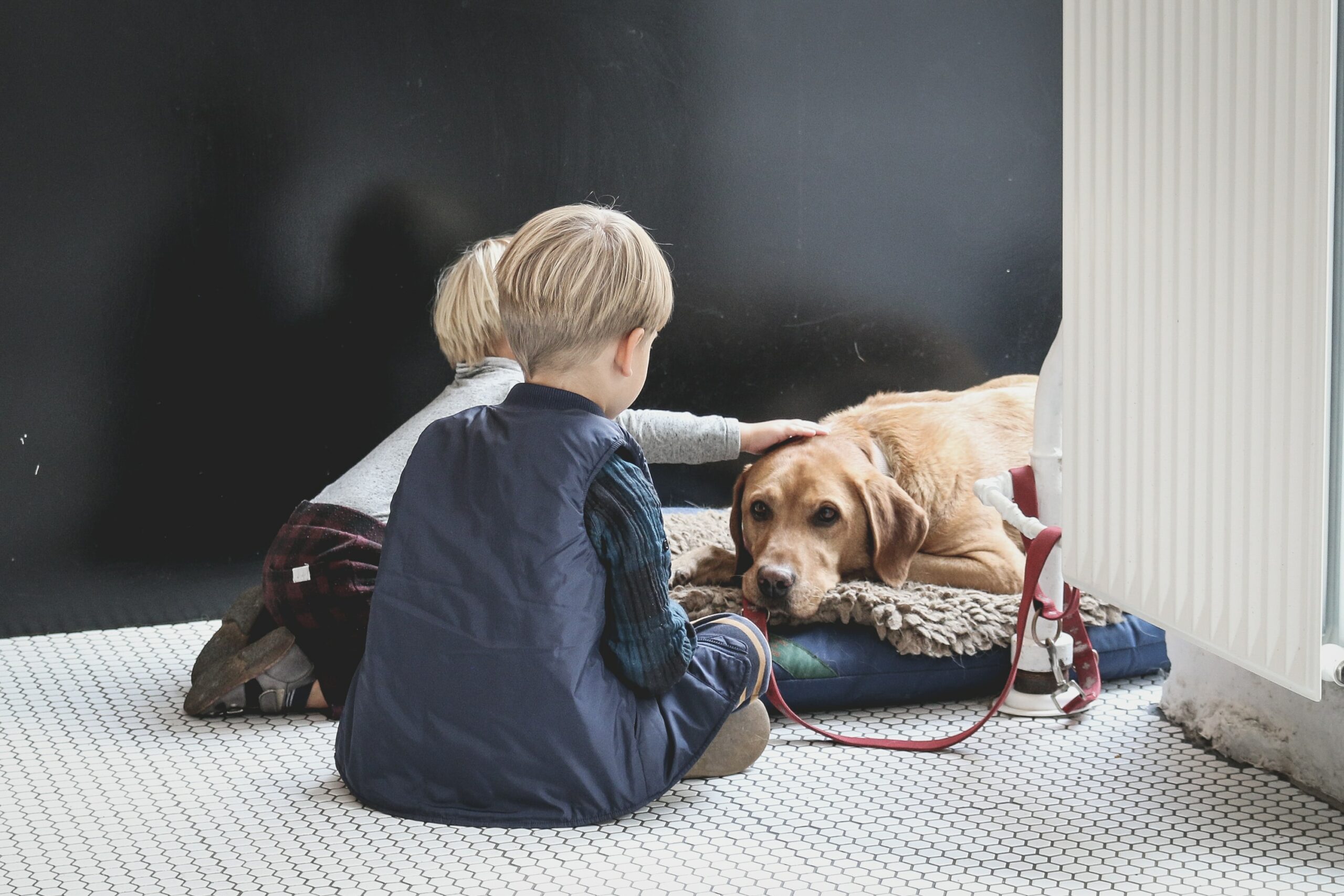 Things to consider when choosing the best puzzle toy for your dog :
To find the best dog puzzle toy and to make sure that our little ones are comfortable and amused, there are some few things that need to be running on your dog's safety list. You need to make sure that:
The material isn't poisonous, not sharp, and has a good gentle texture.
The size is suitable. We can't offer big toys to small dogs, and vice versa for big dogs.
The toy is appropriate for your dog's age and breed.
The level of the difficulty should be low if you're introducing the puzzle toy to your companion for the first time.
Frequently Asked Questions :
1- How to get my dog interested in puzzle toys?
At first, the toy might seem a bit strange for him/her and they wouldn't want to use it. However; getting your pet's interest is simpler than you can imagine. You will, firstly, need to introduce the toy slowly by using their favorite treats in there and I guarantee you that your dog will be interested in no time. After that, your dog will get used to it. You can also start using it as a feeder if you wish.
2- What can you put in a puzzle toy?
There is a variety of puzzle toys, each one serves a different function. But the majority of this type of toys can use different types of food, whether they are solid food such as kibble and frozen chicken stock, or a paste-like kind of good such as peanut butter. The size of the food your dog typically eats should determine what kind of toy you should get. And it also works vice versa. For example, Treat 'n Twist and KONG Classic toys depend on solid food, you cannot use a paste in there.
3- What is the most difficult dog puzzle toys?
Well, every toy has its own characteristics and functions. Their level of difficulty varies from one to another. The most mentally challenging puzzle toys are the ones that include more pieces and more complex steps to solve. However, this type is not recommended to use if you're dog has never been introduced to a puzzle toy before.
For example, the Trixie Gambling Tower and Trixie Flip Board demand more thinking. For that cause, your dog needs to be at least familiar with the concept of hard-to-get treat/food.
But, in terms of duration, the ones which tend to take longer to get all the treat/food out, are those with the wobbly oval, egg shape. Where your buddy needs to keep wobbling the toy in order to get it out. An example of that would be the StarMark Bob-A-Lot Interactive Pet Toy.
4- Are puzzle toys good for dogs?
This question is asked a lot by new dog owners. And the only one-way answer to that is "YES." There is absolutely no doubt that puzzle toys are beneficial for dogs. Whether for their mental health or entertainment. In a way, these toys keep your dog more active and alert. They boost your pups' level of intelligence for sure.
Wrap Up :
Dogs are very intelligent creatures. They need our attention and genuine care to stimulate their brain cells in order for their intelligence to shine. There are some methods to train your dog on how to be mentally active, however; that would require so much time, full dedication, and a lot of energy to make that happen.
Using puzzle toys is a great choice. To be honest, all types of dogs seem to really enjoy them besides challenging them. I find them super nutritious especially if you were able to find the best puzzle toy for your dog, it would work fantastically great.
References :
AG, Z. (n.d.). Trixie Dog Activity Flip Board Toy. Retrieved January 23, 2021, from https://www.zooplus.co.uk/shop/dogs/dog_toys_dog_training/intelligence_toys/classic_puzzles/346553
Busy Buddy Twist 'n Treat Dog Toy. (n.d.). Retrieved January 23, 2021, from https://www.vetuk.co.uk/dog-toys-rubber-dog-toys-c-439_699/busy-buddy-twist-n-treat-dog-toy-large-p-5533
D., & C. (2020). The 2 Best snuffle mats for dogs. Retrieved January 23, 2021, from https://doglab.com/snuffle-mat/
Dog Brick. (n.d.). Retrieved January 23, 2021, from https://outwardhound.com/dog-brick.html
KONG® Classic. (n.d.). Retrieved January 23, 2021, from https://www.kongcompany.com/kong-classic
Parks, S. (2020). These interactive toys sharpen your dog's problem-solving skills while rewarding them with treats. Retrieved January 23, 2021
Woodnutt, D. (2020). Eight Reasons to Use a Dog Feeding Puzzle: A Vet's View. Retrieved January 23, 2021, from https://www.petsradar.com/advice/eight-reasons-to-use-a-dog-feeding-puzzle-a-vets-view