Product Description
Every dog needs a go-to toy. And in this goughnuts dog toy review, I will help you discover whether this toy would suit your dog or not. First things first this indestructible chew toy is made in the USA.
This unique product is branded with natural rubber. It is the same kind of rubber that is used by astronauts when designing spaceships and aircraft. This quality gives it a plus point over all other chew toys.
Your pooch will no longer ruin your pillows, furniture, or clothes. This toy targets power chewers. It aims to satisfy your pup's instinctual needs.
This product is an economic one. The indestructible and unique texture of its rubber gives it super-duper durability. In which it lasts for years. You will not need to pay out a fortune on another toy. This product includes a lifetime replacement warranty.
The GoughNuts pet toys team have long been in the game. Many years designing chew toys, they have found that it's healthiest to use a toy that reduces leverage in the dog's jaw, by forcing the jaw to stay more open while chewing.
Who is This Product For?
Luckily, this toy is for every dog. It comes in different sizes. GoughNuts pet toys team provides various sizes to suit every category of jaws. It endures high chewing intensity. It is for every size and every breed, except for the very tiny ones.
GoughNuts pet toys team delivers a sizing chart. All you have to do is following that chart to see what fits your pup. The medium size (4.2 x 4 x 1.6 inches) is 6.4 ounces. It fits 30-70 Pounds of dogs.
The Small ring is 3″ in diameter and 3/4″ thick. (made for dogs under 15lbs)
The Large ring is 4″ in diameter and 1″ thick. (made for dogs 16lbs to 50lbs)
The MAXX ring is 5″ in diameter and 1.2″ thick. (made for dogs 50lbs to 75lbs)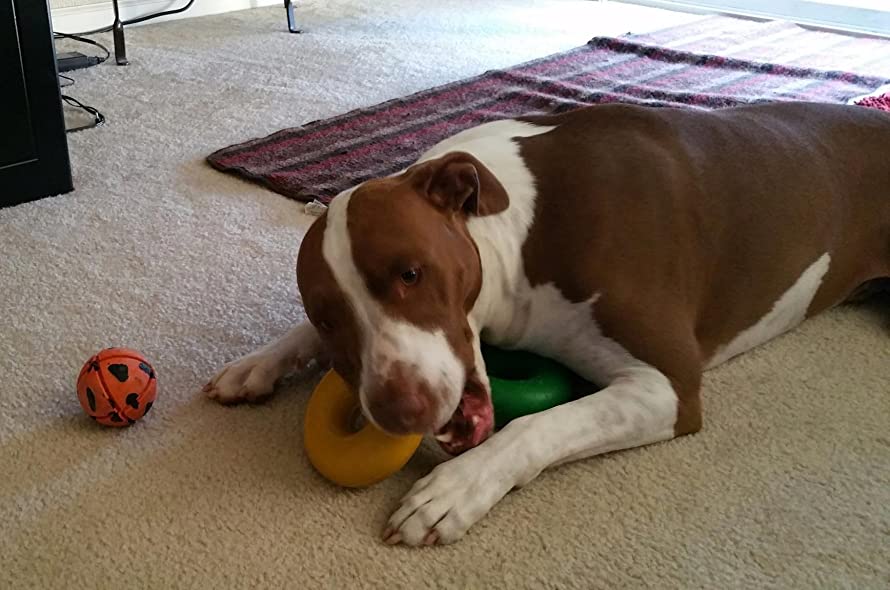 Overview Of Features
You know what they say about simplicity "simplicity is the ultimate sophistication" well Leonardo da Vinci said so. And he is right. I have rambled up a goughnuts dog toy review to help you make up your mind about this simple toy.
The Goughnuts Original Dog Chew Toy Ring is a simple toy. Yet it has several features that qualify it.
The Goughnuts Original Dog Chew Toy Ring is manufactured with a patent-pending Chew Toy Safety Indicator.
The rubber of this item is of great sturdiness. Astronauts use the same kind of rubber to designing spaceships and aircraft. It is natural and sturdy. The GoughNuts pet toys team have designed this product by mechanical and polymer engineers.
The Goughnuts Original Dog Chew Toy Ring can float. It is an excellent fetching toy.
The GoughNuts Ring is an ideal toy for teething puppies.
Its shape preserves the item from destruction. The round ring changes around as your pup chews and plays with it. It spreads out the wear. So it stops your canine from munching the same spot.
It has a red rubber core hidden inside the ring to avert you that it's time to change the product. In case your pup has ginormous strength, and he succeeds to chew his way to the core of the toy, you will notice to replace the chew ring.
It comes in different colors. The GoughNuts Ring has included in its design the GoughNuts patent-pending visual safety indicator. The color Green/Black/Orange/Yellow means "Go" while the Red one means "Stop". This feature will come in use when you are instructing your canine.
It comes in different sizes. It helps you customize the strength and the challenge for your pup. It has many versions ( the buster, the Maxx, and the original). Check all the Goughnuts rings to decide which toy is best for your pup according to size and version. The black one is always the toughest.
It reduces leverage in the dog's jaw by compelling the jaw to remain open while chewing.
It is budget-friendly, affordable and cost-effective. Instead of buying many toys, you can save your money by purchasing this indestructible item.
It keeps the pup busy and reinforces behaviors as enjoying his or her time alone.
It prevents other destructive behaviours that result from boredom. Your furry friend will find something that will shift his attention from you to the item. Also, it distracts your canine. And your neighbour will not keep complaining about your pup's constant barking.
The previous feature can be in hand if your dog suffers from anxiety and separation distress. For, it keeps it busy while you are not home. This item makes a great technique for high stress and arousal too.
How To Use It?
Your dog needs a chew toy since day one. It helps release endorphins that calm your canine. Using toys like the Goughnuts rings is a no brainer.
All you got to do is hand it to your canine, but Sometimes it is not the case giving your dog a new chew toy right out of the package will not do the job. It just won't cut it.
You need to make the toy appear like a unique item, a prize. Start by acting like he's getting a reward for specific behaviour. In which will trick the dog to be excited about the toy.
Do not give him total free access to the toy. You what they say absence makes the heart grow fonder. If the toy seems like a special reward that your dog gets it for a specified duration, your canine will love it and value it. So give it to him for a little amount of time and take it away.
If you leave any toy out for your dog 24 hours a day, he's not going to be as interested compared to a new and different toy. Think about it. Even us, human beings, get bored with our partners when they are available all the time. And it is the case for dogs too if that toy is there all the time he will get bored, the ugly truth? Yeah, I know.
Most of the time, your furry friend is interested in whatever you, the owner, is interested in. Use this in your favor! Fool your pup to believe that you love the Goughnuts ring.
You can do this by carrying it with you around the house. Also, put it in your purse, or where you keep precious items or keep it on the dining room table. This way, your canine will feel as if the ring is yours. And it is "forbidden" to him.
It is durable and flexible
It helps puppies who are teething
It is made with first-rate rubber ( sturdy)
It is guaranteed (lifetime replacement)
It has so many options (sizes and versions)
You need to work hard to get your dog to like it
It does not fit tiny dogs like Chihuahuas or Bichon Frises
Conclusion
You probably have seen so many reviews and articles similar to this goughnuts dog toy review. And all of them have the same BS about it is you who makes the toy useful. To be quite honest with you, it is 100 per cent true. Once you have a dog, that dog's world will revolve around you. So you need to be aware that you have a significant impact on that cute creature. So use it wisely.
Toys are a modifier in your life and your dog's as well. So, learn how to how to use such a product to train your dog. And be careful in choosing your dog's toys too.
This toy is ideal for your power chewers. It is made with dense rubber, and it can stick around for a very long time.
The design of this product is extremely simple. It meets with all safety standards. so, you don't have to bother yourself over your dog when unsupervised, it saves money and your house' possessions.
This is an excellent go-to chew toy regarding how strong and durable it is. I hope this review has helped you make up your mind over whether it fits your dog or not.
Other Goughnuts Toys Reviews :
The goughnuts company provides several options in pet toys. Their team aspires to give pups a safer and joyful toy experience. They have other specific products for specific toys and particular goals.
– Goughnuts Large Dog Chew Toy and Training Stick :
the Goughnuts team designed this toy for both chewing and training. It is ideal for fetching provides the classical image of a fetch toy. It is so good for training that it is used in K9 units.
It is made with the same rubber astronauts use when building spaceships and aircraft. This type of natural rubber gives it incredible durability and sturdiness.
It has several versions and sizes to customize the challenge and filter the toy to fit you canine. If you put on this toy some peanut butter or soak it for 30 minutes in chicken broth, your pup will get addicted to it. And it will get rid of the strong smell of the rubber.
– Goughnuts – TuG Interactive Large Dog Toy :
The goughnuts team view that a large toy will make your canine chew a very open jaw. Chewing with a wide-open jaw limits the force that your furry friend can use in his or her chewing effort through the toy.
these TuGs come in two sizes, find the right size for your pup. The Goughnuts Tug Toy tend to be one of the best dog toys. It is a hard and durable product. As every goughnuts product, this one right here is made with a high-quality rubber that is used by astronauts when designing spaceships and aircraft.
– Goughnuts Dog Chew Toy – Rubber Ball Virtually Indestructible Dog Toys :
This product is another variable of the GoughNuts's chew toys. It targets aggressive and power chewers. It suits medium and large Dogs 30-70 Pounds.
It is the most robust ball in the market because again and again, it is made with the same rubber that astronauts use. The grooves on the ball enhance the airflow for safety purposes. Also, the tough texture of the ball decreases the risk of your canine ingesting the toy. In other words, it is a breath easy product.
It is manufactured in the united states, and it is a powerful chew toy. It comes in different sizes and creative colors. It has a lifetime guarantee.
– Goughnuts Maxx and Buster Pro 50 Rings for Aggressive Power Chewers :
This ring applies to our review on the goughnuts ring toy, but it aims big boys. It is durable and way more potent than the other products. Goughnuts toys designed this toy for massive shark-like jaws.
It is manufactured with dense quality rubber. Yeah, again the astronauts quality. It is durable and handy for training and fetching.