Overview :
If you're an English Bulldog parent, you know how this breed needs special care. This way we collected the best toys for English bulldogs. This breed is quirky yet lovable. At the same time, bulldogs have a tendency to be destructive.
British bulldogs are one of the best breeds a family would want. However, remember that they need special care. It is not easy to take care of a bulldog. For example, they need specific toys and supplies.
You have to keep in mind their strong jaws, their high intelligence, their stubbornness, their other natural traits, and their face shape. It's important to get your English Bulldog a toy s/he really likes.
Well, likely, we are here for you. we've collected the most possible options your bulldog will like. We have made a list of the toys that would suit every bulldog. Feel free to check it.
Best Toys For English Bulldogs :
Best Chew Toys For Bulldogs :
1- Nylabone Double Action Chew Bone Wolf :
Bulldogs love bones. This is why Nylabone made this bone out of tough and durable nylon. This chew toy is a great choice for larger bulldogs who are into chewing.
This Nylabone Double Action Chew Bone Wolf has a more pronounced texture than any other product from Nylabone. This toy is challenging. Your bulldog will take a long-time chew on it.
Regardless of its durability, this product is a blessing when comes to cleaning your bulldog's teeth. This bone will help to keep your doggy's breath smelling like roses. Come on who wouldn't want that. I personally find to think this feature amazing.
Technically, the green middle part of the item is mint flavored. While the end edges of the item are bacon flavored. Bacon helps to keep the toy more interesting and attracts her/him to the toy.
This rubber bone doesn't just get your pup a nice breath smell. While the minty green middle part endorses fresh breath. The squeaky part cleans the dog's teeth. As a matter of fact, this product is vet-approved. In addition, Nylabone is the best-selling line in the US of A.
The design of this toy proves that simplicity is key. This toy is simple and classic. It is shaped like a bone.  Honestly, you will never go wrong with a bone-shaped toy.
Pros :
It is very durable.
It is large enough for British bulldogs.
It is safe (it doesn't represent a choking hazard.)
It comes in other different flavors and aromas.
It promotes fresh breath and clean teeth.
Cons :
Its flavor is extremely subtle.
It is kind of pricey.
2- Nylabone Dura Chew Textured Dog Chew :
This product also comes from Nylabone. the Nylabone Dura Chew Petit Bacon Flavored Bone Dog Chew Toy is an extremely tough and durable chew toy. This baby right here can withstand a massive amount of abuse.
The Nylabone Dura Chew even will entertain the most aggressive bulldog chewers for long periods of time. This toy is made of high-quality hardened nylon. it is nearly everlasting.
In addition to its durability, it makes a great distraction. This toy will keep the most hyperactive bulldogs both busy and entertained.
Regardless of featuring a bone-like shape, bulldogs love this, the Nylabone Dura Chew is flavored and aromatic. The toy tastes like chicken or bacon. It also smells like ones too. This feature attracts and captures your British boy's attention.
However, this feature can be a curse or a blessing, depending on your dog. The flavor and the taste of the toy can be frustrating to some dogs since the product is not edible.
In addition to all these features, this textured and ergonomic toy is an amazing tool to clean your bulldog's teeth.it promotes a clean, healthy, fresh mouth. At the same time, it controls plaque and tartar.
Pros :
It is extremely tough and durable.
It tastes and smells like bacon (or chicken).
It is textured.
It promotes a clean mouth.
It controls plaque and tartar.
Cons :
It is too hard (not bendable.)
It is kind of heavy.
Best Interactive Toys :
1- West Paw Zogoflex Tux Interactive Treat Toy :
When it comes to interactive toys, we picked for your English bulldog the West Paw Zogoflex Tux Interactive Treat Dispensing Dog Chew Toy. This one right here is uniquely shaped. It comes with a high center. Also, it has a kind of rounded and heavier ends.
The shape of the toy makes it easy for your English bulldog to flexibly move and pick it up. The toy can withstand abuse and heaving chewing.
It is made hard materials. It is designed specifically for aggressive chewers. Your bulldog can chew, wear, and tear the toy without breaking it down.
The toy comes in two sizes and three colors choices. The toy is a treat-dispensing one. you can stuff the interior of the toy with your dog's favorite treats. This would encourage your dog to play with it more.
If you want the treat to last more, you can freeze it. This would also make it more challenging. Your bulldog will spend a long time trying to figure out how to get the treat out of the toy.
One of the most appealing features of this toy is safety. This interactive toy is made in the United States. In other words, it meets strict quality control standards. Besides, it is compliant with FDA guidelines.
Pros :
It is durable.
You can stuff it with treats.
It is easy to clean.
It supports an put it through the dishwasher to clean.
It comes in several sizes and colors.
Cons :
It is not indestructible.
It is a little bit pricy.
2- Up Dog Toys The Odin Treat Puzzle Toy :
Our next best pick is the Odin treat puzzle toy. This one right here wins an award for its unique modern design. This puzzle toy is safe. Basically, it is free of harmful toxins, latex, and phthalate.
Your Bulldog can bounce and roll this toy easily. This interactive treat is made of a rubber-like material, thermoplastic rubber. This prevents hardwood floors and fragile furniture from getting scratched. It is soft on your home yet durable to your English bulldog jaws.
This toy is durable yes. However, you must remember that this is not a chew toy. To put it in another way, you have to supervise your dog when playing with this one.
This toy is easy to be used. All you have to do is putting treats into the flaps. Then give it to your English bulldog to toss and roll The Odin to get treats out. The Odin fits big dogs as well as small ones. It can help keep your Bulldog busy and entertained for an extended duration.
Another desirable feature about the Odin is its practicality. As easy it is to be used, it is easy to clean. You can easily clean it. All you got to do is putting some soap in the toy. Then, rinse it to clean. Besides, you can just put it in the dishwasher.
Pros :
It is durable.
Your bulldog can easily extract food.
It gives your dog physical and mental exercises.
It is easy to use.
It is easy to clean.
Cons :
Best Rope Toys :
1- Pets&Goods Dog Rope Chew Toys :
Having a rope toy in your dog's toy basket is necessary. This one right here is not just one rope. It is a variety of pack ropes. The pack comes with a range of many different rope toys. Your bulldog can use to chew, play tug of war, or chase around the house.
These ropes are made if soft cotton rope. This is why they are considered a safe choice for your dog. In addition to the ultimate benefit of rope toys which teeth cleaning. These ropes can clean your bulldogs' teeth while they use it.
The pack is perfect for both small bulldogs or big ones. It provides different toy sizes. Besides, the ropes work well for adult dogs and puppies as well. They come in bright colors. This makes it easy to spot at home. This leads to capturing your pup's attention.
They are suitable for both indoor or outdoor fun. Speaking about cleaning them, rope toys are the easiest. you can just clean them with warm soap or just water. Then, give them a quick rinse, and hang them up or lay them out to dry.
These ropes are sturdy and safe. In other words, it is a great option for your bulldog. Especially, if your bulldog is a power chewer or a teething puppy.
Pros :
It is very durable.
It comes with five different options.
It is safe (it is made with safe and non-toxic cotton rope.)
It offers a variety of different types of games.
It is easy to clean.
Cons :
The rope can shred (you need to snip off strings.)
It takes time to be cleaned though.
2- Kong Tugger Knots :
The KONG Tugger Knots is a tough, interactive tug, rope and shake toy. Your bulldog will probably fall in love with. The toy has a unique design. This makes a captivating variety of textures and resistance.
In addition, this rope toy in disguise contains a squeaker. That is to say, it provides extra fun.
This toy might look like a plush toy at first sight. However, this is not the soft plush toy it appears. The Kong Tugger Knots is made from rope. Instead of stuffing, there is a twisted rope that runs through the body of the toy.
To put into perspective, your bulldog's teeth will not be dipping into the stuffing when your bulldog gnaws on this toy.  This makes it hard to be destroyed.
The toy is partially stuffed. This feature decreases the chances of you having to clean up piles of stuffing when it tears.
Pros :
It is durable.
It is 3 in one (an interactive, plush, rope toy.)
It is ideal for interactive games of tug.
It has minimal stuffing (mess-free.)
It has a rope inside.
It contains a squeaker.
Cons :
The squeaker won't probably make it.
Best Plush Squeaky Toys :
1- Multipet Duckworth Duck :
This cuddly and plush duck from Multipet Duckworth is perfect for dogs who like comfort items aka our sensitive English bulldog. Your bulldogs can cuddle with and carry around this cute duck.
Although this plush toy is slightly larger, it's lightweight. In other words, the toy is a great choice for a broad range of dogs not only bulldogs. It is practical. your bulldog can carry around and play with it.
This is not just a plush toy. It is also a squeak toy. It contains a squeaker in the middle of this duck. The squeaker is important. It doesn't only attract your dog to it. It stimulates your English bulldog mentally.
The good part is that it's difficult for your bulldog to chew his way to the squeaker. it is placed in the thicker part of the toy. The toy is yellow which is an eye-catching color. Your British doggy will spot it easily. Besides, the plush toy has a different texture on the bill, feet, and body.
When it comes to cleaning this toy, you just toss it into the washer and dryer. This will get your toy to look brand new.
Pros :
It is durable (for a plush toy.)
It is both a plush toy and a squeaky too.
It is very soft and cuddly.
It comes in a bright yellow color.
It is easy to clean and maintain.
Cons :
It tends to rip at the feet.
The squeaker may not survive the wash.
It is not intended for power chewing.
2- ZippyPaws Skinny Peltz No Stuffing Squeaky Toy :
The second plush toy we got for your English pup is this cute dog toy from ZippyPaws. The good news, you can choose whoever animal you want. It comes in several different animals. The options range from a fox to a raccoon.
The animals come with a flat and durable design. This way, the toy can withstand the abuse, wear and tear.
The flat toys contain 3 rounded squeakers. Again, the squeakers are important. They keep your bulldog entertained when they bite them. Besides, there is no stuffing. To put in perspective, this means the toy is mess-free. In case your English canine manages to rip the toy open. There will be no mess.
Finally, this toy is easy to clean. Just toss it into your washer and tumble drying. Also, you can also wash them by hand. Then, hang them up to dry.
Pros :
It is durable.
There is no stuffing.
You get three toys per order.
It has a cute design.
It is easy to clean.
It is soft and cuddly.
Cons :
It is not intended for power chewing.
The squeakers can bend and stop functioning.
Buying Guide For English Bulldog Toys :
Who Are Bulldogs? :
Head with loose skin? wrinkled brow? small ears? pushed-in nose? underhung jaw with droopy chops on both sides? Oh yes, that's an English bulldog.
This breed is simply called just bulldog. It is a muscular and hefty one. This breed is totally misunderstood. They get judged by their muscular gloomy look. In fact, the English Bulldog is one of the friendliest among all breeds.
The British bulldog has a lovely, gentle nature. The bulldog is a family dog. They make an amazing pet. They are the most loving breed for kids. They are reliable and predictable. Innately, the bulldog is a people-oriented breed. They constantly seek human attention.
Don't be fooled by how bulldogs are dependent and attention-seeker. Historically, the breed was created in England in the 13th-century, during the reign of King John. Bulldogs have been bred for "bull baiting".
As a result, they have reserved a massive amount of courage from their bloody past. British bulldogs make great watchdogs. On general, they are friendly. They know how to get along well with other people and pets. However, English bulldogs can be hostile to unfamiliar dogs.
They are loyal pals, just like all dogs. You can count on them. You can adopt a bulldog easily since they don't need a yard. They can be great apartment pets. Basically, they are low-endurance dogs. In other words, bulldogs only require a reasonable amount of exercise.
This breed likes temperate climates. In hot weather, they find it hard to breathe because they automatically overheat. At the same time, they chill easily in cold weather.
Probably the most annoying thing about bulldogs is being loud. Do you think I'm talking about barking?
No! I am talking about loud breathing. Not only they are loud breather, British bulldogs snore and wheeze. There are also a lot of bulldogs that drool as well.
Although bulldogs can be extremely stubborn, they are unbelievably sensitive. They are smart with a great memory. Besides, they respond well to patient and persistent training. They tend to be polite and people-oriented.
Why you should be careful when getting a toy for an English bulldog?
English bulldogs have a unique facial structure. This makes it hard for them to pick up toys.
English bulldogs have breathing Problems. So, vigorous play is not an option.
English bulldogs have crowded teeth. Because of which, it will be difficult for your bulldog to grasp treats or toys.
English bulldogs have short muzzles. So, some toys may be uncomfortable to play with or pick up.
Toy Considerations for Bulldogs :
Now that you know why picking out a toy can be difficult; we'll give you a few considerations to keep in mind when you shop. This will help you select a toy that's easy for your dog to play with whenever they want.
You better pick a toy that sticks up from the floor. The toy should be easy to go into your bulldog's mouth. For example, balls should have pockets in them to help your dog grip it.
Durability is always a must. Especially, when you are getting chew toy.
Bulldogs do need hard, tough, toys. However, they also like cuddly toys.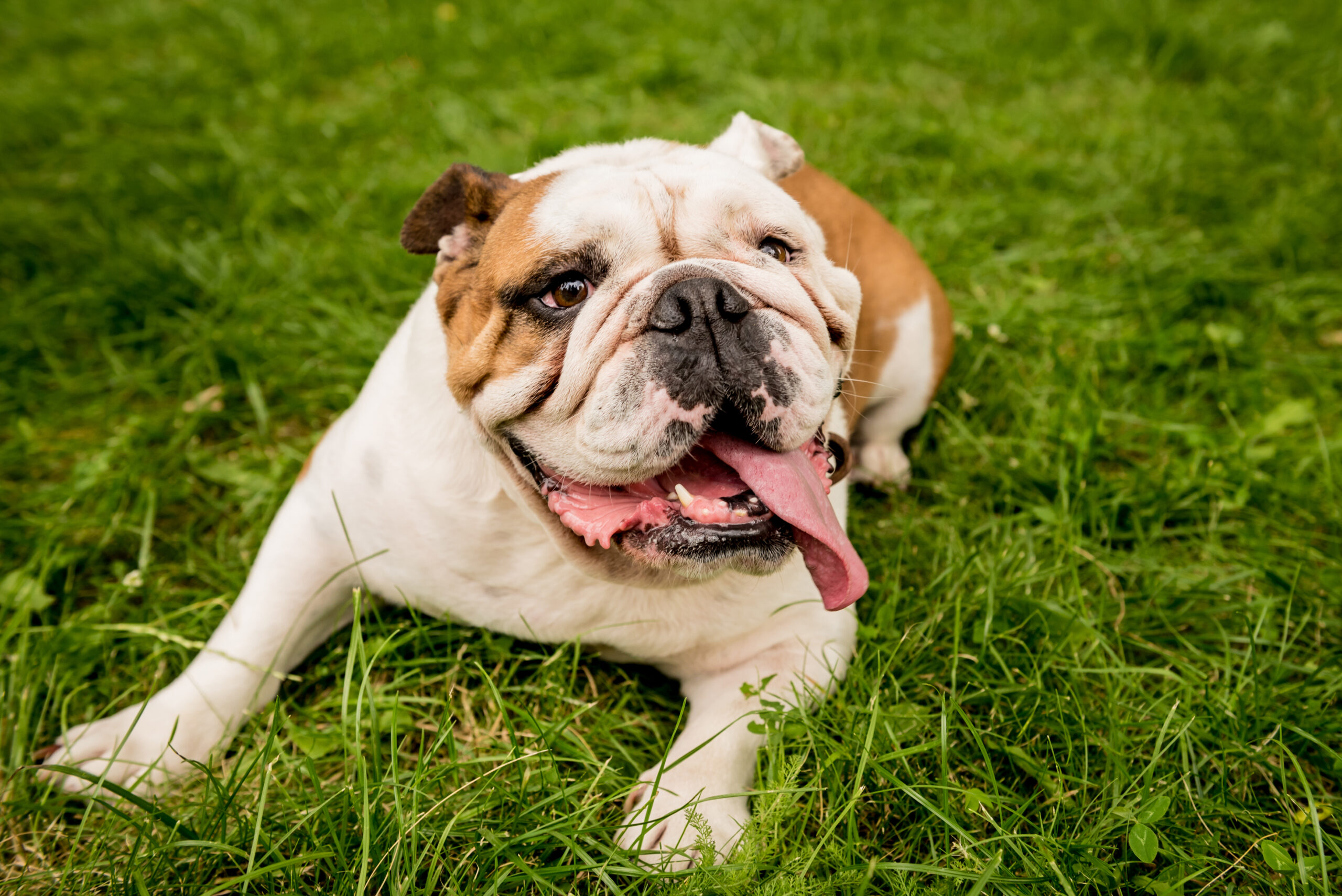 Frequently Asked Questions :
1- How many toys should a bulldog have?
There is no specific number of toys for English bulldogs. Such a thing depends on the dog. However, you can narrow it down to at least three to four toys. This way your English pooch won't get bored. This also gives her/him options to switch between.
2- What types of toys should English bulldogs' owners avoid?
Here are some things to consider :
Toys which can be swallowed or present choking hazards.
Toys that cannot withstand chewing at all.
Toys made of toxic chemicals, lead, or any other harmful components.
Toys that are hard for your dog to pick up or grip.
3- Can you leave English bulldog alone?
Yes, you can leave your bulldog alone. However, you can do that under one condition. Your dog must have received training before. Keep in mind that bulldogs are companion dogs. They like being within close closeness to her/his owners. Without proper training, your English bulldog may experience separation anxiety and destructive behavior.
Conclusion :
Without a doubt, all the toys featured in this article are one of the best toys for english bulldogs. They have merits, characteristics that made them make it through our list. they are worth looking into.
We did our best to take into consideration the physical and the personality traits of the breed when choosing the toys. Besides, we took into consideration several aspects that would make these toys not only good for bulldogs but for most canines. We hope you can benefit from our reviews and our guidelines.