Introduction :
Chihuahuas have changing interests.  If you've got a Chihuahua, you must know the struggle of finding toys that will keep up with her/his moodiness. The toy should not only hold their changing interests. It should also stand up to chihuahua's tenacious chewing.
Nothing can be fast as show Chihuahuas changing their minds. They will rapidly show you whether the toy you got them is not something they want to play with. Then, they change their minds and be all over it.
Given the breed's size, shopping for toys for Chihuahuas can be difficult. The market for dog toys is vast. There are tons of several toys of toys out there. It can be easy to get lost in all these exciting options.
Now, what don't you want to happen? It is definitely getting a fancy toy or a cheap one that does nothing and sits there.
It is important to know Chihuahuas are a very intelligent breed. They are a breed that corresponds well to training. In addition, they love playing. The best toy for Chihuahuas should be able to be used to stimulate their intelligence and keep them healthy.
Regarding their intelligence, size, and unique personality, you need several types of toys. This might include chew toys, interactive toys, rope toys, squeaky toys, and plush toys.
It is important to get toys that tend to have many different interactive parts for your Chihuahua. This would help with their moodiness as they explore the toy while playing with it.
Toys are a part of proper care for a dog. Regarding their importance, they are more of a necessity for dogs in general.
In this article, we will cover everything you need to know about getting a toy for your Chihuahua. For this purpose, we have accumulated for you a group of the best toys you can get.
Best Dog Toys for Chihuahuas :
KONG - Puppy Toy Natural Rubber
Dental Teeth Cleaning Chew Toy
Hartz Jungle Plush Tiny Toy
Best Chew Toys For Chihuahuas :
1- Nylabone Dental Chew Bacon Flavored Toy :
You and your furry friend are definitely going to be impressed by this Nylabone's design. The toy is flexible in the center yet tough. It is perfect for small breeds. It will not damage your Chihuahua's mouth.
Like a dental chew toy, it preserves healthy teeth. In addition, it promotes appropriate chewing behavior. So instead of chewing on a sofa, your dog will get that chew urge on the bone.
The toy is amazing for oral health. It can control oral plaque. Besides, this product provides the elimination of tartar buildup.
The toy comes with a bacon flavor. This tasty flavor of this chew bone keeps your chihuahua occupied for an extended period of time.
The medium bone is suitable for chihuahuas of up to 35 pounds.
Pros :
It is durable.
It has an enticing design.
It is suitable for teething.
It promotes oral health.
It controls plaque and eliminates tartar buildup.
Cons :
It may be a little bit big for Chihuahuas (depending on her/his size.)
2- The Kong Classic in Size Small :
Chew toys are an amazing way to teach your chihuahua puppy healthy chewing habits. You can do that even when your puppy doesn't have permanent teeth. This Kong classic toy can help your canine handle the same chew toys that they can in their later years.
Additionally, Chihuahua puppies go through teething pains. Chew toys like the Kong classic help soothing their pain.
This toy can handle both of those problems. The Kong classic is designed for small dogs such as chihuahuas and for puppies. Regarding providing a soothing cooldown, this is a vet-recommended toy. It also can help clean the dogs' teeth in the process of playing.
The Kong classic toy is perfect for being chased. Your pup can throw it around as it bounces in unpredictable directions. This will grab her/his attention and entice playtime.
Well, what actually will entice your pups to play with is their favorite treat. Thus, this toy can also be filled with treats. Your dog will love trying to get them out. So, you can think of it as a puzzle.
Pros :
It is super durable.
It is a treat-dispensing toy.
It promotes healthy chewing behavior.
It helps with weight management.
It has an unpredictable bounce.
Cons :
Best Interactive Toys :
1- Noyal Interactive Dog Toy :
Chihuahuas, like all dogs, adore a toy that is interactive. However, the toy must fit in their little mouths.
In addition to being interactive, if the toy won't fall apart after being loved too much that would be good too. Try the Noyal interactive dog toy for some long-lasting entertainment.
This Treat Ball from Noyal Interactive is set for dogs that love to snack while playing. It will keep your pup entertained and busy.
The toy is made of non-toxic, natural rubber. The design of the toy is amusing and unique too. It is a ball inside a second ball with several holes. all that your pup go to do is to work hard to get the kibbles you sprinkled inside the larger ball.
The toy has a variety to choose from. You can also choose between blue and pink. This depends on what do you think your pup will love more.
Pros :
It is durable (it is made of indestructible100% TPR rubber.)
It is safe (it is made of non-toxic.)
It provides mental and physical stimulation.
It is fun to play with it.
It is a treat-dispensing toy.
Cons :
It is not the best option for larger dogs.
2- Bark Busters Home Dog Training Toy :
The Bark Busters Game Changer is a great interactive treat-dispensing toy. The toy is made in the USA with globally-sourced materials which is a big plus.
The toy features a groundbreaking design. The toy can be filled with your chihuahua's favorite treats. However, the treats must be small.
You will enjoy watching your pups work hard to get a treat released. This is a great solution for boredom dogs. It is all you need to keep your pup occupied for some time.
The Bark Busters Home Dog Training GameChanger is manufactured using Flexa-Pure. This material is soft yet sturdy. This toy is safe as the material is non-toxic BPA-free polyurethane. Long story short, the toy is safe and durable. Another plus, the toy is soft enough to not make noise on the floor.
Pros :
It is durable & safe.
It is made in the USA.
It is an interactive toy and chew toy too.
It keeps your fido occupied while you are busy.
It is soft and washable (ONLY hand wash no dishwasher.)
It is quiet.
Cons :
Your pup can't play with is without treats.
Best Rope Toys :
1- Alvi & Remi Puppy Chew Teething Rope Toy :
Now, let's talk about rope toys. This set of toys from Alvi and Remi is perfect for your small breed chewer. The set includes 4 items. The toys do not include any plastic or rubber parts. It safe to chew and play with.
As the toys are made of rope. The set can help you clean your pups' teeth and massages their gums. These rope toys can help to reduce plaque build-up. In addition, they prevent gum disease.
The toys come in creative, fun, shapes. Your pup can chew, toss and fetch them. In addition, toys are made of 100% cotton and floss fabric. The toys are washable. Concerning the colors of the sent toys is random.
The set contains the best chew teething rope toys choice for your chihuahua. They help to keep your fido healthy. The set has several options that would help you redirect bad biting behavior.
It would be better if you keep changing toys every few days. This way you will be backed against your chihuahua's moodiness. Usually, this keeps pups more interested in playing with the toys.  
Pros :
It is durable.
It promotes oral health.
It is a set of toys.
It keeps your dog busy and entertained.
It provides your dog with options.
Cons :
There are some items that may be too small in the set.
2- Petstages Dental Cleaning Toys for Small Dogs :
Our second-best pick is the Petstages Dental Cleaning Chew Toys. The set is budget-friendly. In other words, it is the best option for chewers. Each set comes with 3 toys to keep your chihuahua constantly interested in playing.
Each toy is designed with a mixture of rope and plastic. They come in primary bright colors. This would ensure exciting your pup and enticing the play.   
The element that makes this pack the best pick for chihuahuas is that it is directed to them. the "mini" version of the pack is intended primarily for very small dogs. This way you can make sure that the toys can perfectly fit in your Chihuahua's mouth, not too big, not too small.
Regarding the fun that toys bring to your pup's life, the pack promotes oral health. As the toys are fun to chew on. They provide the extra benefit of rope toys: cleaning your dog's teeth. The rope material can help remove soft tartar.
Pros :
They are durable.
The set has various options.
They are safe.
The pack promotes oral health.
The set keeps your dog busy and entertained.
It is a set of toys.
Cons :
The toys are not indestructible.
Best Plush & Squeaky Toys :
1- Kong Mini Moose Cozie Toy :
Well, technically, the Marvin the Moose is the bestseller of Kong's line "Cozies". At the same time, you got many other options too. The plush toy line includes a pink elephant, purple rhino, green alligator, pink monkey, white lamb, yellow duckie… and several other options.
Typically, chihuahuas go crazy for the lines' small Cozies. You can't blame them. The toys are so adorable. Let alone how durable these are, they're extra soft.
These Small Cozies have an extra layer of material. this will expand the life of the toy to last way longer. Not to mention that there is a squeaker that entices play.
Your chihuahua will love to cuddle and lick the soft plush of this cute moose. Marvin the moose is an ideal toy for a game of fetch. As it provides your pup with the necessary comfort and warmth. 
Still, you have to know that the toy is considered durable yet as a plush toy, not a chew toy. Basically, the toy is not designed for chewing sessions. To put it into perspective, make sure to take away the toy, once your dog has stopped playing with it and started to just chew on it.
Pros :
It is durable (it contains an extra layer of material.)
It contains minimal filling for minimal mess.
It is fluffy, soft, and cuddly.
It contains a squeaker.
Cons :
It is not for chewing.
The squeaker is misplaced.
2- Hartz Tiny Dog Jungle Plush Dog Toy :
To wrap up our list, we have a set of plush-squeaky toys recommendation. The plush toys are so tiny and cute. Even the smallest chihuahuas puppies can handle. The plush toys are light weighted your fido can carry them around everywhere.
At the same time, the toys are extremely cuddly.  They will provide your pup with the necessary warmth and love.  The toys would help keep your furry friend entertained to prevent boredom, anxiety and destructive behavior.
This lovable jungle animal plush toys feature an interactive squeaker. This entices playtime for a dynamic play. The squeaker piques the interest level a bit more.
These petite lovely toys are durable enough. They can make it through regular play without a fuss. Each toy is made of materials to endure chewing and daily play. The toys are tough yet have a soft side that your chihuahua will enjoy.
Pros :
They are durable.
They contain a squeaker.
The set contains several jungle plush toys.
The toys are fluffy, soft, and cuddly.
Cons :
They are not for extensive chewing.
Buying guide For Chihuahuas Toys :
The Best Types of Toys for Chihuahuas :
Chihuahuas are a hell of dynamic dogs. They just have a lot of energy. What comes with energy? Yes, it is interaction. If your pup is energetic, s/he would want you to be involved in the play.
This is why you need interactive toys. Toys with squeakers in them can provide your pup with the needed interaction. Such toys will provide your chihuahuas with a lot of entertainment because of the resulting noises.
Another type of toys that suits your chi is balls. For such a tiny breed, having a ball is also an excellent pick. It is so easy to get balls. They come in several sizes that would definitely help your pup. Choose the right ball size so your chihuahua can handle and carry it around.
All dogs are chewers, here comes the role of chew toys. It is extremely important to provide your fido with a toy that would help get that chewing urge in an appropriate way.
To be more specific, go for hyper durable chew toys. These won't break off into small pieces this way you avoid the risk of choking hazards. Go for safe materials such as the following:
Regarding chihuahuas attitude, go for colorful, cute, fluffy, and cuddly toys. These can catch your chi's attention. Finally, chihuahuas are an intelligent breed. They need puzzles to get the necessary mental stimulation.
Tips for Playing with Your Chihuahua :
If you want to help your chihuahua stay happy and have fun do the following:
Give them a planned walk/playtime. This way they won't become hyperactive when it's you can't deal with their energy.
Play games such as tug-of-war and let them win. This way they will feel confident and like playing with toys. Don't overdo it though.
Provide them with multi-textured, chewable toys. This will help get them engaging in solo playtime.
Provide them with multiple toys that have several types of play. This way they will always have something fun they can't expect.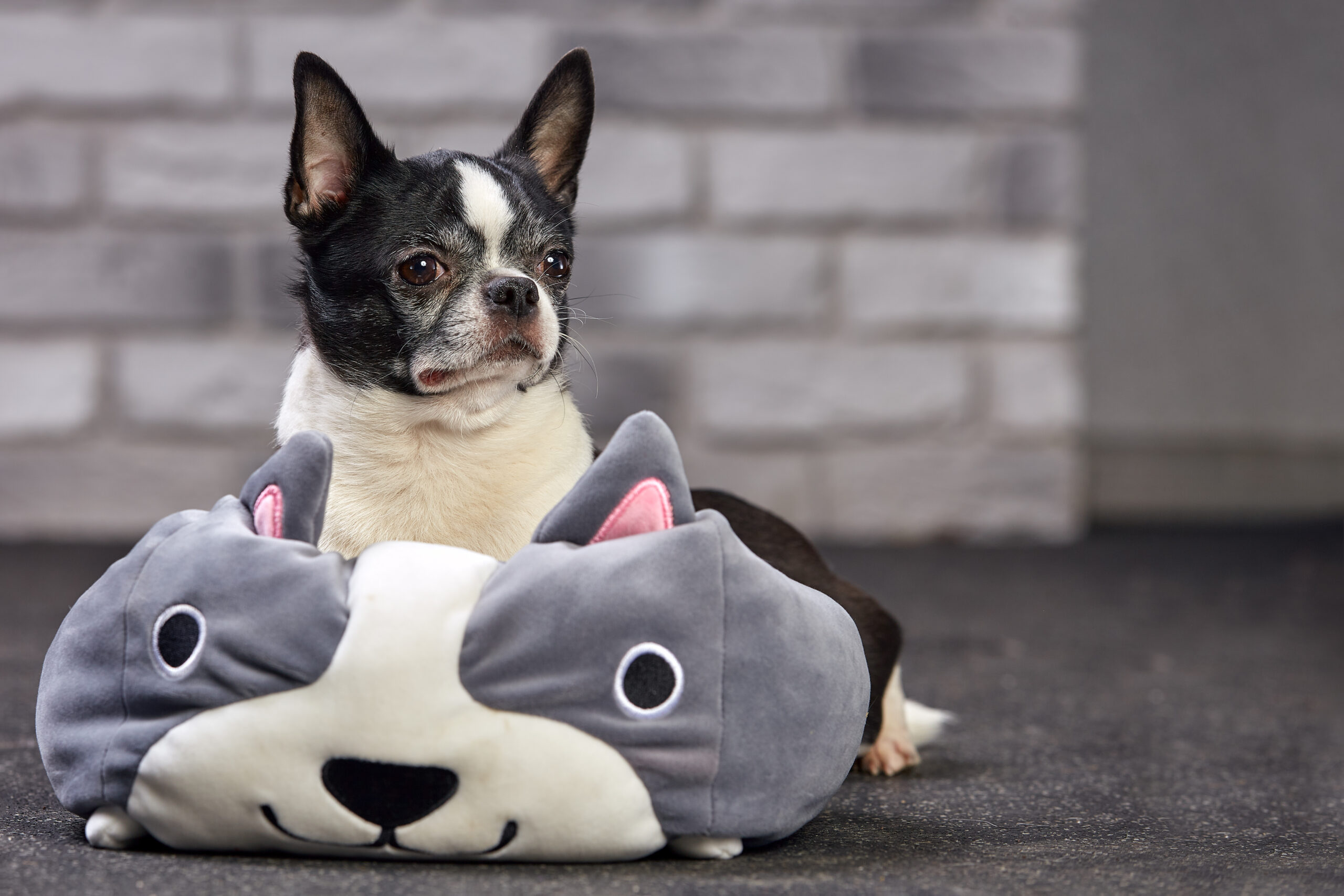 Frequently Asked Questions :
Does Age Impact What Toys My Dog Will Like?
Basically, this varies from one breed to another. At the same time, your dog's age may control what your dog might like. When it comes to chihuahuas, puppies would like teethers. On the other hand, older chihuahuas may lose interest in toys at all.
Is There a Guaranteed Toy I Can Get That Will Work?
Each dog has her/his own preferences. Toys depend on your pup's preferences. To put it into perspective, it is recommended to take your dog's preferences into consideration when picking a toy for her/him.
Where Can I Check If I'm Not Sure That a Toy Is Safe for My Chihuahua?
We have recommended some of the best chihuahua toys you may find. However, you may find something that grabs your attention while shopping. Usually, if a toy has an indicator on the label that it is suitable for small dogs, you can go for it. Still, try to ask for your vet's opinion. It would be extremely helpful. Besides, make sure to check the materials used in the toy. If you have any doubt around the safety of the toy put it back on the shelf. There are plenty of toys on the market. Don't haste yourself.
Conclusion :
The products above are some of the best toys for chihuahuas. Chihuahua toys can be a plus to your dog's life. It adds a lot of fun and joy to your house too. A happy dog, happy life.
This specific breed has plenty of energy stored up in their tiny bodies. They need an outlet for this massive amount of energy.
Getting an attractive toy that this tiny breed can enjoy on its own is necessary. You can't be there all the time to play with them. Toys are essential for helping them get plenty of exercises. We hope this article would help you do so. You can also check some chihuahua box subscription. It would be a great gift four your chi.