Product Description :
Kids all around fantasize about having a mythical creature as a pet. The toy FurReal Friends dragon have tried to make it true. Well, first off, this toy is the toy of the year. Honestly, it is the cutest toy I've ever come across so far.
Dragons are scary strong, mythical creatures right! Not with FurReal Friends. My blazing dragon Torch is the cutest non-scary baby dragons you will ever meet.
If you rub the dragon's nose or belly, he will make some mind-blowing animated responses. Do not even get me started on how cute is this little baby dragon. Forget about cuteness, what really will make your kids or pet go nuts is the "fire" that the dragon breathes.
The dragon, Torch, has an ultra-fine mist pouring forth from his mouth. Believe me, no matter how old are you, it will delight your heart. You can imagine the effect it will have on kids or pets. the toy captives their attention immediately.
Although our magical dragon is made of sturdy materials, it is important to know that Torch is a delicate toy. You have to teach your kids to be gentle when playing with Torch. Some young kids tend to get occupied with a toy for very long periods.
My blazing dragon Torch from FurReal Friends is an amazing companion. It makes a great toy for classrooms and daycares. In these occasions, your children will likely be playing with Torch only for shorter times.
This FurReal friend baby dragon is an amazing interactive, robotic toy. In this review, we will indulge in the features of this FurReal friends' toy. We will see why exactly would you consider getting it. We will see what makes this not-really plush dragon baby distinct than other interactive toys.
Who is This Product For?
Torch seems to appeal more to younger children. It is targeted to kids and pets. if you are planning to get one for your dog, make sure to be with your pet during playtime to avoid accidents.
Overall, we recommend this toy for younger kids who are under 7 years old. However, it will require recurrent adult help and supervision. There are a lot of tasks that a kid under 7 years old can't do.
Kids in the age of 7, can't fill the water tank, change out filters, and make sure no leaks are happening.
We don't recommend it for kids older than 7 years. Many users said after the novelty of the fire-mist wore off, it was hard to capture the attention of their kids +7 years old with the cute noises.
In addition, we are a little concerned about giving to very kids of -4 years old. Although this toy will not just capture the attention of your 4-5 years old child attention, it will amaze them.
Kids in this age love playing with Torch. However, they tend to be very disappointed because they are told not to move the toy.
It is important not to move the dragon around too much because of the water tank. Toddlers will also want to cuddle with this baby dragon. However, since it is made of hard plastic it is hard to do that. My blazing dragon Torch isn't plush or squeezable.
Overview Of Features :
FurReal friends Dargon, Torch, is full of surprises and fun. Regarding the change in our world, technology took over. Everything is ever-changing. Even the world of toys became more modern than before.
Compared with other robotic toys, we can say that this baby dragon is actually a step into the next generation of robotic toys. My blazing dragon features several qualities and features that will cut the cake for you.
My blazing dragon is a robotic toy. It measures 14.5 X 14 X 8 inches. Once batteries are installed, the dragon weighs around 6 pounds.
Torch the baby dragon responds features 50+ sound & motion combinations.
This amazing baby dragon replies with more than 50 sound-and-motion combinations. With one touch the dragon will be breathing flame-colored mist, giggling, snorting, moving his head, and many other vivid sounds and movements.
What is even cuter is that the dragon may respond just with a big burp instead. This adds the element of surprise to playing. This creates a sense of personality and interaction for the toy.
This dragon acts like any other baby.
This dragon needs love and compassion. It will be so fun to take care of this cute dragon. The Torch is like any other baby full of mischief and surprises. This FurReal friends' dragon loves to be cuddled and cared for.
As a matter of fact, Furreal friends have designed the dragon's front legs to be fully poseable. This way the baby dragon can be hugged and cuddled.
The baby dragon breathes flame-colored mist.
Torch can breathe flame-colored mist. This adorable little friend is just learning how to do dragon things. Our dragon of course doesn't breathe flame for real. However, this baby dragon does breathe flame-colored mist.
You can feed the dragon his color-change treat.
The dragon has several sensors around his nose. This makes it possible for Torch to respond to different touch orders.
The toy is covered with soft fabric. However, the whole body is made of hard plastic.
What you will likely find in
When you get FurReal Friends My Blazin' Torch, you will find the following:
Powder Blue FurReal Baby Dragon.
Pretend Marshmallow Treat on a Tree Branch Stick.
Magic Water Fill Crystal.
Extra Water Filter for Flame Mist Tank.
Instruction Manual.
The magic water fill crystal is included to help you fill the water tank on Torch's head. The tank holds 1 or 2 teaspoons of water.
Note :
4C Batteries are needed. The batteries are not included.
Benefits :
Here are several benefits of the toy :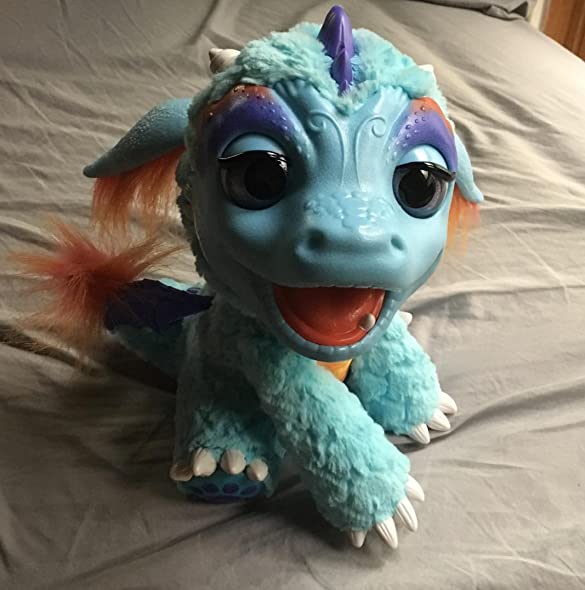 How To Use It?
Getting the toy out of the package is as easy as it can be. My blazing dragon immediately lures kids with his big eyes, button nose, and fluffy ears.  
Once batteries are installed and working, this baby dragon will keep shuffling between the 50- something sounds. including a tiny sneeze every now and then. If you press the dragon's belly or pet his nose, Torch will breathe fire.
 As a matter of fact, the fire is honestly convincing-looking. In addition, there will be ultra-fine mist sails past a set of red/orange lights in Torch's mouth. His mouth lights up the mist as it goes.
This baby dragon comes with a marshmallow toy. Well, technically, baby dragons are into the marshmallow. The marshmallow device keeps changing its color. First, you need to moisten it. Then when you hold it in the mist, it will change into a nice roasted brown shade. Once it dries out, it'll go back to its regular color.
This FurReal Friends' baby dragon's fire-mist is made from a water tank on his head. This small tank tends to hold a very small amount of water. It holds only about 1 – 2 teaspoons at a time.
Be prepared for the water leaking. It can leak from around the tank's lid. In addition, the water might be coming out of our magical friend's mouth. It is so cute that so many kids may think that the dragon is drooling.
Make sure to use distilled water. Any extra elements in tap water can clog up or damage the dragon.
It helps to keep the toy running smoothly. If the Torch is not being used for an extended period of time, it is important to prevent the dragon from leaking. to do so, make sure to empty and dry out the tank.   
The toy comes with 3 water filters. One of them is already inside the baby dragon. The filters can be removed and cleaned if not necessary. It is not really easy to switch out the filters. expect to spend more than just a few quick minutes to finish this task.
How to take care of it :
Make sure to :
Void and dry out the water tank when not being used.
Wipe off the toy just with a damp cloth.
Be aware of :
Since this toy seems to be more targeting younger children. we highly recommend adult supervision. The toy has mechanical parts. Thus, it is important to ensure younger children are not too rough with the toy.
Pros & Cons : 
Pros :
The dragon is extremely vivid (he looks like he's breathing fire for real).
He makes sakes about more than 50 super cute sounds.
The dragon has lots of personalities.
He is so cute and adorable.
The water filters can be cleaned and ready to be used again.
Cons :
It says the toy likes to be cuddled but due to plastic parts, it is hard a little bit.
The dragon doesn't walk or wag. His head is the only part that moves.
4 C batteries are not included.
Conclusion :
Furreal Friends Dragon is ideal for your little pet or kids.  With "my blazing dragon", FurReal friend, they will have so much fun. Our magical dragon is named Torch. Our beloved toy comes from Hasbro with this FurReal Friends.
"My blazing dragon" Torch is super-friendly. The dragon is an imaginative fire-breather. The toy will delight the heart of kids and pets easily. The dragon is designed with more than 50 combined sounds and motions.
This dragon baby is full of life. The sounds and movements are combined unbelievably to create a life-like pet. You yourself will be surprised at how alive this magical dragon. This dragon is worth checking out.