Overview :
To find the best dog treat pouches isn't a difficult task but it can be confusing due to the large number of products out there. These treat bags which I found to work nicely for me and my dog gang are a lifesaver.
As dog lovers, since we always try to make our baby dogs happy, satisfied, comfortable, and healthy, we tend to spend a lot of money on our dogs to find the best products. One must admit that in order to find what works for us as dog owners can be easier than finding what works best for our furry friends.
Paw Lifestyles Dog Training Pouch
PetSafe Durable Treat Pouch Sport
DOOG Walkie Belt Treat Pouch
1- Paw Lifestyles Dog Treat Training Pouch :
This treat pouch is very convenient, it can fit large and small kibbles and can also even fit your stuff such as your wallet, keys, a small dog toys, and even the phone all at once. I personally used the small outside pocket for treats and the drawstring for my personal stuff.
The texture of this dog pouch is nice and strong. The part that attracted me most about this product is that it comes with a waistband and a shoulder strap. It also has a metal strong clipper that can be attached right onto your belt without the need for the waistband. So, you can choose what option works best for you that day.
This dog bag can be used when you're training your little companion or when you're just going out for a walk. It even works when you're traveling. I really find it very useful and easy to use.
Things We Like :
Very easy to clean.
Strong material.
3 ways to wear.
A good size that holds.
Things We Don't Like :
After few washes, it loses its form and becomes loose.
Needs both hands to use.
Waistband twists quickly at the start of a walk.
2- PetSafe Treat Pouch :
This item is very light-weighted and its design is very plain. However, don't let that fool you because its use is very convenient. I think that its simplicity is what made this dog treat pouch very attractive. It has two separate pockets where you can put different treats or even your personal things.
One thing about this pouch that I find disappointing is the belt. It is very stiff and harsh. Besides that, it is made of a stiff material and cleans easily. It also comes with a carabiner where you can attach your dog's leash to it.
Things We Like :
Easy to clean.
Carries a large number of treats.
Doesn't wear out fast.
Things We Don't Like :
Not suitable for running (it keeps flipping).
The belt is not of quality.
The pockets don't open easily (need two hands).
3- Doog Walkie Belt :
I have to be honest on this one; when I first saw this Doog Walkie Belt, I had to buy it immediately. It looks really cute and fashionable. It comes with a pocket made only for poop bags and another pocket for wipes. These two features attracted me because not many dog pouches have that.
It also comes with an iPad and an iPhone clipper. Another cool feature which I like is that it has a leash clipper. So, you can walk your dog beside you without a leash or with a leash.
Things We Like :
Stylish and light-weighted.
Handy and Easy to use.
Can be used as a personal bag for jogging.
Things We Don't Like :
The pockets are too small for the treats.
The wipes dry out fast.
The phone clippers aren't sufficient.
4- Kurgo Dog Training Treat Pouch Bag :
I call this item "treat pocket," because it functions and looks more like a pocket than a bag. When I purchased this pouch bag, I intended it for only my little chihuahua. It has a main average size pocket with a drawstring and a zipper (I use it for poopie bags) and a belt clipper, and a carabiner.
I've been using this "Go Stuff It" training dog pouch for around 8 months and it still looks new. Its material is pretty solid, unstainable and very easy to clean which I very much liked.
Things We Like :
Great for training sessions.
Durable pouch.
Things We Don't Like :
The carabiner is fragile.
Works best for small dogs because they don't require many treats (the bag is a bit small).
5- AMZNOVA Dog Treat Bag :
Well, this bag is really attractive, at the first glance it looks like it's very functional and modern. So, I had to purchase it. Well, the looks were not so deceiving when it comes to this bag. It was indeed very useful.
It has a nice steady form with a poopie bag, a main big pocket where the treats can be placed, and another small pocket for your personal belongings. It comes with a waistband and a belt clipper, so you can be the one to decide which works best for you.
Things We Like :
A nice suitable size for all kinds of treats.
Functional.
Things We Don't Like :
The fabric isn't of great quality.
Not suitable for training your dog.
The clipper can be harmful and irritating.
Things to Look for when Choosing a Dog Treat Pouch :
Since our love for these small creatures is beyond describable, of course, we try to seek the best suitable items. There are no direct strict recommendations to give, because it all depends on your preferring, likening, and what your dog is like. However, I will try to share with you some tips to follow that I picked up while choosing the best top dog treat pouch. Here are the few recommendations I, personally, suggest to check before purchasing your item :
If you want to use the treat bag only for short walks with your dog occasionally, then the choosing process shouldn't be as confusing and difficult for you. Seek something of good quality and a leash clipper.
If training your little bud is what you're aiming for, then I got to tell you that one of the most important things to look for when you want to purchase a dog pouch is the treat pocket. The size and the way the pocket closes are very important. A pouch that you can use only one hand to get the treats out and closing the pocket is necessary in my experience. Otherwise, the training sessions would be really frustrating and make you lose focus. Also, the treat size matter. If you treat your dogs with large treats, seek bigger bags. But if you only use small treats, then the size shouldn't really be an issue.
Another thing to consider is if your dog isn't trained to walk beside you off-leash, as I mentioned before, is the leash clipper. This would allow you to be more comfortable when walking with your dog.
For long walks what I found best is the shoulder strap for sure because the ones with a waist-band tend to keep twisting around or just start to feel uncomfortable. Pocket or belt clippers also bothered me when the duration of the walks got longer. The Doog Walkie Belt pouch was the only one that actually didn't seem to bother me at all. The waist-band was really well made. But you'd have to be careful while adjusting the belt, wearing a tight belt can cause a partial hiatus hernia. Besides that, I used it for jogging and long walks with my dogs and the process was pretty much pleasing. I wouldn't recommend a strap belt if you decide to go for a run though. The reason for that is pretty obvious as the bag would keep bouncing and make you want to just rip it off.
During the wintertime or if you live in a rainy area, the first thing to consider is the material of the pouch. It needs to be water-resistant quality. During the winter I usually use a treat pouch with a pocket clipper and clip it to my jacket pocket. But it isn't as convenient as one with a shoulder belt.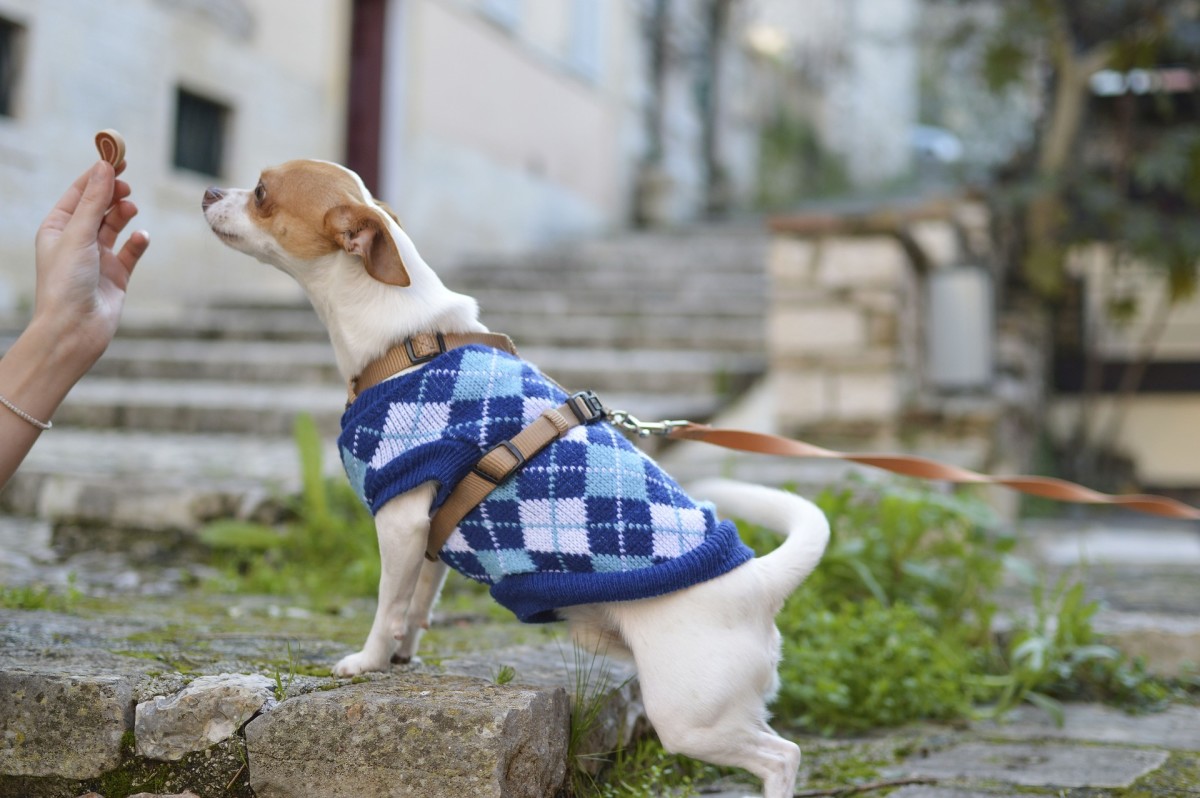 Frequently Asked Questions :
1- Are Dog Pouches Good for Training Sessions?
I am going to try to be direct with this one. I'm a person who likes to take my dogs for outside walks a lot, I enjoy training them because they always respond positively.
So, from my personal experience, I found some dog pouches very helpful and useful. The ones that worked best for me are Paw Lifestyles Dog Treat Training Pouch and Doog Walkie Belt.
They were both easy to use and most importantly, I could use only one hand to get the treats out. So, if you choose the right pouch bag for you and your dog, then the whole process of training your fuzzy little bud super should be fun and easy.
You can look for ones where you can decide when to put the leash on and when to take it off whenever you want.
2- Which Type of Dog Pouch is Better: the one with a shoulder strap, a waist strap, or a waist clip?
One cannot answer this question directly because it all depends on your likening. On the one hand, waist straps can get really inconvenient over time as they are more restricting.
but they can be adjusted however you prefer easily. You can choose whether you enjoy the belt loose or tight can change the position; either right in front of you or sideways or even behind you if you desire. On the other hand, shoulder straps tend to be more functional and convenient.
However, the one thing waist straps have and shoulder straps don't is the position besides the belt height adjustments. Finally, the waist clip. This type of dog pouches is made for the ones who like easy-on easy-off kind of things for you can clip the pouch directly to your pants or belt and off you go, ready.
Each person is different from the other. There is no best type or bad type. It all depends on you, the dog owner.
Wrap Up :
It's a no-brainer that Your comfort is your dog's comfort .so, in order to make sure your dog is pleased, you need to seek the best dog treat pouch out there that suits you best. Always bear in mind that you need to be enjoying the entire time spent together.
References :
Carter, C. (2013, October 01). Wearing a tight belt increases chances of cancer. Retrieved February 24, 2021, from https://www.telegraph.co.uk/news/health/news/10347482/Wearing-a-tight-belt-increases-chances-of-cancer.html
Geier, E., & Geier, E. (2020, April 29). 14 dog Treat pouches to one-up your walks and training sessions. Retrieved February 24, 2021, from https://www.rover.com/blog/5-favorite-dog-treat-pouches-will-change-walking-training-game/
Marrs, M. (2021, January 27). 7 best dog TRAINING Treat pouches [2021 Reviews]: Grab Those Cookies! Retrieved February 24, 2021, from https://www.k9ofmine.com/best-training-treat-pouches/
Tiffany. (2020, November 28). A trainer's perspective: Best dog treat pouches. Retrieved February 24, 2021, from https://www.terrouxdogtraining.com/post/a-trainer-s-perspective-best-treat-pouches