Overview :
If you are a Labrador retriever puppy owner and you are looking for the best toys for lab puppies, don't worry we got you covered. We have accumulated a list of the best toy that could meet all your puppies' needs.
Most Americans tend to breed the Labrador retrievers.  Technically, they are America's favorite breed. Especially those who love large breed dogs.
People tend to love lab retrievers for several qualities. They are fun dogs. A retriever is always eager to run around in the backyard with your kids. Labrador retrievers are sociable dogs they tend to get along with other dogs.
Not only you who is going to enjoy the presence of your lab. You, your friends, and neighbors are going to bond with your Labrador retriever. Besides, retrievers are extremely loyal. Getting a lab means you'll have a mate for life.
This dog breed is set for family life and fun outdoor activities. For example, retrievers favorite sport is swimming. So, if you got a swimming pool or a nearby lake, you and your retriever are going to have fun.
What is better than a Labrador retriever? Well, of course, a lab puppy. Puppies overall are just so cute.
A single look at a loveable little Retriever puppy would make your heart melt. I mean did you see their baby face? Also, their cute head that is a bit too big for his chubby baby body. The word cute is made for retrievers, end of discussion.
Lab puppies love rolling around on the grass and playing fetch. In addition, lab puppies like to please their owners. They are known for this. Besides, retriever puppies are one of the most easy-to-train dogs. I guess you can guess that from their attitude with family members.
Lab retrievers are the best that is why we gathered the best for your retriever puppy. In general, puppies need special care. This period is crucial. This determines the attitude of your dog once they grow up. Toys are an amazing way to condition your lab in a fun way.
Best Toys For Lab Puppies :
PetSafe Busy Buddy Barnacle
Best Chew Toys For Labs :
1- Mr Play Puppy Toys Dog Chew Bone :
If you are looking for a chew toy for aggressive chewers, yet suitable for puppies, Mr. play puppy got you. Labrador retrievers' puppies are cute and all but this doesn't eliminate their power in chewing.
All Mr Play Puppy toys for aggressive chewers are known for their magnificent endurance of power chewing. What makes this toy different? It is probably its texture. As it doesn't include knotted fabric.
Their chew bone is made of an indestructible material. They say that the life span of this material would last longer than your dog's lifespan. However, that would be an exaggeration since no toy is indestructible.
The bone is designed with ridges. This assist massaging your puppy's gums. It sweeps away the food elements and remains. You should know that these small particles of food generate bacteria that would lead to several diseases.
Pros :
It is super-durable.
It is designed specifically for puppies who are aggressive chewers.
It is made of pet-safe and high-quality materials.
It is suitable for several types of play.
It is suitable for teething puppies.
Cons :
Some puppies tend to not like it.
It is made of too hard material.
2- Kong Puppy Toy :
The other product that we would recommend id the Kong puppy toy. Every single dog of any age needs a Kong. It is indispensable. That is why we recommend the Kong puppy toy for your lab puppy.
The Kong brand is known for its hard high-quality materials. What makes this toy better than any other Kong toy? The Puppy KONG dog toy is designed particularly for growing puppies who are teething.
The Kong toy is made of a unique, all-natural rubber formula. This rubber is the gentlest. Especially when compared to the kong rubber toy line. Since you want a hard toy. However, remember that you are getting a toy to a puppy.
The rubber must be gentle to not damage your pup's teeth. This Kong toy is made to meet the needs of a puppy's 28-baby teeth. This toy would get your retriever puppies to develop appropriate chewing behavior.
In addition, it satisfies your lab puppy's instinctual needs. It comes with an unpredictable bounce. This would capture their attention. it ideal for lab puppies. We all know how much they like to play.
This toy is used for training. Does your retriever puppy need carte training? Well, here you go. Use this Kong toy as it can be stuffed. Adding to being a chew toy, it is a treat-dispensing one too. You can fill it with your lab's favorite treats, peanut butter, yogurt, kibble, or creamy cheese.
Pros :
It is durable.
It has an unpredictable bounce.
It is made in the USA with globally sourced materials.
It is a treat-dispensing toy.
It recommended by vets, dog trainers, and dog enthusiasts.
It is particularly directed to teething puppies.
Cons :
It has a bad smell.
It is a little bit small (choose the right size for your lab puppy which is medium.)
Best Interactive Toys :
1- Omega Paw Tricky Treat Ball :
The Omega Paw Tricky Treat Ball is a stimulating interactive toy. It will amuse your retriever puppy for hours. It provides your puppy with the necessary intellectual needs. It provides your Labrador retrievers puppy with the mental exercises s/he needs.
It is easy to be used. Just fill it with your lab's favorite treats and let the ball rolling. The ball is a treat-dispensing toy. Aka it will keep dispensing treats to maintain your puppy's focus. In addition, it will entertain your pup as it is a ball.
Omega Paw Tricky Treat ball will keep your pup busing which prevents boredom. The ball has a unique design. Besides, it has a soft texture. Its design makes it easy to grip for dogs.
It comes in a variety of sizes. Make sure to choose the right size for your lab puppy which is medium. In case your retriever is different. You can reason which size you need. Sinch dog are different and are not equal.
Pros :
It provides mental and physical stimulation.
It has a soft surface making it easy to grip and suitable for puppies.
It keeps your puppy entertained and busy for hours.
It is easy to fill.
Cons :
It is hard to be cleaned from the Inside.
Some dogs might not be dazzled with its design.
2- PetSafe Busy Buddy Barnacle :
The PetSafe Busy Buddy Barnacle would be our next best choice. Dogs love things that bounce. Life is simple for them just give them something that bounces. However, what is their ultimate favorite thing? it is food.
An unpredictably bouncing toy combined with food would be "perfection" for them. Our toy right here can be filled with treats. The Busy Buddy Barnacle Dog Toy is designed with three connected treat chamber balls.
Its design gives an unpredictable bounce when it is tossed. Each one of the chambers can be stuffed with your retriever puppy's favorite treat. The Busy Buddy Barnacle Dog Toy will randomly release one treat as your lab puppy is playing with it.
Besides you can smear the bone-shaped grooves with peanut butter or creamy cheese for an even yummier play.
Pros :
it has a unique design.
It has an unpredictable bounce.
The treat Meter will arbitrarily release one while your puppy is playing with it.
The toy can hold a wide variety of treats.
It is dishwasher safe.
Cons :
It is hard to be hand-washed.
The plastic has a weird smell (it is recommended to wash it before giving it to your puppy.)
Best Rope Toys :
1- Mavel Large Toy For Dogs Puppies :
Concerning Rope toys, we have chosen Marvel toy for you. These toys are becoming popular with time. This toy is ideal for increasing your bond with your dog. If you have spare time, it would be perfect to play tug of war or fetch with your dog.
This product is made of tough material. A one-on-one tug might a great idea to stimulate your puppy.
Lab puppies love to play with ropes. Marvel rope toys are perfect for lab puppies for its thickness. It is tough and hard yet for a puppy. Therefore, it has the perfect thickness for a lab puppy.
This product is design for playing a gentle game of tug-of-war. Your lab puppy can also carry the rope around while playing and chewing on it, as well. It's made for your puppy if s/he's an aggressive chewer.
Rope toys assist in fixing bad chewing behaviors. The rope is made up with a polyester exterior and cotton interior. Thus, as it is durable and long-lasting, as soft it is. it will satisfy your retriever puppy.
Pros :
It is durable.
It is suitable for several types of play.
It is tough yet soft.
It is designed for puppies.
Cons :
The rope is not indestructible.
2- EXPAWLORER Cotton Dental Teaser Rope Toy :
This another rope toy. However, it is also a pet chew training toy. This lovely giraffe is hand-tied. It is made of purely cotton. Also, it features non-toxic dyes. The Giraffe has a lovely bright color.
Regardless of its durability, its cute design as an animal will entice your puppy to play. Going back to its durability, this toy is extremely tough. It has resistance to chewing. This product features solid knots.
The knots make it ideal for teething puppies. They will massage your pet's gums. It will assist clean teeth with every chew. It is perfect for tug-of-war and fetches games.
The Giraffe has a perfect size. It measures 8-inch length. The unique shape of this rope will capture the attention of your lab puppy.
Pros :
It is durable.
It is suitable for teething puppies.
It comes in different delightful colors.
The rope toy features solid knots.
It is purely made of cotton and non-toxic dyeing.
It is made in the USA.
Cons :
it is not indestructible.
Best Plush Squeaky Toys :
1- KONG Cozies Dog Squeaky Toy :
Kong is the most indestructible dog toy brand. If you are looking for a cute, cuddly, soft, and fluffy toy yet a tough one, this toy is set for your lab puppy. The Kong Cozies Squeaky Dog Toy is a cuddly plush toy.
This toy is perfect for snuggling and cuddling. It will translate your love toy your puppy into love-filled-cuddles. It is made for both indoor and outdoor fun. Your Labrador retriever puppy will enjoy tossing it and playing fetch with it.
The KONG Cozies Dog Squeaky Toy is designed with an extra layer of material. This adds strength to the toy. Besides, it comes with a built-in squeaker inside to certainly excite your baby.
Pros :
It is durable.
It is soft and cuddly.
It comes with an extra layer of material.
It is suitable for both indoor and outdoor fun.
It squeaks to entice playtime.
It comes in different sizes but the medium is perfect.
Cons :
It can be destroyed (it is not a chew toy.)
2- Fattiez Round Squeaky Plush Toy by Outward Hound :
This plush toy from the Outward Hound is literally the cutest ever. their Fattiez Pig Dog Toy will surely become your lab puppy's companion and fa new favorite friend. This plush toy is lovable and round.
The toy is built with funny noisemakers. This would delight your dog's heart. As we said it has a round shape. All dogs love round shapes. So, your puppy will definitely love this round fat pig.
The round shape of this plush toy makes it hard for your puppy to reach the inside of the toy. In other words, your retriever puppy won't reach the squeaker. Besides, the loveable barnyard pig design itself is an addition to your lab's toy collection.
It perfect for chase play. As it is also fun to play fetch with it. Your lab furry baby will love batting it to get the pig to make its funny sound.
Pros :
It has a squeaker.
It is suitable for both indoor and outdoor fun.
It is durable.
It is soft and cuddly.
It has a safe design.
Cons :
It is small (of course, it is for puppies).
It not indestructible.
Buying Guide For Lab Puppy Toys :
To know what type of toys you need for a lab, you need to know how retrievers are.
Who Are Retrievers :
Overall, Labradors puppies tend to be bouncy, lively, fairly mouthy dogs.
As their name implies, they love to retrieve.
Retrievers tend to be power chewers (retriever puppies have razor-sharp teeth).
They are family dogs.
They love outdoor activities
Retrievers are sporting dogs.
They are determined dogs. They will make you know what they are thinking of.
What Do They Like :
Chew toys for lab puppies :
Although no two dogs are the same, there is one common denominator among all lab puppies share which is CHEWING. They have a constant urge to chew on anything and everything.
To save your furniture and clothes, you need a solid chew toy to get the lab's chewing urge on it. Besides, it will help keep your Labrador retriever occupied in a healthy way.
Puzzle toys for lab puppies :
The best Labrador toy doesn't only satisfy her/his extra physical energy. The best lab toy gets your pup to use his brain as well, aka, mental stimulation.
Interactive dog toys are an important type of toys for lab puppies. Retrievers are smart dogs. It would be ideal to get your retriever a treat dispenser, dog puzzle toy, and dog mazes.
These toys require the dog to learn how to access his reward. In other words, to work to get what s/he wants.
Soft Toys for lab puppies :
Labradors puppies love their soft toys. However, they show it bizarrely. They like to snuggle up next to them, shake, squeeze them or rip them to shreds. They are unbelievably attracted to soft toys.
Tug Of War Toys for Lab puppies :
Labradors puppies like to carry things in their mouths around. many of lap puppies extend this to games of tug-of-war. If your Lab likes pulling on the other end of your towel when you hold it up, might as well, s/he will love getting rope.
Balls for Lab puppies :
Balls are every breed's favorite friend. There is no way a dog doesn't like a ball. They are an amazing all-purpose lab toy. Your Lab will like to fetch them, chew on them, bounce them, paw them and chase them around the back yard.
Concerning retrievers, the best ball is a fairly large, fairly durable and often with a bit of bounce one.
The needed features in lab puppies' toy :
Durability: as we have said. Durability is highly important. You need you a tough toy. Don't be fooled by their cute face. Retriever puppies are power chewers.
Size: try to get the most suitable size for your dog. The right size means safe. The size of the toy matters because it is linked with the safety of the toy. If it is too small, your puppy could choke on it. If it is too large, it will hurt their jaws. Try getting a medium size for a lab puppy.
Materials: a high-quality material adds to the lifespan of a toy. They withstand abuse. In addition, try to avoid toxic materials. Here are the best tow options in the market.

Rubber: rubber is technically the toughest material in the market. Make sure you are getting a natural rubber As it is tough and safe at the same time.
Rope: since retriever puppies like tug games, the rope would be a great option for you and your pup. It is your second-best choice after rubber.

Cuteness: this one matters because that's what attracts dogs in the first place. Dogs don't care about safety they only care about the overall shape. Since your dog is playing with it. s/he better have a say in it too.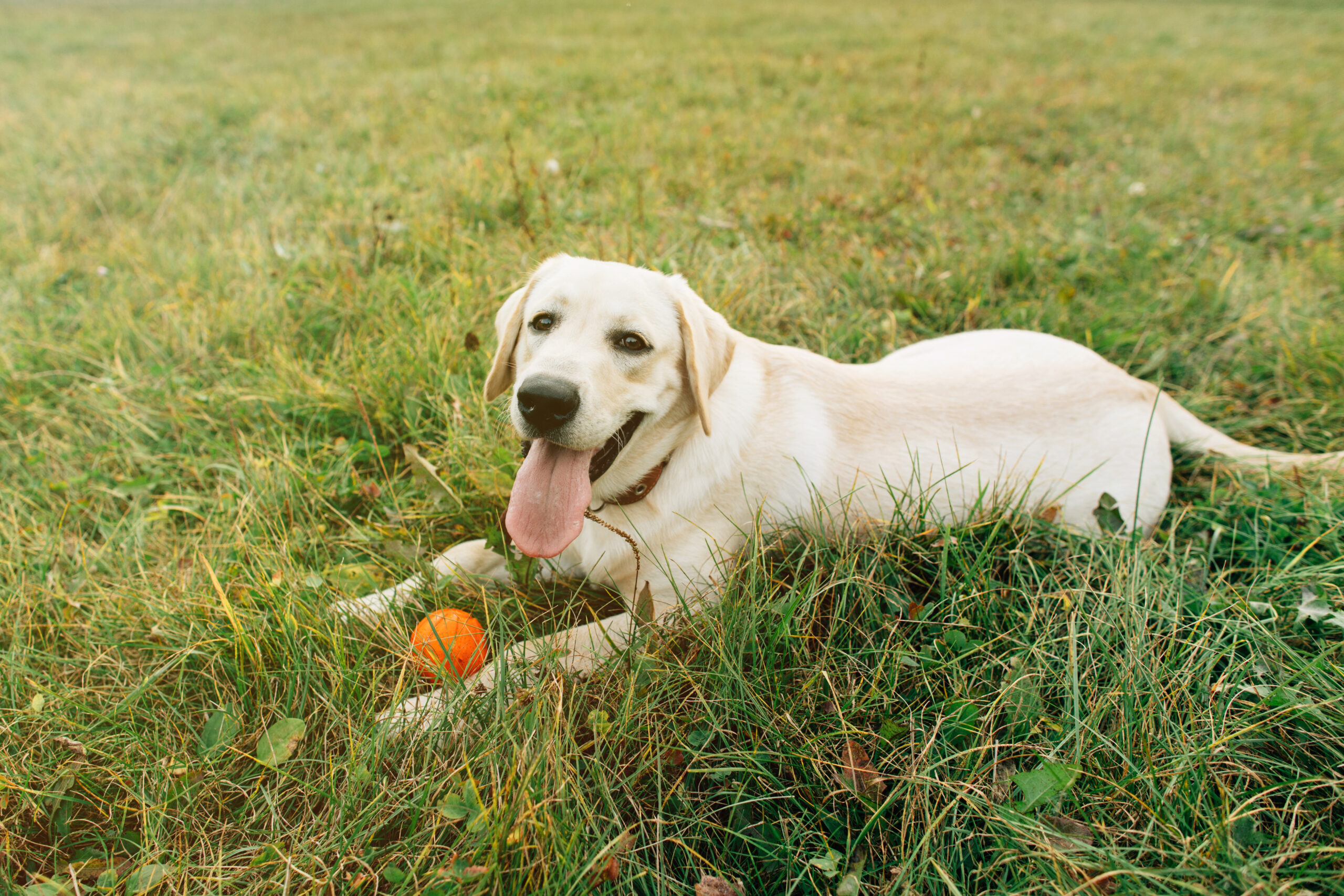 Frequently Asked Questions :
What type of toys are the best toys for Retrievers?
This depends, particularly, on your puppy. Every single pup is different than the other. There is no specific ideal toy for Retrievers. However, depending on what most retrievers like you can figure out what would they like or not. However, you are still just assuming. Retrievers tend to like fetching and tugging. You can use these two points to find the right toy four your pup.
Are some materials dangerous for my dog?
Yes! Some dog toys are made with harmful materials. As they may contain high levels of chemicals. The latter are harmful to your dog when consumed. In fact, some toys even get these chemicals exposed on the surface of the toy. In other words, even when the material rubs up against your pup's skin, it could lead to an allergic reaction. This is why you have to ensure their toys are BPA free and preferably not made in China.
As a matter of fact, you have to wash your dog's toys. Otherwise, your pup's toy will be home to several disease-causing bacteria. Hygiene is extremely important. You can handwash your pup's toys or put them in the dishwasher. In case it supports machine-washing.
Conclusion :
If you've made it to this point, you know what are the best toys for lab puppies. Now you have a full understanding of what to get for retrievers. This breed is bursting of energy. They adore playing all day long.
Since you don't have time to keep playing with your puppy lab. It would be perfect if you can get them a toy. That toy would be their companion. As you have seen, the list we provided you with offers your puppy retriever with more than just fun time.