Introduction :
Your dog is a German shepherd? Stick around. Will help you get the best toys for German shepherd you out there. One of the most popular dogs in the United States is the German Shepherds. The GSD haves always been among the top 10 popular dog breeds in the USA. The German Shepherd has been dominating the second spot for decades.
People who have German shepherds know that this buddy deserves that spot. German shepherds or what originally known in German as Deutscher Schaferhunde are energetic, playful, and incredibly adorable.
Don't be fooled by their serious physical appearance. Even with their pointed ears and muscular physique, they are funny, playful and highly energetic. When raised in a healthy great environment, German shepherds are happiest. the right environments necessitate the right toys.
America's beloved dog, the German Shepherd, is an intelligent working dog. Other than being a movie star, these buddies are the best at literally everything. They excel at whatever you train them to do.
German shepherds have been a great help for handicappers. They have been in great help for the police and the military services. As a matter of fact, they are an amazing guide and assistance for herding, search and rescue, drug detection, and competitive obedience.
German shepherds have even been a national hero. German Shepherds were the search and rescue dogs during 9/11 terrorist attacks. They crawled through the ruins of the World Trade Center. They worked hard looking for survivors. Not only that, they have taken the role of comforting rescue workers and families.
However, if you have a German Shepherd dog or planning to have one you have to know a couple of things. GSD aren't for everyone. They need specific care and particular environment. These buddies are notoriously reckless with their teeth.
Genetically speaking German Shepherds are formerly bred to herd flocks all day long. They are high-energy dogs. To put it in perspective, they require a lot of activity and exercise. As matter of fact, if they do not get space to get out all that energy, they will be extremely frustrated and bored.
You guys probably know what are the consequences of boredom and frustration.  Without activities, these babies are likely to express it through destructive behaviors like barking and chewing. Actually, they are heavy chewers.
Dogs in general are pack animals. They can't stay alone by themselves for a long time. Especially, German Shepherd who are more likely to develop separation anxiety, or extreme anxiety when left alone.
In your absence, German Shepherds can become very anxious. Barking, chewing, and digging are their way to cope with your absence. Not to mention, GSD is enormously sensitive dogs.
Mental and physical stimulation is of high significance for German Shepherds. Originally, the are active and intelligent dogs. In other words, you have to keep them busy learning, playing, and working.
Well, the best way to create the right environment for your German Shepherd is through the right toys. Keep reading to find the most suitable toys for your puppy or dog.
Best Toys for German Shepherd Dog's :
– Best Chew Toys :
1- Kong Classic :
Speaking about chew toys, the Kong Classic is the best toy that will come to any dog trainer's mind or any pet owner. It is the best indestructible dog toy for your German Shepherds. The Kong brand is widely known for its good quality.
All dog lovers love this brand. They have a great reputation concerning durability. Actually, the Kong classic is the most popular toy that pet owners with massive chewers. this toy has a high level of durability. This makes it the best chew toy for German Shepherd.
Kong's rubber is thick. This how it endures immense chewing. It is also amazing to keep your pup busy. With its bulbous shape and hollow center, your GSD will take time with this challenging chew toy.
Not to forget, this toy is great for strengthening your German Shepherd gums and teeth. It is the best for puppies as well.
Other than chewing, Kong classic makes a perfect toy to play fetch. Also, you can fill up the Kong's center with your German Shepherd's favorite treat or with peanut butter. Then, let them go nuts over their Kong.
For a detailed info of this toy check our review.
Pros :
It is extremely sturdy.
You can customize the treat based on your GSD's needs.
It offers mental stimulation.
It helps teething puppies.
It is good for crate training and fetching training.
Cons :
It can be difficult to clean.
2- NylaBone DuraChew :
Here is another chew toy that endures your German Shepherd's aggressive chewing. It is not as good as the Kong of course but it deserves to be on the list to be quite honest with you.
The NylaBone DuraChew can capture your GSD for hours. This chew toy's texture material is made with a yummy bacon flavoring. However, it is recommended that you supervise your pup while playing with the toy to avoid any accident. Supervision may spare you the trouble of some pieces being bitten off and swallowed.
These treat bones are toys first off. At the same time, they are dental sticks. This is a great way to keep your dog's fangs healthy, sharp and sparkling. It is designed with small ridges to clean plaque.
This is more than just a regular chew toy. As a matter of fact, It's a magnificent teething toy for German Shepherd puppies.
Regardless of the fact that this toy is a sturdy chew toy, it is a fetching toy. the NylaBone DuraChew's shape makes it easy to throw it and fetch it.
Pros :
It is sturdy and durable.
Its shape is ideal for your dog to grip on it and allows you to play fetch with it.
It comes in bacon flavor.
It is able to last relatively longer than other chew toys.
Cons :
The nylon can make noise when your GSD is chomping on it.
– Best Squeak Toys :
1- Kong Cozies Dog Squeaky Toy :
KONG Cozies Dog Toy is designed to give your German Shepherds the cuddles they need. It helps keep your dog or dog busy for hours. The company added an additional layer of material to this toy aiming to make it extra tough.
However, as you may know, plush-squeak toys are meant to be destroyed. These toys give your puppy the love and the security s/he needs.
Although this toy is tough, this doesn't deny it its main job. The Kong Cozies Dog Squeaky Toy is a cuddly plush, fluffy, soft, and cute toy. This is how it will ensure your pup an unforgettable fun playtime.
Besides, you can use this plush toy for fetching. The best thing about this toy is that, technically, there are 10 available amazingly attractive Cozie characters.
So, go ahead choose your favorite character for your favorite German Shepherd. KONG Cozies are tremendously sturdy and long-lasting.
Pros :
It is available in 10 fun characters.
It squeaks to tempt your GSD to play.
It has an extra layer of material to make it tough.
It has minimal filling (for minimal mess.)
Cons :
It is designed for chew sessions.
It is not indestructible.
2- Consuela the Cactus :
Another squeak plush toy is the Consuela the Cactus from BrakBox. Consuela will be your GSD puppy's new best friend.
This is not like any cactus. It isn't prickly and painful. Totally the opposite, Consuela is a cuddly, soft, cute plush squeaky toy for cuddles, fetch, and safe chew time.
This is a solid toy. So, it has more stuffing than no-stuffing toys. However, it still has a minimal filling. However, it provides padding with each chomp.
To put it into perspective, this simply means that this toy is good for teething. It will secure you sore puppy gums.
Since it is a squeak toy, it obviously has a squeaker inside. This would encourage active playtime.
Pros :
It is sturdy.
It squeaks to tempt your GSD to play.
It has minimal filling (for minimal mess.)
Cons :
It is not for chewing.
It is destructible.
– Best Interactive Toys :
1- Nina Ottoson Dog Brick Treat Puzzle Dog Toy :
German shepherds need training. Unlike many dogs, they require mental stimulation more than any breed. Puzzles are the best way to do so. It keeps their brain working. Although, some puzzle toys are a bit too hard right out of the start.
However, there are always puzzles for beginners. using this beginner level treat-dispensing puzzle toy, your dog confidence will reach the roof.
This puzzle comes with nine removable, bone-shaped caps. Under which you will hide treats or kibble. Your German Shepherd is supposed to use his nose to figure out which caps have the treats hiding under it. Then s/he will be using her/his paws to get to figure out how to get them.
The puzzle is set with two levels of difficulty built right in. you better start with the caps elevated. This would help your pup pick up the game. Once s/he's learnt how to do it, level up the challenge. You can place the caps flush with the tray.
This puzzle is washable, reusable, and interactive one. It will help improve your GSD's sense of smell and problem-solving. Not to mention that this baby is a slow feeder. The latter are magnificent for weight management.
Pros :
Reduces destructive behavior.
Easy to clean.
20 different treat compartments.
Cons :
It can be hard for some dogs.
It needs supervision.
2- The Star Mark Bob-a-lot :
The bob a lot toy is a food dispensing device from the Starmark Pet Products. It is made in the USA. This interactive toy helps you mix up food time with playtime and exercise. your pup will definitely enjoy it.
This toy isn't only a treat-dispensing wobbling. It provides mental stimulation.  This toy will keep puppies and dogs home and provide them with fun indoor time.
Besides, this interactive toy that will improve the bond between the owner and the pet. After all, this product is for both of you. Check our detailed review on this toy for further information.
Pros :
It helps with weight management.
It is challenging.
It has an anti-slip bottom.
It is an interactive toy and a feeder.
It offers mental and physical stimulation.
Cons :
It takes time to fill up 3 cups.
You will find difficulty cleaning it.
There is a chance of your pup breaking it (if it gets thrown from a high place).
It does not dry fast.
– Best Rope Toys For GSD :
1- Nero Ball Classic K9 Ball on a Rope :
This rope is, basically, designed to be used as a reward in training K9 Police units and Military Working dogs. As a matter of fact, this makes it the best rope for German Shepherds. As we previously explained, GSDs are working dogs. Toys that are used in K9 Police unite most of the time suit your German Shepherd.
Your dog will love playing with The Nero Ball Classic K9 Ball. It combines to desirable elements a ball and a rope. Your GSD will love chasing the ball, chewing on it, and retrieving it.
In addition to the ball, this toy has a rope attached to it. In other words, you can use the rope handle to fling the ball as far as u want. Besides the rope allows you to play tug-of-war as well. 
The Nero Classic K9 Ball is made of first-rate materials. It is built of hollow heavyweight rubber. Whereas the rope is constructed of nylon with a non-slip loop handle.
Pros :
It is durable.
The ball can endure aggressive chewing.
The ball can fly farther than traditional tennis balls.
It is good for teething.
Cons :
You need to be supervised.
The nylon rope is too thin.
2- Flossy Chews Cotton blend 5 Knot :
When you are training your GSD you definitely need a long rope. We picked up the 72-inches long rope from Mammoth. the Mammoth Cotton blend 5 Knot is unbelievably long.
You better be prepared, it's so annoying to heave down to the local dog park. Don't even get me started on the room it takes in the toy storage basket.  However, if you want a long rope, you better be prepared for its bad side.
As a matter of fact, for large dogs like the German shepherd, it's ideal. Having an extremely long rope serves in durability. To put in perspective, the extra length ensures that your GSD will net keep biting in the same spot. Besides, It is ideal for tug of war games.
Pros :
It is very long.
It lasts longer than any other rope.
It fits large dogs.
Cons :
It takes a lot of room in the toy basket.
It is not ideal for puppies.
– Best Plush Toys :
1- GoDog Dragons :
German shepherds are very sensitive dogs. They need plush toys that would give them the security and the love they need. The goDogs Dragons can be your GSD's friend. This toy is a textured plush toy.
It is designed with a Chew Guard Technology for tough puppy chewers. Dogs overall love the nubby textile and under stuffed of this toy. They need a buddy for floppy, chewy playtime.
This is a squeaky-plush toy. The squeaker is hidden inside the tough. In other words, you don't need to worry about it being chewed. It has a durable Chew Guard liner. This makes it way safer than any regular plush toys.
Pros :
It is extremely durable for a plush toy.
The squeaker is made of tough material.
This toy is guaranteed.
Cons :
It is not suitable for tug of war games.
2- ZippyPaws Plush Squeak Toys :
Another comfort buddy is the ZippyPaws plush Squeak toys. you can get one of those to your dog when your GSD is not killing her/his chew toy. In fact, a lot of senior dogs enjoy a good plush toy.
Your older GSD will enjoy her/his cuddly, soft, cute character. The toy is made with soft textures. At the same time, this toy is durable.
What most costumers like about this toy is the fact that there are no chemical dyes. In fact, the toy is made with no and no VOC plastics. The toy is 100% Earth-friendly.
These plush toys have a squeaker inside. The latter will keep your pup alerted and focused on the toy. the toy's body is durable enough for chewers like the German Shepherds.
Pros :
It is soft and cuddly.
It captures your GSD's attention.
It is earth-friendly.
It has many characters.
Cons :
Buying guide of Toys for German Shepherds :
Whether you have a German Shepherd or you are planning to have one, there are couple of things you need to know before getting your GSD a toy. There are a lot of factors to take in consideration before picking one.
Here you go how to choose a toy for your German shepherd. This is a guide containing the most important factors you have to consider when choosing one.
Age :
You have to consider what age is your pup. Not all toys are for all ages. If your pooch is still a puppy, his chewing ability won't be as hard as the one of an adult GSD. In other words, you will end up getting your puppy a toy to ruin his teeth.
In general, Puppies tend to require softer toys. This way they can enjoy their time and not hurt themselves.
Not only puppies need softer toys. If your pup is 7 years or older, the strength of her/his teeth will start to decline. To sum it up, you need to consider the age of your pup to avoid any teeth damage.
Chewability :
Overall, German Shepherds are massive chewers thus, getting a sturdy and durable toy should be your priority. However, not all dogs are the same. You know your dog better than anyone so you choose what suits your dog.
Size :
Size matters. It is important to get the perfect size for your dog. Don't get your puppy a big toy. Your puppy will struggle to play with it. Worst case scenario, your pup won't play with it. 
On the other hand, getting a large adult GSD a very small toy won't cut the cake too. In fact, small toys prepose the risk of being accidentally swallowed and choked on.
Most toys suggest you what type of toy it is. What size of dog it is targeting? Thus, make sure to read the labels on toys.
Materials :
The material of the toy is important, especially, for chew toys. The rubber must be of the best quality. Materials should be of good quality. Therefore, they don't intoxicate your GSD with harmful chemicals.
Design :
German Shepherds tend to be attracted to brightly colored, loud toys. They love toys that function the way they are intended to. Besides, German Shepherds love balls. However, don't expect them to play with one that doesn't bounce.
In addition, they adore squeaky toys. Their squeak toy must be as loud as it needs to attract them.
Types of Toys :
Try to figure out what is your pup's favorite type of toy. You will need some experimentations to find out. However, if you've had your German Shepherd for years, you probably know what toys s/he likes best.
Before buying a toy, think about these 5 things :
Is the toy safe for your dog?
Safety should be the first thing to look for. Check whether your dog can be able to chew off small pieces and choke. Also, make sure that it is impossible for your dog to eat threads and risk digestive problems.
There are a lot of toys out there that may seem cheap budget-friendly. However, many of these toys will turn out to be for dogs to play with.
Does your dog enjoy that type of toy?
Before getting a toy think of what type of play your pup likes. Some dogs like to chew.  Others are more into squeaky toys that making noise. Consider whether your German Shepherd likes the challenge of hunting for a prize or not.
Unless you are experimenting, then get wherever you want. Yet, keep in mind dogs always love a classic choice such as a ball. In addition, most dogs love chasing things. Finally, just get to know your dog buddy.
Besides the toy being interesting, a toy must have a role and serve a purpose. The toy you get should improve either your pup's physical or mental abilities.
Is the toy easy to clean?
It is important to avoid the spread of dirt and bacteria. Thus, it is important to clean your dog's toys on a regular basis. Overall, rubber or plastic toys tend to be easy to wash. However, toys like plush toys need either hand washing or machine washing.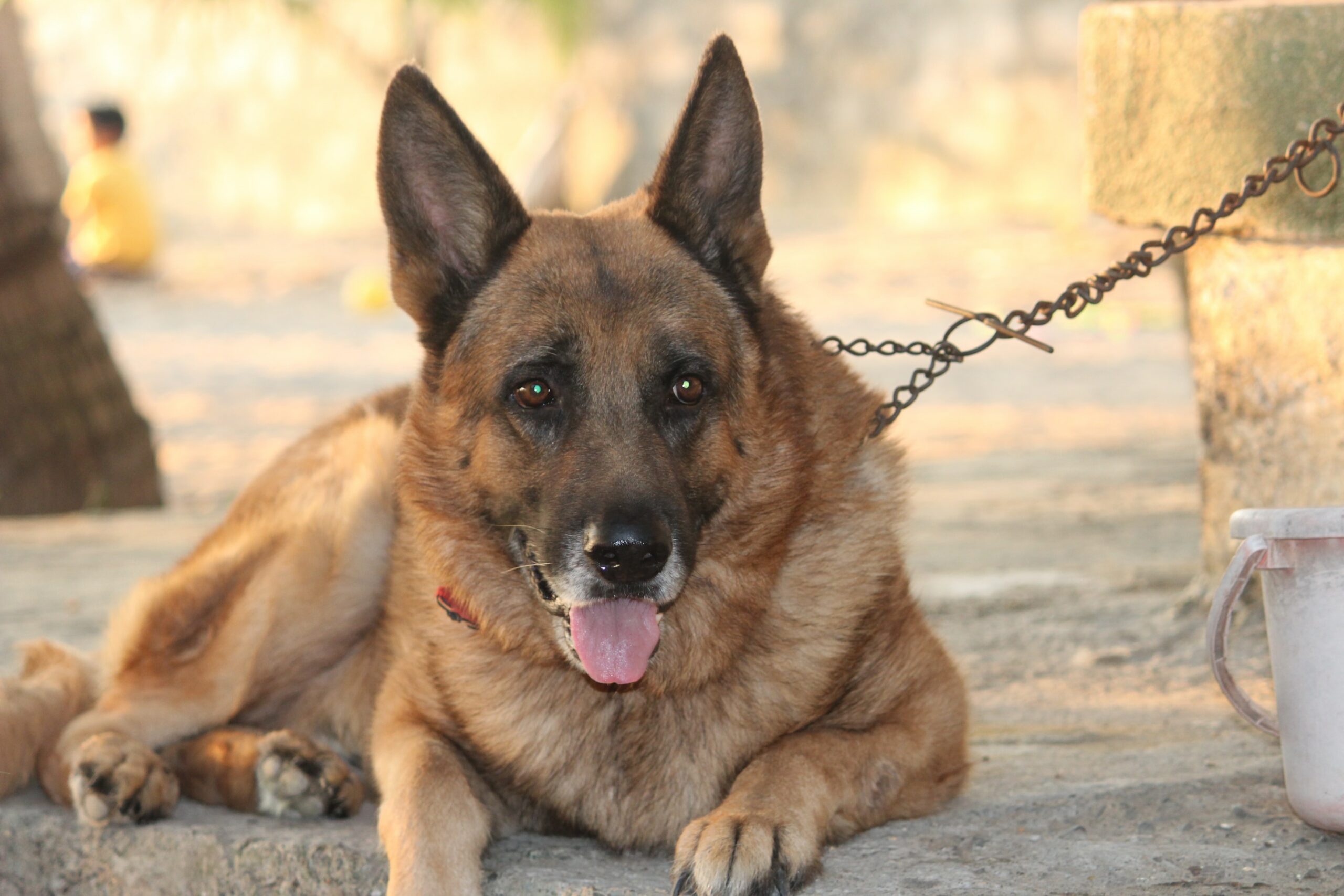 Frequently Asked Questions :
What toys are not suitable for German Shepherds?
Overall, rope toys can't survive German Shepherds. However, if the rope toy got a nylon ball or plastic handles, then it's okay. Those usually tend to make it. Besides, all toys need supervision at some point.
How many toys should my German Shepherd have?
Basically, there's no right answer to this question. As there is no set number of toys that your German Shepherd should or shouldn't have. Actually, it is the same for all dogs not only German Shepherds. This depends on your pocket. What matters is that the toys are safe and fit.
When do I need to replace their toys?
When your dog has chipped the toy. It will present the risk of being swallowed or choked on. you must replace the toy with a new one.
Conclusion :
There you have it the best toys for a German shepherd. Now that you've known what's available out there. Also, you know what are you looking for. You can get your German shepherd what s/he needs.
Remember that no matter what type of toy you get, it is you who makes that toy useful.  Make sure to supervise your dog while playing and play with your German Shepherd.