Introduction :
Thinking about dog subscription boxes? Well, keep reading and we will help you get the best dog subscription box for your pup. If you have run out of gift ideas for your dog, these boxes are the best way to spoil your canine.
Getting the best products for your dog can be time-consuming. You have to make research over each product you will buy. You wouldn't want your money to go wasted on trying stuff for the first time.
It is important to get the safest products for your dog. Safety is not the only aspect you need to look for when purchasing a dog product. There are a lot of aspects to look for such as the effectiveness of the products you are getting.
Besides, the market is ever-changing. There are new awesome dog toys, tasty and healthy dog treats, grooming items, chew toys, bully sticks, and much more every day. Shopping for all these would take a lot of time. Also, you may get scammed.
The best solution for this problem would be getting a monthly dog subscription box. If you are interested in these boxes, we have made heavy research on the best subscription dogs out there.
If you want to make your dog an exceptional gift that would lighten her/him up, we got you. Below you will find the best subscription boxes you can go for.
Best dog subscription box :
Top 1 : BarkBox
According to our research, BarkBox is the best subscription you can get. You better consider BarkBox If you aim for an affordable dog subscription box. When searching for memberships, you probably crossed this name.
It is one of the most popular membership boxes in the market. The reason why BarkBox is popular goes back to its nature. This membership covers nearly all themes.
It will amaze you and your dog every month. If you go for BarkBox, get ready to be dazzled with your pup's delivery.
Since BarkBox's beginning, they have delivered boxes to more than 2 million dogs. Besides, BarkBox partnered with several stores. They have partnered even with Target to get their most popular toys.
BarkBox is a monthly subscription of original toys and healthy treats.  tailored to your dog. BarkBox tends to design (in-house) their own toys and all-natural treats.
The most incredible thing about BarkBox is the idea of the theme. I mean that each box you receive has a specific theme. Believe me when I say this is amazing.
For example, in one month your pup would get a collection of holiday-themed treats and toys. All the items of the box would have a holiday theme. The next month your dog will get something different.
However, the next month, BarkBox might send you a whole other theme. Since BarkBox has in-house designed toys and treats, you will receive two innovative toys, two bags of all-natural treats, and chew in each box.
In addition, your dog's box would contain an exclusively arranged item from the month's themed collection.
In case you have a massive chewer in the house, BarkBox got you, my friend. You can choose from the standard BarkBox which is filled with plush toys or the Super Chewer box which filled with fluff-free tough toys.
Well, another good news about BarkBox is that they offer free shipment within the United States. Besides, BarkBox also has an online shop that sells more toys and surprises.
In case you or your pup are not happy with the box for no matter what reason, don't worry. BarkBox bids you a 100% money-back guarantee.
What We Like :
BarkBox offers unique exclusive toys.
They offer great customer service.
Their treats come from American farms.
Each box has its own theme.
They donate 10% of their profit to charities and dogs' shelters.
BarkBox is allergy-friendly.
BarkBox allows customization.
What We Don't Like :
Super Chewer box is a distinct program and tends to be more expensive.
Plans are auto-renewed (yet you can turn off online).
Pricing :
1 Month Subscription: $35/month.
6 Month Subscription: $25/month (or $135 upfront).
12 Month Subscription: $22/month (or $239 upfront).
Top 2 : KONG Box
As a dog owner, you probably know the brand KONG. Well, this famous dog toymaker company introduced her box subscription.
KONG Box is a subscription box. In other words, once you subscribe you will receive a box monthly. The box is brought to you by KONG. Their boxes contain handpicked toys, treats and goodies tailored specifically to your dog.
The KONG line products are actually recognized as the best of dog toys. In addition, KONG Classic is certified by groups like veterinary clinics, training facilities, and law enforcement for pet training and engagement.
The products you will get from your membership, are all from the KONG line.
Each KONG Box will include a KONG training toy, personality toy and 3 bags of treats. Besides, it contains tips and recipes. Not to forget that you will receive the famous KONG classic toy in your first box.
The personality toy will support specific behavioral needs. It can be weight management, separation anxiety, teething, barking crate training, boredom, digging or massive chewing.
What We Like :
You can indirectly customize the box's Items to fit your dog's situation.
The box contains high-quality dog toys from KONG.
The brand has decades of experience in toy making.
They offer satisfaction Guarantee.
They allowed early cancelation just for a small fee.
What We Don't Like :
KONG chooses them for you the items.
The box is relatively expensive comparing to other boxes.
They do not offer an allergy-friendly option.
Pricing :
$39.95 per box for their monthly pay-as-you-go plan.
$34.95 per box for their six-box subscription plan.
$29.95 per box for their annual subscription plan.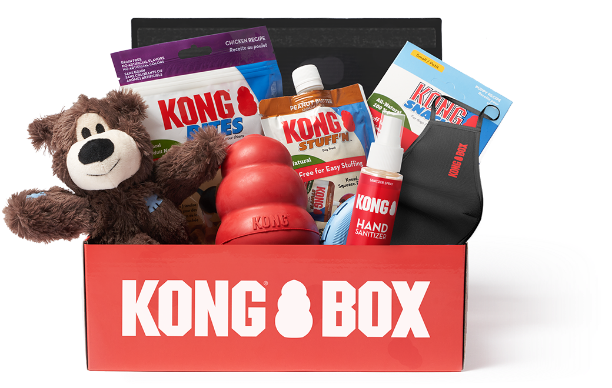 Top 3 : PupJoy Subscription Box
PupJoy Box is worth this spot. They offer a high level of customizability you can ever find. This dog subscription-box service has a huge variety of high-quality goods.
PupJoy is more customizable than any other dog subscription service. They have a lot of options. They include a box with toys, treats, and chews. If you don't like that, don't worry. You can get a box with only toys and treats or a box with toys only.
Besides, you can specify what type of toy you want. You get to pick whether it's plush or any other type of toys. You, also, can choose if you want your treats all-natural, organic, grain-free, or even protein-sensitive treats.
Pupjoy offers five different dog-size categories to choose from. You can also adjust the delivery frequency if Fido doesn't finish the contents quickly enough to make a monthly box worth it.
Each PupJoy box includes, on average, two toys, two treats, and one chew. The toys were well made. Most of the treats and chews don't expire for a year or two. Also, all of them were made in the United States.
The best thing about PupJoy is their VIP membership. They offer some great bonuses. You get free shipping, exclusive members-only deals, 10% cashback with every purchase, and double the referral rewards.
Talking about shipping, PupJoy ships for free to the United States. Also, they ship to Puerto Rico and Canada just for a $5 surcharge.
What We Like :
PupJoy's boxes are highly customizable.
The treat options contain protein sensitive, all-natural, grain-free, or organic for dietary needs.
They offer monthly, bimonthly, and quarterly shipping.
They don't contain treats with unnatural additives or chemicals.
For each subscription, PupJoy donates $2 to help dogs.
What We Don't Like :
PupJoy's prices are slightly high.
Subscriptions automatically renewed until you cancel it.
Pricing :
Since it is so customized, the price tends to vary by the items you select.
On average it costs $29 per month.
VIP membership costs $30 per year. (you will save up to 20% when you schedule auto-shipments.)
Top 4 : Dapper Dog Box
Well, if fashion is what you want, Dapper Dog's Box got you covered pal. This is a monthly subscription. The box includes a trendy bandana with every installment, two treats and two toys for your pup.
Similar to BarkBox, Dapper dog box is arranged with a certain theme each month. The themes vary from summer vacation to holidays. Your box is tailored upon your dog's weight and size. This way the attached bandana will certainly fit your dog.
The reason the Dapper Dog Box get a bonus from us goes back to its convenience. This box subscription is easy to cancel or skip a month. The good thing is that you do not need to speak to customer service. You can do that just through your profile.
Another lovely gesture about this brand is how caring they are. As a matter of fact, they get their products from small businesses. As a result, you will feel good. This way you are helping a family business or a small pop shop with every month's box. These businesses tend to care about dogs for dogs.
What We Like :
They get treats from small business owners in the U.S.
Through "Gift A Box", you get to try one box for $35 without getting rebilled.
They offer allergy-friendly options (no wheat, chicken or beef).
They donate a share of sales to rescues and shelters.
What We Don't Like :
The contents are not perfectly customizable.
Some people do not need the bandana.
Pricing :
It costs about $35 per month.
Top 5 : BoxDog Seasonal Dog Boxes
BoxDog bids quarterly dog subscription boxes including 6 to 8 products. With BoxDog, your box will include gadgets, skincare items, gear, toys, and handmade treats.
In addition, you'll receive a seasonal dog subscription box. The box's items are worth up to $150. You can add more products if you want so.
Precisely, your box will contain 4 handmade treats and one vegan skincare/wellness item. Besides, you get to choose 2 or 3 super tough dog toys, clothes, gear, and accessories.
Additionally, now, they also suggest you a grain-free box. This one features 4 bags of grain-free treats, 1 vegan skincare item, and your choice of 2 or 3 dog toys, clothing, and gear.
What We Like :
They offer natural handmade treats.
All treats are made in the U.S. by BoxDog's chefs.
There are no contracts (you can cancel anytime).
They don't an extra charge for big dogs or tough chewers.
They have unique items like vegan skincare items, wearables, leashes, and costumes.
You can tailor the items in the box before the shipment.
BoxDog offers a grain-free both quarterly box or monthly box.
What We Don't Like :
Their boxes are a little bit more expensive than other brands.
They didn't clear being allergy-friendly or not.
BoxDog offers only 4 boxes per year.
Pricing :
The 2 premium items box costs $39.99.
The 3 premium items box costs $49.99.
The price varies depending on what you want to have in the box. The more items you add the more they charge you.
6. Pooch Perks Dog Boxes
Pooch Perks Dog Box is a monthly subscription. The Pooch Perks subscription offer your dog a lot of products. You and your pup will get sturdy toys, healthy treats made in the USA. You will also get fun toys and cool accessories.
This subscription is a nice idea to pamper your pooch with so many more goodies.
Pricing :
It costs $20 – $50 per month.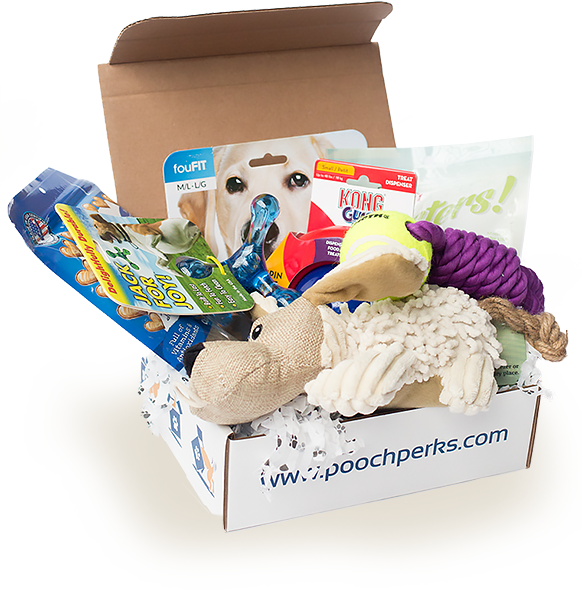 7. Wag Healthy Club Wellness Subscription Box
Wag Well Box gets you an organic dog subscription box. The boxes will contain 100% organic treats, safe toys and natural chews.
They assure you quality. they spent hours of investigations and research to choose their products. they prioritize your pup's safety, health and happiness.
Pricing :
All their boxes cost $34.00 per month.
8. Gnaw Box Chew Treats Box
This subscription is directed to chewing lovers. With Gnaw Box, you will never run out of chews. Their monthly subscription offers you 15–20 natural chews.
Each box contains a mix of bully sticks, jerky twists, deer antlers, and pig ears. They offer you even more rawhide and chemical-free treats. It comes in small and large sizes. This allows your pup's jaw to exercise. In addition, it supports dental health.
Pricing :
9. Pet Treater Dog Box
The Pet Treater is also one of our favorite boxes. The Pet Treater Dog Box gets you a lot of treats, toys, accessories, along with other great surprises.
Pricing :
10. RescueBox
You can treat your pup. At the same time, you can help feed shelter pets. All that through getting a subscription box customized to your furry friend's needs. With RescueBox you get three sizes, exciting themed boxes. In which you will receive a lot of treat and toy options.
Pricing :
11. Surprise My Pet
The best surprise you'd get for your dog is this box subscription. The Surprise My Pet will get you a monthly box of amazing dog toys and pet supplies. With Surprise My Pet, every box you purchase, a small share goes to supporting charities such as the Animal Rescue Foundation.
Not to mention that they also offer cat boxes too.
Pricing :
12. Greenwell Pet Box
With Greenwell Pet Box, you will receive a customized box of health and wellness products. They aim to assist relieving your dog's medical problems. They target issues such as stress, joint pain, skin issues, and other illnesses.
Each monthly box includes 3 CBD/hemp products and 2 to 5 dog health, and grooming. They also offer toys. their products are made from earth-friendly materials.
Pricing :
It costs $39 a month (free shipping).
13. Dog Mom Box
With each Dog Mom Box, you will receive 5-8 items. Half of the items are directed to your pup and the other half is for you. The box will include toys, treats, and bandanas for your pup.
Besides, Dog Mom Box donates a share of their profits to assist dog parents with emergency vet care at a local vet clinic to them.
Pricing :
It costs $39.99 per month.
14. PUP MOM CRATE
With each PUP MOM CARAT, you'll get 5-8 items monthly. The boxes contain beauty, home decor items and more for the pup mom. They also offer toys and accessories for your pup.
Pricing :
It costs 32$ for your first box.
Then, it costs 40$ per month (free shipping).
15. WIGGLEBUTT BOX
WIGGLEBUTT box is a monthly subscription with many options for small, medium, and large dogs. With each WIGGLEBUTT box, you will receive get 6-8 items. The box includes toys, treats, accessories, seasonal kerchief, and a roll of poop bag.
They also offer something for the pet owner. In addition, they donate a portion of their profits to animal charities.
Pricing :
16. Pug Box
Each box from Pug Box contains 5 to 9 items. The boxes contain delicious treats, fun toys, and pug-themed items for your dog. Pug Box's items have been tested and approved by pug parent.
Pricing :
Their plans start at $27.50 per month.
17. PupBOX
PupBox is a monthly dog subscription box. They change their contents as your puppy grows. With each PupBox, you will receive toys, treats, accessories, and training guides. The box's items are customized based on the age and your puppy's traits.
Each box includes 5-7 products, in addition to a full training guide. You should receive training materials, 1 bag of treats, and 4-6 additional items. The items include toys, chews, grooming and cleaning accessories.
Pricing :
1 Month Subscription costs $39 per month.
3 Month Subscription costs $34 per month.
6 Month Subscription costs $32 per month.
12 Month Subscription costs $29 per month.
18. Real Dog Box
Real Dog Box is monthly subscription. You can also choose from a subscription for treats only, chews only or a combination of treats and chews. Each Real Dog Box contains single ingredient treats and chews.
Pricing :
The entire box costs $39 per month.
"just-treat" box costs $21 per month.
"just chews" box costs $23 per month.
19. FRENCHIE Box
FRENCHIE BOX is a monthly subscription. They offer a premium option which includes automatically premium toys. Each box of FRIENCHIE BOX contains 5-9 French Bulldog themed items. They offer treats, toys, and accessories for your French Bulldog and you.
Pricing :
Month-to-month costs $39 per month.
6-months costs $34 per month.
12-month costs $29 per month.
20. FIDO'S FRIENDS GOODY Box
FIDO's FRIENDS GOODY BOX is another monthly subscription that you might be interested in. they offer month to month service as well as 3.6 or 12-month service. Their boxes include 4 items varying from chews and treats.
Pricing :
Their plans start at $31.99 per box.
Education Part : Dog Subscription Boxes Buying Guide
-Why get a dog box subscription?
All dog parents now like to pamper their dogs. Well, dog subscription boxes are a way to do that. Many opt for these boxes. Not everyone is a fan of dog subscription boxes. Some love these boxes and find them indispensable. Here are the benefits of these boxes.
Dog subscription boxes save you a lot of time. Having a dog subscription box delivered right to your door every month is an ideal solution for busy people.
Although dog boxes are not cheap, you are actually profiting when getting a dog subscription box. As a matter of fact, you get great prices, since dog subscription box providers buy goods in bulk. Buying the items separate at shops or online would cost you way more than this.
You get to try the best products in the market without looking for them yourself.
You can customize and personalize your box. This way you can think of it as if having someone to shop for you monthly.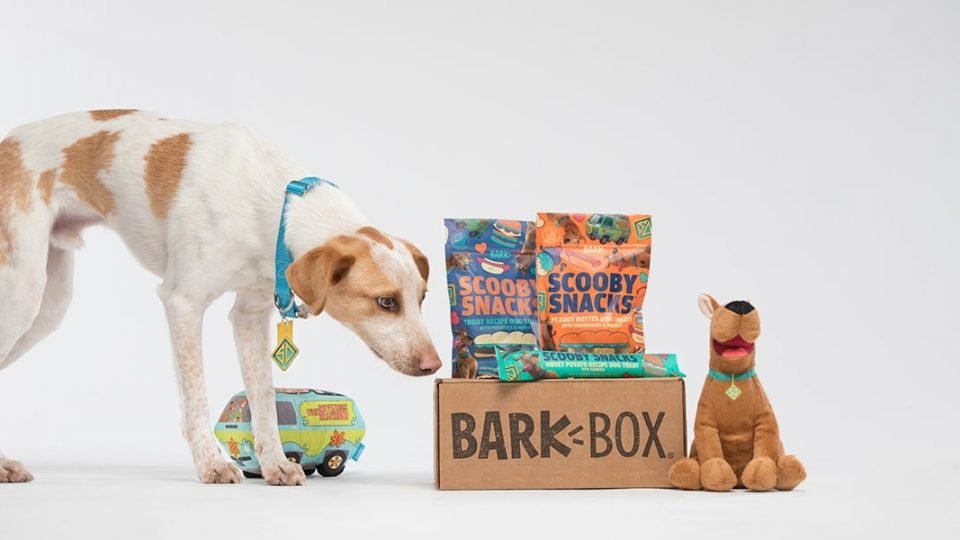 -Things to consider when choose the best subscription box for your dog :
If you are debating which dog subscription box to choose, I made this infographic summarizing 8 important things to consider :
1- Price :
Let's be honest, those boxes aren't cheap. Thus, it is important to choose a subscription that fits your budget. The price of the box varies. It depends on the items included inside it. Besides, it depends also on the type of products you will be receiving and the length of the subscription. So, it is important to choose a box that is worth its price.
2- Products :
There are different options in dog boxes. You get treats only or chews only or both. Some subscriptions offer medical care. It is important to know what do you want and what does your dog need.
3- Source :
Safety is an important aspect to keep in mind when getting anything for your dog. You have to check from where the subscription providers are getting their products. It is important to check whether the ingredients come from a safe facility or not.
4- Know your dog :
Not all boxes are the same. As well as not all dogs are the same. In order to know which subscription to get, you have to know your dog.
For example, some dogs are heavy chewers. As a matter of fact, there are some certain boxes that are directed directly to chewers. Besides, if your dog has a certain allergy, you should get an allergy-friendly box.
5- Commitment duration :
By this, we mean what type of plan you want. It is important to know how long are you ready to commit to a subscription. In general, most companies tend to offer plans that range from 3 months, 6months, to 12 months.
6- The frequency :
It is important to choose how often do you want the box. Overall, most companies ship monthly. However, lately, many companies are ready to customize the shipment based how do you want it.
7- Cancelling the subscription :
Well before getting in yourself in a hard situation, you have to know how to cancel the subscription. Some companies do offer easy cancelation. All you have to do it to go the website. However, some companies prefer to make you contact customer service.
Frequently Asked Questions :
Are Dog subscription boxes worth it?
Answering the question depends on your choice if you choose the right box for your dog, it is worth it. It saves you time and money.
Is there a dog subscription box for multiple dogs?
Yes! There box subscriptions for multiple dogs. For example, Pupjoy allows you to select the 4-5 items box for one dog. At the same time, you can choose the 5-7 items box for multiple dogs.
How Much Does a Dog Subscription Box Cost?
The subscription cost most often depends on the items included in the box as well as the products. However, on an average scale, most subscription providers charge around $30 per month. The cheapest subscription you can find can be around $23.
However, the most expensive boxes can reach $50 per month. The cost of these subscription boxes is, mostly, cost-effective. Especially, that several companies would charge more at a pet store.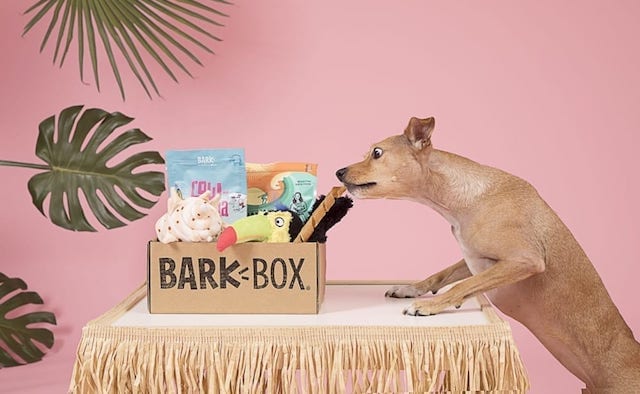 Conclusion :
Although nothing can make a dog happier than affection, it is heeling to spoil your furry friend. Your pup would be extremely happy with the best dog subscription box he receives.
Purchasing the exact same treats over and over again would create a boring routine. Your dog won't get excited anymore as well as motivated.
Most of the time, these pet subscription boxes distribute new products for you and your dog monthly. It would be a fun experience to get surprised with your pup each month.